Full Review Of Dream Theater's Newest Album A View From The Top Of The World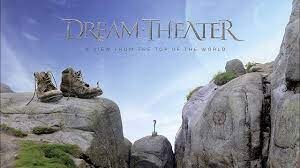 The two-time Grammy nominated Prog Metal kings have returned with "A View From The Top Of The World".  The album was released on October 22, 2021, their 15th studio album, and 5th with drummer Mike Mangini behind the kit.  "AVFTTOTW", as some have referred to it, is the first album the band recorded at their own private studio DTHQ (Dream Theater Headquarters), with guitarist John Petrucci once again taking on the role of lead producer.  
It was revealed back in the spring of 2020, after the band had to cancel touring plans due to COVID19, that Dream Theater would begin recording a new studio album in 2021, a follow up to 2019's "Distance Over Time".  When the album name and release date were confirmed back in July, Dream Theater fans, who are definitely a very passionate group, were immediately thrown into a state of excitement and anticipation.  For me personally, there were two things that caught my attention.  First, the closing and title track of the album would be 20:23 long.  I'm a sucker for long and epic prog songs (e.g., Change of Seasons, Octavarium, The Count of Tuscany).  The second detail that really piqued my interest was the confirmation that John Petrucci would be using an 8-string on the album, but more on that in a bit.  Let's get to the music.
In my opinion, the album is a good mix of song stylings, with each song being unique in its own way.  I think it will appeal to those who prefer the heavier sound of 2003's "Train of Thought" to the more prog-rock style of "Octavarium" and everything in between.  There are a handful of songs that really stick out to me, while some are just standard Dream Theater releases (not necessarily a bad thing).  Here are some of the highlights to me:
The album kicks off with "The Alien", which was also the first single released back in August.  I'll admit, when the song was first released, I was a little less than satisfied.  My initial thought was "Mangini is way too busy here".  Who knows though?  Maybe this song was his way of saying "screw off" to the fans who still complain about Portnoy leaving.  After a handful of listens, the song has grown on me a bit.  It's a good song to kick off the album as it slaps you right in the face immediately.  A quick drum fill leads into the song which is 9:31 of pure prog metal with an abundance of odd-time signatures, killer guitar riffs and solos, and plenty of technical prowess behind the kit.  
"Sleeping Giant" brings a different kind of sound to the mix.  It's got more of a dark, haunting vibe, and the songwriting/melodies are different than what we are used to.  What sticks out to me on this song is the guitar textures and piano during the verses, along with a great vocal performance by James Labrie.  
The slightly more mainstream sounding "Transcending Time" is probably one of my favorites from the album.  I know it's not the preferred sound of a lot of Dream Theater fans, but I've always enjoyed when they dabbled in that kind of sound.  I was a big fan of 1997's "Falling Into Infinity", even though one of the biggest complaints from fans was "it's too commercial sounding".   I personally wish they would write more songs in the future that straddle the line between mainstream and prog.  This song brings another great vocal performance with some killer harmonies, and for you Rush fans out there, I think you can clearly hear the influence on this track. 
"Awaken the Master" gives us our first glimpse at what an 8-string guitar sounds like in the hands of the master, John Petrucci.  With all the rumors flying around that he would be diving into the 8-string universe on this album, no one knew what to expect.  We don't have to wait long though, as the song kicks in with a killer guitar riff full of that lower-end 8-string sound.  It's a good track for sure, but I would like to have heard more of the 8-string, including some of those distinct clean chorus tones that JP is known for.  Overall, it's a good song, with some nice piano playing at times.  I do hope we hear more of the 8-string in future Dream Theater releases. 
The closing title track "A View From the Top of The World" is the best thing about this album in my opinion.  As I mentioned earlier, I love the long epic 20+ minute songs.  I think the hardest part about writing songs that long is keeping the listener engaged, but as with every other longer song that Dream Theater has released in the past, they do a great job at grabbing you right from the start and not letting go until the song finishes.  Everything about this song is great.  The songwriting, the melodies, all of the instruments, and the vocals.  One of my favorite parts about this song is the clarity of the bass lines.  It's not often you hear John Myung so clearly, but his bass parts stick out here.  Some of the breakdowns remind me of "A Nightmare to Remember" from 2009's "Black Clouds and Silver Linings" album.  They knocked it out of the park with this track.  
All in all, I think Dream Theater has released a very good album this time around.  I think there are a few great songs on this album, and some memorable parts scattered throughout.  It's a lot of what we have come to expect with their album releases.  One thing about Dream Theater is their fans are VERY passionate.  With that kind of passion comes a lot of opinions.  Any DT fan who is part of the social media world knows the constant debates that go on between fans.  Whether it's about the quality of James Labrie's vocals, or the "Mike vs. Mike" drummer debate (or a handful of other topics), their fans are not shy. 
One argument that you hear sometimes is that the band has become stagnant and that they should become more experimental with their writing.  While I think this album has some great parts to it, I tend to agree and wouldn't mind seeing a little more experimentation with their future releases.  As someone who was first introduced to Dream Theater when "Falling Into Infinity" came out in 1997, and has seen them over 30 times live, they are still one of my favorite bands, but I wouldn't mind something a little different next time around. 
Either way, I think I can speak for many people when I say that new music releases, especially from our favorite bands, are a very much welcomed and pleasant distraction from the not-so-sane world we are currently living in.  So, put on those headphones (or crank up your sound system) and get lost in the world of Dream Theater with their latest release: "A View From the Top of The World".  ENJOY!
Review by Joe DiFranco