All That Remains: Victim of the New Disease tour at Hard Rock Live
On April 7th All That Remains stormed into Hard Rock Live in Orlando, touring on the strength of their latest release "Victims of the New Disease" which came out on RazorandTie Records back on November 9th of last year. At 9:45 the lights drop out and the band takes the stage. Last to make his entrance is front man Phil Labonte, who stands front and center on his riser to greet the anxious fans as a black silhouette until the lights start to fill up behind him, then band breaks into "Fuck Love" then "Blood I Spill", both of their newest album. The energy and stage presence generated by this band had not only the crowd head banging, but also us photographers down in the pit!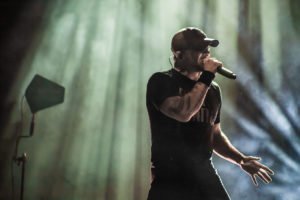 About 5 songs into the set, Phil Labonte takes time to address the crowd and share his feelings about the passing of long time band member and world revered guitarist Oli Herbert. This show would mark the first time All That Remains has played a show in Orlando without sharing the stage with him. Looking around, you could see the sadness in faces of the fans as Phil tells stories of his friend. He then tells everyone about the night Oli came to him after watching newest A.T.R.'s guitarist Jason Richarson as he performed with his previous band Born of Osiris. He says "Oli came to me when we were on tour with Born of Osiris and said "Phil, that Jason Richardson is fucking amazing." And when Oli comes to you and talks like that about another guitar player… you take that shit seriously!". Jason joined the band in November as a fill in for shows in Europe that the band had committed to before Oli's passing. After this run of shows and being held in such high regards to Oli himself, he was asked to join the band as a full time member in February of this year.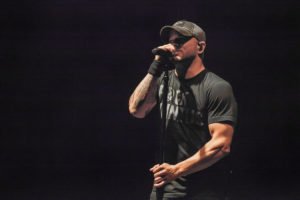 The remainder of the show produced hit after hit including fans favorite such as "The Last Time", "Hold On", "Six" and "Not Alone". Phil at one point asks for help from the crowd by turning the flashlights on their phones on because "The lights are going off for this next song and we don't want to bust our asses up here." As the lights go out, the floor and stage illuminates as everyone's phones create a heavenly type of atmosphere. It's at this point Phil addresses the men in the room by saying "If you guys know the words, sing them into your girlfriends eyes, and I guarantee you're gonna get laid tonight." As the PSA from Phil starts to sink in, the band breaks into the hit "What If I Was Nothing", igniting everyone in the building to join in. The band closed the show on a high note with the brtual song "Two Weeks". I personally have been a fan of All That Remains since their first album "Behind Silence and Solitude", and they are a band that has progressed through each album and even after tragedy, can remain successful, vigilant and will continue to make great music for a long time to come.