Steve Vai Absolutely Dazzles A Packed House At The Keswick Theatre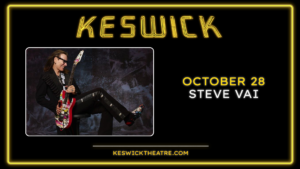 There have been few musicians over the last forty-four years that not only have had an otherworldly skill set, out of the box approach to songwriting or nearly as charismatic as the legendary Steve Vai.  His work with the incomparable Frank Zappa gave Vai not only his big break and kicking off his professional career in music, but really helped develop his unique and virtuosic style.  It wouldn't take long before Steve Vai would provide exquisite guitar work for big name acts like Alcatraz, David Lee Roth and Whitesnake and soon after, would launch his career into superstardom.
Vai's highly acclaimed Passion and Warfare broke all of the rules and took listeners and audiences by storm.  Over the years, Steve has blown away fans with one incredible record after another.  In January of this year, Vai released his newest musical assault with nine track symphony Inviolet which even the diehard fans have revered as one of, if not, his best album yet.  Though many fans were disappointed that the original tour had been postponed until fall, they flocked to the famed Keswick Theatre for a chance to see this guitar maestro in action.
Through the thick darkness and loud applause, the illuminance of blue LED's begin to float to the stage.  The applause quickly turns to a roar as the spotlight reveals Steve Vai himself as he dive bombs right into tonight's first song and first taste of new music, with the upbeat and electric sounds of Avalancha.  Sitting back watching what he is able to do with a guitar is truly incredible.  His ability to change between lightning fast licks and violent tremolo bar hits, to soulfully orchestrated bars with absolute clarity and precision is remarkable.  Vai would continue on with other amazing pieces of music like Great Balls of Gold and Little Pretty before serving up one of the biggest songs of the night.
Steve would chat with the crowd as his tech tends to an issue with his in ear monitors.  But it would be his comment "What's this about the first game of the World Series?".  To which the crowd response was a deafening roar. "I really can't believe there's this many people here tonight.  "We're going to kick this off now.  And a little Tender Surrender.".  The responding cheers almost trumped the previous World Series reaction.  Just hearing that opening riff echo through the theatre was pretty surreal as it really took on a life of its own.
This was always such a great example of how even though he is capable of exploding up and down the neck, his expressive and tender (no pun intended) approach and note selection just floods the song with so much emotion.  His wah parts oozed with Hendrix inspiration as tranquil scenes played across the screen above the stage.
About mid-way through the set, bassist Phillip Bynoe would lay down a thunderous and explosive bass solo that would quake the seats under the fans.  And shortly after, guitarist David Weiner would step up to bat.  But before playing a single note, he made sure to throw on his Phillies hat before he put on a thrilling six string clinic.  One track off of Inviolate that I had really wanted to see tonight was what I assumed was a tribute to the late great blues guitarist and founding member of Fleetwood Mac, Peter Green.  And it turns out, I was right.
When Vai returned to the stage, he would ascend into soothing sounds of Greenish Blues.  As the stage is shrouded in green lighting, Vai's passionate blues serenade had the fans completely captivated.  Though the blues elements were rich and poignant, the subtle flashes of Vai flare would really take this blues fusion to another level.
The laundry list of just amazing songs from his catalog almost seem endless.  But one song from his existing repertoire I had hoped to see live tonight would be the first of Steve Vai's that I had ever heard as a young guitar player.  As the classic duel from Crossroads plays for the crowd, Vai would reenact the scene before making my wish come true as he slides into the heavy hitting Bad Horsie.  You could look around the room and see everyone dialed in, banging their heads and some even throwing up those devil horns.  That crushing riff paired with the seductive slide work just sets this one apart from the rest of the set.
Following a slew of classic tracks including Whispering a Prayer and I'm Becoming, drummer Jeremey Colson would take the spotlight.  I've seen many drum solos in my life, but never have I seen one that started off with an Australian Didgeridoo.  The deep-toned woodwind's ominous sounds would be outdone by Colson's incredible percussive barrage around the kit.  When the dust settled, there was a large object under a sheet at center stage.  When Steve emerges from backstage, he lifts the sheet to reveal a triple headed weapon of musical destruction.  The instrument would consist of a 12 string/ 7 string/ 4 string bass setup and took the room by storm.
The first single off the new record was fittingly called Teeth of the Hydra and its music video was mind blowing to watch to say the least. As Vai begins to conduct his triple neck orchestra it is simply astonishing to not only watch, but as a fellow player, observing his coordination on top of his incredible string management was not of this world.  The over six-minute performance no doubt blew the minds of every person in attendance.
Steve Vai would reach back to his classic album Passion and Warfare for his legendary opus For the Love of God.  While the song's music video plays above the band, Vai launches into one of the most iconic openings in rock music, causing fans' faces to light up with excitement.  Every perfect bend and note were accented by his amazing tremolo bar work which at times, seemed to have a voice of its own.  As the band wrapped up and Steve Vai gave his thanks to the crowd, they exited the stage under a wave of applause.
As Vai's signature logo still illuminates the room for the large screen, stage lights begin to pulse through a thick clouds of smoke, and that wave of applause begins to grow.  Before long, the band returns to the stage Vai greets the fans with "You've all been very good to us.  It sounds like we can do one more!".  And as the cheers flood the stage, the band break into the album Fire Garden's musical menagerie Fire Garden Suite.  Every stage of the song grew with more and more intensity with each passing verse.  The seven-and-a-half-minute onslaught would crescendo in a flurry of blistering notes and screeching harmonics as the fans jump to their feet to give Steve Vai and company a thunderous standing ovation.
As a musician and a huge music lover, I can honestly say that I have never been so blown away by a performance like this.  Steve Vai is truly in a class all his own and to some, might even be not of this world.  Vai's ability to command his instruments to his musical brilliance is what takes his shows to a whole other level, and the show tonight at the Keswick Theatre was a prime example.  For the diehard fans that were willing to miss their beloved Phillies play game one of the World Series in order to see this virtuoso at work was not only a statement to Steve Vai's musical influence, but it was definitely a well worth decision.  With plenty of chances to catch this amazing tour, head over to vai.com for tickets and the chance for an in depth meet and greet experience.