Punk on the Uprise: The Bobby Lees and The Membrains at the Legendary Kung Fu Necktie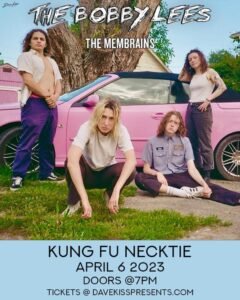 The Bobby Lees, a rising garage punk band from Woodstock, New York, completely sold out their Philadelphia show with The Membrains at Kung Fu Necktie on April 6th, 2023. People were lining up outside, hoping to score a last minute ticket to this history-making punk show. This was the third time The Bobby Lees have played the legendary and intimate venue of Kung Fu Necktie, also known as KFN, noting that they have never had a bad experience there. The Membrains, a local Philly punk band who I've photographed before, were congregating outside of the venue before their show, enjoying a smoke break before playing. Having the chance to chat and catch up with them again was a nice refresher before their big show. With only two bands playing, you knew you were getting a full, hearty set from both acts, which couldn't be more true. Already packed to the back of the bar, you could feel the anticipation building up, and the crowd was ready to have their faces shredded off.
Starting off the night were The Membrains, stepping up on KFN's stage, beers in hand, ready to rock and rumble. Johnny Germ, the lead singer and K.C., the guitarist, sported sunglasses and asked the lights to be dimmed even further, cultivating a dark scene to unleash their inner beasts. As soon as they got the sound squared away, they didn't hesitate to jump straight into it. "This one's called 'Your Man' and it goes like this," Johnny unveils. There was no delay in playing; it's as if a starting pistol went off and the race begun. As they're picking up the pace, you can feel their feral energy immediately, and you never know what to expect next.
Thrashing around like wild animals, this group was unstoppable from start to finish. Featuring their newest song, Seams, Johnny Germ and The Membrains bring old school punk back to the local scene, with their own fresh twist. Catchy riffs and easy-to-understand lyrics written by Johnny Germ make it conveniently digestible for someone who has a love for rock-and-roll but are looking to get into punk. Johnny peels of his shirt before the last song, gasping for air as this intimate venue was filled with humidity from the amount of warm bodies sticking together like glue. Beating every ounce of emotion into his drums was Kevin Pierre, unafraid to attack his snares full force.
Johnny looked back and noted, "You're playing so hard that you're moving everything 6 inches forward." Their attitude on stage makes it equally as fun, especially when they pour every ounce of energy into performing, hardly able to catch their breath by the end of it all. Sweaty and shirtless, Johny Germ states, "We're The Membrains," defiantly dropping the mic on the stage. Opening up for The Bobby Lees was a huge moment for them, and one that almost didn't happen! I had the chance to interview them and grab their picture outside KFN after the show, and they admitted that due to recently selling out a show at another local spot, Philamoca, they were able to join the bill Thursday night. They are so grateful for the opportunity and cannot wait for a summer that will absolutely rock your socks off.
Next up were The Bobby Lees, the bluesy punk act that everyone in the crowd was craving. Named after a ghost who may have visited the lead singer, this band will have chills rightfully running up and down your spine. The first to walk on stage was drummer, Macky Bowman and guitarist, Nick Casa, setting up his pedalboard, making sure everything is in tune. Feeling bold, Macky steps up, facing me at the right side stage, and starts stripping down while the crowd cheered him on. All that remained was his tighty whities, socks, and of course, a nice pair of drum sticks, prepared to pound away. One fiery show-goer shouted, "Gender is over!" Kendall and Sam joined the guys on the stage, seemingly stoked and anxious to get started.
Rather than introducing themselves, they rolled straight into their frantically feirce song, Guttermilk, which is off their first record, Skin Suit. Lead singer, Sam Quartin, has always been open about her mental health in other interviews, mentioning that the name Skin Suit was formed because she felt like she could hear someone who was trapped in their body, trying to escape. One could feel the intensity of her emotions in her performance, as she madly paced around the platformed stage of Kung Fu Necktie. With driving transitions and unexpected turns, they'll pick you up and slam you into the wall with their untamed spirit.
There was not a single dull moment during their set, as they transition from one song to the next without catching their breath. They moved with speed and youthful buoyancy, ferociously focused on putting on their best show for this receptive crowd. Mentioning sex, drugs, and anxieties in their music, The Bobby Lees give it to you unfiltered and unpolished. It only continues to build up for this young, promising band, and as they are beginning to write more together, they are producing "bigger" songs that allows everyone to shine in their own light. They've become uniquely experimental with their sound, adding in noise and whatever they feel like in the moment, mixing together a modge podge of musical elements. It helps that they all have something different to offer: after interviewing three of the members, I found out they have varying music tastes and appreciations which makes for a well-rounded band. Finishing out the show with songs Little Table, Monkey Mind, Greta Van Fake and Be My Enemy, The Bobby Lees showcased music from their newest album, Bellevue, which I happened to pick up a copy of at the end of the night.
My favorite thing about punk shows, especially this one, is that regardless of the common misconceptions, people are always looking out for one another. I met a lovely women in the front, Dorothy from the band Resting Punk Face, and she always made sure I had room to take photos. She even blocked moshers from slamming into me, keeping me under her wing and protecting my equipment. Others willfully and respectfully moved to the side as I squeezed by with my large-and-in-charge lens. Another man mentioned he has high respect for those capturing the local scene, and it resulted in a flutter of elation within me. Not only was the crowd accommodating, but the bands were personable and cooperative, especially with their interviews. Being in the local scene enough, you start to pay attention to what the bands are doing before and after their shows, and sometimes its hanging out, but most of the time they're mentally preparing for something big, and then decompressing after pouring all their lifeforce into their passion. This typically results in fatigued and wearied musicians that are just trying to get some rest in between their performance. But both bands, The Membrains and The Bobby Lees, were willing to give me the time out of their busy night to add to this review, which I couldn't be more grateful for. This was my very first band interview and I'm excited to share it with the world of music lovers.
The Membrains Interview 
Lead singer: Johnny Germ
Drums: Kevin Pierce
Bass: Cole Vandellos
Guitar: KC Germ
Synth: Krystal Bordoni
After trying to wrangle up the members of The Membrains, I was able to pull them all together for a picture outside of Kung Fu Necktie as well as a brief interview with Johnny Germ (lead singer) and KC Germ (guitarist). In the short time I was able to chat with them at their Philamoca show back in February, they were very kind to me, so I was not shocked by how vulnerable and personal they were with me during the interview. The punk attitude is just being yourself, and they were very comfortable being themselves, grinning and laughing with me, excited to talk about their future plans with music.
What are your favorite bands or influences?
Johnny: "Jay Reatard, Lost Sounds, The Dead Boys, Stooges," and KC pops in, "The Replacements," to which Johnny backed up. "General punk, garage rock kind of shit." 
What was your most memorable show?
Johnny: "In Austin, there was this sewer tunnel party next to a high school. At like, fucking 10 o'clock at night, there was like 300 people there and it was wild. I was on acid and I threw up on stage. It was really hot out, I was drinking beer, and I was like, 'bleh.'"
K.C.: "It was a great time, we didn't fit the bill, but everyone there fucking loved us," noting that it was due to Southern hospitality.
What does it look like to make a new song?
Johnny: "Most of the songs we currently have, I just wrote in my bedroom and recorded, then I found everyone, we all got together, and now we're starting to write songs together. Me and our bassist Cole just wrote a song together. I guess its a bunch of different avenues, we're starting to write together, but like most of the time I write riffs or somebody brings a riff to the table."
KC: "I also got another project coming out called Keanu, which is going to stretch the umbrella for Club Germ."
Can you tell me more about Club Germ?
Johnny: "Club Germ is a music venue. We operated in Pennsauken which is in South Jersey, for about 2 years before COVID. COVID fucked it up and our Landlord was a dick and kicked us out, so it sucks, but we had a crazy time. Had a lot of cool people come through." I inquired if they would open it back up and they said if they had a space in Philly, that would absolutely be the plan!
K.C.: "Right now we're just doing floating shows, mainly at Philamoca." 
What can fans expect from your new music?
K.C: "Buckle up for a wild summer because its gonna be nuts," K.C. quoted with a big smile painted across his face.
Johnny: "Yeah, a lot, we have two new songs that aren't in the set yet, a new song that we've been playing live that we're trying to record and either an EP or a couple singles, and we have plans to possibly put out a record, like a 7 inch or some shit."
Any upcoming shows? 
Johnny: "We're playing a show at The Fire on May 10, playing with the Lost Sounds' keyboardist's new band called Alicia Pop in June on the 23rd."
The Membrains Setlist
Your Man
Haterzz
Seams
RNR Heartbreak
Forgive
Cheap Beer
Sick
The Hunt
The Bobby Lees Interview
Lead singer: Sam Quartin
Bass/Keys: Kendall Wind
Drums: Macky Bowman
Guitar: Nick Casa
I had the chance to interview The Bobby Lees, a young group of lovely individuals, in the dark red Green Room of Kung Fu Necktie. As I strolled down to drop off my camera bag, they were hanging out on the classic, shiny diner seats, getting mentally prepared before the show. I walked up to greet their tour manager, Rosemary Ellis, who is such a kind soul, and asked if some of the members wanted to answer a few questions I had. Macky (drummer), Kendall (bassist), and Nick (guitarist) took the time to answer each question in depth, with sincerity, not holding back from telling their truth. I did not have the chance to speak with Sam, reasonably so, as she was prepping her vocal cords before the show.
What's the creative process like when you make a new song?
Macky Bowman: "We all kind of bring stuff in together. There's not really a good answer for that because there's no real set-in-stone process. Its different for every sort of thing, usually someone brings an idea, usually Sam or Kendall, but ya know everyone has their big moments, and then we all kind of just throw it around at each other until we can mold it into something else."
What was the most memorable show or tour you ever played?
Macky: "I mean most memorable is tough." Kendall Wind, bassist of The Bobby Lees, adds in "Kliko!" from the diner seats. Macky responds, "Kliko was a memorably great experience" and asks if Kendall wants to add anything. Kendall pops in and mentions they played the Kliko Festival in Haarlem, Netherlands.
Kendall: "It was us, Jon Spencer, The Black Lips, The Chats, The Courettes and a couple other bands. The crowd was just so nice, and so ready and so willing to dance and have fun. And the sound, I think, was also some of the best sound we ever had. And it was all around a fantastic experience and I think the highlight of that 5 week tour, which we did last summer."
Nick Casa: "I'd like to step in and say," with his hoodie scrunched around his face where you could only see a little black hole, "My name is Nick Casa, hello I play guitar in The Bobby Lees, and I would like to say that Kliko festival brought something very nice in that the equal treatment of us all, and it felt very good, and it was a very very fun festival to play because we really were able to go into our own and feel as comfortable as possible." 
Going back to Macky, he mentions that they played with The Courettes again at Sjock Festival in Belguim with a crowd of over 1800 people, which was their biggest crowd yet.
Nick notes the great thing about Sjock Festival was that instead of going back to a merch table that was further away from the stage, they hopped on the side stage to start selling their merch and to interact with the crowd. For Nick, that was the best part of that show. People were "chucking dollars at us from all angles," Kendall recounts. 
Macky: "I gotta give a special shout out to Kendall because she was the big guns behind those merch sales and it was awesome."
What can fans expect from your next album or release?
Macky: "They can expect nothing because that's just how life goes, ya know?" Macky states truthfully. Nick adds in from the background "good music," while Kendall responds, "it's a big mystery, it'll be more fun to not expect anything."
What are your top influences?
Macky: "I really like ska, jazz, punk rock I guess. I'm a really big Fishbone fan, Elvin Jones, John Coltrane, Alice Coltrane, Pharrel Sanders."
Nick: "I've really been into podcasting lately so I've been trying to figure out how to work that into our music, it's not easy though."
Kendall: "That's a difficult for me question to answer because I don't think about any specific thing or artist when I'm writing, it comes from a very unknown deep black hole in my brain, so that's as much of a mystery to me as it is to you."
Macky: "This is so real," lightly chuckling, "but Kendall also really likes movie soundtracks."
Kendall: "I love instrumental music." I proceeded to ask for any of her top favorite musicians to which she responded, "Joe Hisaishi is a special one, shout out Studio Ghibli, Alexandre Desplat is really good, shout out to Grand Budapest Hotel, and Eric Serra The Fifth Element, fantastic soundtrack." 
Nick: Being playful, "Enough with the nerd talk about soundtracks, let's talk real music," he mentions his appreciation for Lil Baby's talent while Macky added he was enjoying Ice Spice lately.
The Bobby Lees Setlist
Guttermilk
Bellevue
Death Train
Hollywood Junkyard
Dig Your Hips
Strange Days → Move / Radiator
50 Ft. Queenie
Ma Likes to Drink / Drive
Little Table
Monkey Mind
Greta Van Fake
Be My Enemy