Insomniac Selects Communities In Schools of Southern Nevada as the Beneficiary of the 5th Annual EDC Las Vegas Charity Initiative
Insomniac Selects Communities In Schools of Southern Nevada as the Beneficiary of the 5th Annual EDC Las Vegas Charity Initiative
One-of-a-kind festival experiences include backstage hangouts with Tiësto and Martin Garrix, a helicopter tour of EDC Las Vegas, your very own backstage trailer, a kineticFIELD marriage proposal, meet & greets with Diplo and Dillon Francis and much more
Enter for your chance to win your favorite EDC Las Vegas Charity Initiative
experience today at givesurreal.com/edc2019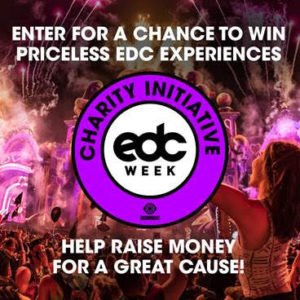 LAS VEGAS – Now in its fifth year, Insomniac's annual EDC Las Vegas charity campaign recognizes Communities In Schools (CIS) of Nevada as the beneficiary to this year's fundraising event. In partnership with online fundraising platform Surreal, Insomniac's Charity Initiative has expanded with a dual program designed to offer both auction and sweepstakes experiences, which will raise funds to benefit CIS of Nevada, one of the nation's leading nonprofit organizations dedicated to dropout prevention and providing students with a supportive community that empowers them to stay in school and achieve success. Now through Friday, May 3 at 11:59 p.m. PT, fans can donate or bid to win one of 10 once-in-a-lifetime experiences at givesurreal.com/edc2019.
"We created the Charity Initiative as a way to give back to our Las Vegas community while also giving our Headliners the chance to experience EDC in a way very few people ever have," said Insomniac Founder & CEO Pasquale Rotella. "Communities In Schools is an organization that provides a crucial network of support for families and helps ensure kids have all the tools they need to graduate and pursue their dreams. Their commitment to strengthening and uplifting their community is inspiring, and I'm honored to partner with them for this year's event."
"We're incredibly grateful to have been selected as the recipient of this year's EDC Las Vegas Charity Initiative," said Tami Hance-Lehr, CEO of Communities In Schools of Nevada. "Insomniac has enriched our community by promoting a culture of love and unity, and now by allowing our organization to expand to additional schools in Clark Country through our Southern Nevada affiliate, we can support more of our most at-risk students by ensuring they graduate and expanding the horizons of their future."
This year's sweepstakes and auction packages offer premium VIP experiences in addition to exclusive meet and greets with some of the biggest artists on the 2019 EDC Las Vegas lineup. The sweepstakes will allow Headliners the chance to win unbelievable prize packages, where each winner will be chosen at random. Participants will have the option to donate $5 for one ticket, $20 for five tickets, $50 for 20 tickets or $100 for 50 tickets for the chance to experience the Ultimate VIP weekend at EDC Las Vegas 2019. In addition, fans can choose a bundle pack donation for $50 which includes five entries into each of the four sweepstakes experiences offered, $100 for 20 entries into each, or $200 for 75 entries into each. Each experience package will include two VIP tickets to EDC Las Vegas*. Round-trip airfare and accommodations are provided for all sweepstakes winners.
Sweepstake packages featuring unbelievable EDC Las Vegas experiences include:
EDC Backstage Tour + Tiësto & Martin Garrix Meet & Greet: Hang out with Martin Garrix, meet Tiësto backstage, and go on a behind-the-scenes golf cart tour of EDC Las Vegas with an Insomniac team member. Round-trip airfare for two to Las Vegas and a four-night hotel stay is also included.
Camp EDC VIP & Flyover + Yultron & Born Dirty Meet & Greet: Hang out with Yultron, meet Born Dirty backstage, fly over EDC in a Maverick helicopter tour of the Speedway, and receive full accommodations in a Camp EDC Desert Rose ShiftPod2 complete with a $100 food credit from various vendors in the campgrounds. Round-trip airfare for two to Las Vegas is also included.
Electric Sky Arrival + Kaskade & Alesso Meet & Greet: Hang out with Kaskade, meet Alesso backstage, and fly on a helicopter into and out of the festival on one day of your choosing. Round-trip airfare for two to Las Vegas and a three-night hotel stay is also included.
Carnival Ride Super Pass + Diplo & Valentino Khan Meet & Greet: Hang out with Dillon Francis, meet Valentino Khan backstage, and receive a front-of-the-line carnival ride pass so you NEVER have to wait in line. Round-trip airfare for two to Las Vegas and a three-night hotel stay is also included.
Auction experiences, with bids starting at just $20, include:
Personal Backstage Trailer + Diplo & 4B Meet & Greet: Receive your own personal backstage trailer, hang out with Diplo, and meet 4B backstage. Winners will receive four Guest passes to EDC Las Vegas.
Golf Cart Guest Star with Kayzo: Be featured on Insomniac's Golf Cart Confessions YouTube series as you ride along with Kayzo while filming his episode. Winners will also ride in an Art Car during one night of the official EDC Parade, receive a personal chauffer out of the festival each night to their car, shuttle, or ride-sharing lot, and receive signed merchandise from Alison Wonderland.
Kinetic Honeymoon + Insomniac Golden Ticket: Have a once-in-a-lifetime wedding proposal on-stage at EDC Las Vegas, receive the Insomniac Golden Ticket which includes two GA tickets to every Insomniac festival from HARD Summer 2019 through EDC Las Vegas 2020. Access to the Insomniac SkyDeck on the night of the proposal, a three-night hotel stay on the Las Vegas Strip and a photo-shoot with a professional Insomniac Team Photographer are also included.
EDC Week All Access + Steve Aoki Meet & Greet*: Hang out with Steve Aoki and receive two GA tickets to every single EDC Week event that you wish to attend, along with a three-night hotel and spa package on the Las Vegas Strip.
Owl's Eye View + Black Tiger Sex Machine & NGHTMRE & Slander Meet & Greet: Pick one night to watch the fireworks from the best spot in the Speedway, see the crowd from front-of-house for an epic photo op, hang with NGHTMRE & Slander, and head backstage to try on Black Tiger Sex Machine's iconic helmets.
SayMyName Ultimate Weekend: Meet SayMyName backstage, take a photo on stage during his EDC Las Vegas set and watch from the wings, receive four backstage tickets to his Encore Beach Club show, signed merchandise, and a one-night stay, courtesy of SayMyName, at Encore.
Since the charity initiative began in 2015, Insomniac has raised more than $410,000 for local Las Vegas charities, including Culture Shock Las Vegas (2015), The Shade Tree (2016) and Boys & Girls Clubs of Southern Nevada (2017) and Las Vegas Academy (2018). Over the last four years, Insomniac has partnered with the world's top dance music artists and businesses to curate remarkable experiences to raise proceeds for the local communities that support its events.
A limited number of GA and VIP tickets for EDC Las Vegas are available for purchase here.
For more information and to stay up to date with current announcements surrounding EDC Las Vegas, visit edclasvegas.com.
*Winner and guests must be 21 or older. Valid photo ID will be required. Four guest passes will be provided instead of two VIP tickets for the backstage trailer package.
Please note that the scheduling of artist meetings it subject to artist's availability. A donation is not necessary for entry nor will it improve your chances of winning. For details on how to enter without making a donation, see the Sweepstakes Rules.
###
About Surreal
Surreal is a fundraising platform that partners with festivals and music artists to offer their fans unforgettable experiences, with proceeds going to the charity of their choice. To participate, anyone can donate as little as $5 for a chance to win the experience –providing an engaging way to create positive exposure, raise awareness, and make a difference in the world.
About Communities In Schools of Southern Nevada
Communities In Schools of Southern Nevada is an affiliate of the nation's leading dropout prevention organization, proven to keep students in school and on the path to graduation. We use an evidence-based model, implemented by trained site coordinators deployed directly in low income K–12 schools. In these schools, site coordinators connect students and their families to critical educational and community based resources. Operating in 48 Title I schools in Las Vegas, CIS serves over 50,000 students locally by keeping kids in school, doing whatever it takes to eliminate barriers, and never giving up on anyone.
For more information, please see our website http://www.cisnevada.org and follow us on Facebook, Twitter and Instagram.
About Insomniac
Insomniac produces some of the most innovative, immersive music festivals and events in the world. Enhanced by state-of-the-art lighting, pyrotechnics and sound design, large-scale art installations, theatrical performers and next-generation special effects, these events captivate the senses and inspire a unique level of fan interaction. The quality of the experience is the company's top priority.
Throughout its 25-year history, Insomniac has produced more than 2,000 festivals, concerts and club nights for nearly 5 million attendees across the globe. The company's premier annual event, Electric Daisy Carnival Las Vegas, is the largest multi-day music festival in North America and attracts more than 400,000 fans over three days.
The company was founded by Pasquale Rotella and has been based in Los Angeles since it was formed in 1993. In 2013, Insomniac entered into a partnership with global entertainment company Live Nation.
Keep up with Insomniac announcements and news on Insomniac.com, Facebook and Twitter.