Marianas Trench Fills Up The House of Blues
May 11th
Vancouver's own Marianas Trench hit House of Blues Orlando for the Suspending Gravity Tour. The Band is out in support of their newest album Phantoms on 604 Records which debuted at number 1 in the Pop iTunes chart. Of their 5 studio albums, Phantoms take on a darker overtone with the theme of  love and loss and how the memories of that person could can be manifested into a ghost or spirit. Josh Ramsay showcases his vocal range which seems like he pushed to the limit in every track. The emotions just seep out of his words in songs like "Only The Lonely Survive", "Echoes Of You" and "The Killing Kind". The music arrangements behind each track are nothing short of symphonic and add different layers of emotions with every verse. When you sit down and listen to this album from start to finish, Marianas Trench takes you on a roller coaster of highs and lows leaving you sitting there saying "What the hell just happened?!". But their live show will be even more memorable.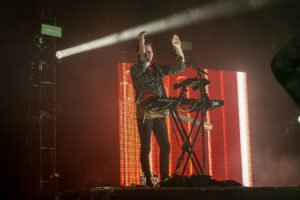 AC/DC's "Highway to Hell" rings out through the PA as the entire building is growing restless waiting for the band to take the stage. And shortly after the song ends, the lights go out and the LED displays onstage start to play a black and white gothic video of a Widow walking with a poem on the screen that said "There are truths I never dare speak. Inside the house on Widow's peak. I feel the things that linger here. Listening and closing near. And so I fear were I to speak. So would respond to me, the deep. When madness takes its promised due. Then still I'll search this place for you. How barely you elude me still. I'll find you soon, I will, I WILL. And then I'll raise my lips and say. Please my love, please let me stay. So we can be together here. That is the truth I speak. Forevermore, together more. Inside the house on Widow's peak. Nevermore. Forevermore." That right there, is as Edgar Allen Poe as it get's and it plays right inline with the overall feel of their latest release.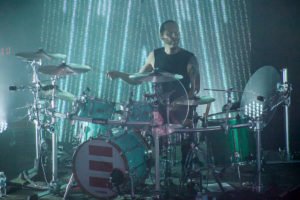 As the band all stand on stage in the darkness, Josh Ramsay belts out "Eleonora", the intro track to Phantoms (which is the title of a Poe short story). After the 1:08 minute opener, "Only The Lonely Survive" and "Echoes of You" are served up to complete the hat trick of new tracks and then it's back to 2011 for "Stutter" off the bands Ever After album. As I navigate the upstairs area of the venue I heard the crowd going nuts. I look over the balcony I see everyone's attention directly under where I'm standing. As I come down the stairs, I notice that the band is standing there without Josh on stage. And then through the wave of screams and cell phones, I spot him, trying to navigate through the floor with a set of Minnie Mouse ears on. Let's be honest, if you come to Orlando and don't at some point end of with a pair of Mouse ears on,  I'm pretty sure your trip was a failure. Even with the incredible stage show and a great overall presence, somehow Josh Ramsey manages to find another way to captivate and become one of the crowd himself. Of the 19 songs in their memorable set, 8 were new songs off Phantoms, 3 songs from Masterpiece Theater (2009), 3 tracks off Ever After (2011),  2 songs off Astoria (2015), 2 songs off of Something Old/ Something New (2015) and rounding off the list was "Rhythm of Your Heart" which had been released as a single with no album in 2017.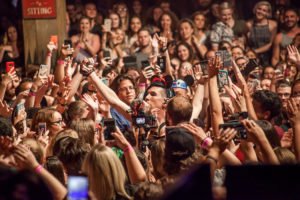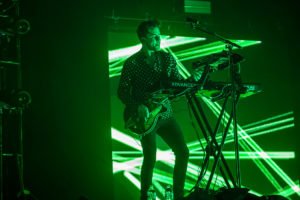 2019 is setting up to be a good year Marianas Trench. Already since March they have a new album that has all ready soared in multiple Billboard and online charts, a successful coast to coast tour and in the fall, will cross the Atlantic and conquer Europe. If any of you haven't seen the band live in a while or know they're coming to your city but aren't sure if you're going to get tickets or not. Do yourself a big favor, put the remote or the controller down, get up off your ass and enjoy one of best shows you've seen in a while! For tour and band info hit up www.marianastrench.net and for all merch want's and need's go to www.redbubble.com/shop/marianas+trench.
U.S. Tour Dates:
May 14                 Pittsburgh, PA @ Mr. Smalls Theatre
May 15                 Columbus, OH @ Newport Music Hall
May 19                 Cleveland, OH @ House of Blues
May 21                 Grand Rapids, MI @ Intersection
May 22                 Indianapolis, IN @ Egyptian Room
May 24                 Chicago, IL @ House of Blues
May 25                 Minneapolis, MN @ Varsity Theatre
May 26                 Omaha, NE @ Slowdown
May 28                 Denver, CO @ Summit Music Hall
May 29                 Salt Lake City, UT @ Depot
June 3                   San Francisco, CA @ Fillmore
June 4                   Los Angeles, CAThe Regent Theatre
June 5                   Anaheim, CA @ House of Blues
European Dates:
Nov 6th                 Newcastle, UK @ Riverside
Nov 7th                 Manchester, UK @ Club Academy
Nov 8th                 Bath, UK @ Komedia
Nov 10th               Birmingham, UK @ O2 Institute 2
Nov 11th                Sheffield, UK @ Leadmill
Nov 12th                Glasgow, UK @ St. Luke's
Nov 14th                London, UK @ Scala
Nov 15th                Brighton, UK @ The Haunt
Nov 18th                Amsterdam, NL @ Melkweg
Nov 19th                Hamburg, DE @ Uebel & Gefahrlich
Nov 20th               Frankfurt, DE @ Zoom
Nov 22nd               Munich, DE @ Feierwerk
Nov 23rd                Cologne, DE @ Luxor