93.3 WMMR Brought The Big Names And Tons Of Local Talent To This Year's MMRBQ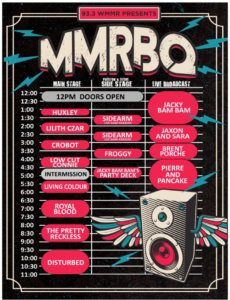 In 2007, Philadelphia Rock Station 93.3 WMMR came up with the idea of putting on a show for their devoted listeners and packed the lineup with killer bands that the station proudly played on air daily.  Held at The Tweeter Center in Camden, NJ on Sunday May 20th, the show then inadvertently became the flagship concert event that would usher in the Summer concert season at the riverside venue.  Since then, the MMRBQ has taken on a life of its own, becoming a yearly music staple in the Tri-State area.
This year's show was jam packed with not only top level talent including Lilith Czar, Living Colour, Royal Blood, The Pretty Reckless and Disturbed.  But would also serve as a rowdy hometown show for bands like Huxley, Crobot and Low Cut Connie.  WMMR would also create the Preston & Steve Side Stage, showcasing local artists on the mic with support from the talented backing band SideArm.  With all that said.  Who's ready to check out the show?
As I arrived at the gate just after 12 O'clock, there were already hundreds of fans waiting to get in.  Scanning the lines you couldn't help but notice the abundance of Huxley shirts proud fans were donning.  I even overheard some fans voice their concerns about possibly missing their set "If these fu**ing lines don't move!".  Needless to say, there were some anxious fans out there.
But shortly after 1pm Huxley stormed the stage as their fans screamed in excitement and others most likely out of relief that they made it in time.  They waste no time hitting the large crowd fast and hard with killer tracks like Second Chances and Hate Me (Made for This).  Their hard hitting riffs and rhythms sections, great blend of vocal harmonies and just a great stage presence had the crowd loving every minute and really no doubt set off the day on a high note.  And fans won't have to wait long to catch these guys tear up the stage.  They will be playing with Lit at the Levoy Theater in Millvile, NJ on June 2nd.  So make sure you get your tickets before they're gone.
Shortly after Huxley wrapped up their set, the kickoff for the first ever Karaoke Competition in the show's history would begin on the Preston & Steve Side Stage.  South Jersey native Jack Sparks of the band Big City Snipers kicked off the festivities with an electric performance of Billy Idol's classic Rebel Yell. The energetic front man won the crowd over earlier on as he got the fans involved right out of the gate with enthusiastic yells during the song's legendary chorus.
The long list of talented vocalist to perform some killer covers over two sets included Sapp Sappio (Paint it Black), Jeff Ehling (I Will Follow), Alexis Rose (Superstitious), Mikey Krastner (Stuck in the Middle), Jerry Logan (Kryptonite), Nick McGrath (My Hero), Bryon Edward (Mr. Brightside), Erica DiEmedio (Separate Ways) and who could forget the amazing rock star moment for 12 year old Axl Clone crushing Alice in Chain's legendary Man in the Box.  At one point MMR's own Preston Elliot jumped behind the drum kit for a blazing rendition of Van Halen's You Really Got Me.
Now, it's back to the main stage just in time for the start of the amazing Lilith Czar's set.  As the band starts to take the stage the fans greet them with a wave of cheers.  But as Lilith herself emerges from backstage, the cheers grow considerably.  They launch right into the adrenaline fueled Feed My Chaos of their new record Created in Filth and Dust.
Following a trip back to the Juliet Simms era of the band with 100 Little Deaths, Lilith Czar stands front and center with a tambourine in hand absolutely dazzles the fans with a stunning rendition of Fleetwood Mac's legendary Edge of Seventeen.  The band would end it with their radio smashing single Anarchy.  As Lilith sings, the fans lend their voices while waving their hands side to side.  And when that chorus came in, the vocal power under that roof was massive.  Lilith Czar always delivers an awesome show every time she takes the stage.  And today was definitely no exception.
Next, Pottsville's own Crobot leapt onto the stage as if they were shot out of a cannon.  Front man Brandon Yeagley is impossible to miss while wearing his signature gold spandex as he flies across the stage in a flurry of hair whips and mic stand swings.  Starting off the set with Electrified and Dizzy would also describe the start of their time on stage.  The amount of energy they can produce in a shortly timed song is astounding.  And it without a doubt gets the fan's in attendance very fired up.
Not only was this show special for the band playing in front of friends and family.  But for one little girl who is not only Crobot's number one fan.  But none other than Brandon's daughter Presley.  She was standing at stage side with her mom before her Rockstar dad walked her out in front of thousands to sing a once in a lifetime version of Happy Birthday.  After the joyous birthday wishes, the band break out their killer single Low Life before wrapping things up with their latest track and first off their upcoming album Feel This with the soaring vocals of Holy Ghost.
If fans thought they'd get a break from high energy acts, they were sadly mistaken.  With the dust still floating in the air from Crobot's set, local Pianist madman Low Cut Connie hits the stage with an army of musicians.  As they kick off the fitting track Death and Destruction, Singer Adam Weiner explodes from behind the piano and up on the bench and gets the crowd waving their hands before he tears across the stage.  WMMR selected some of the most entertaining and high powered acts to ever play under the MMRBQ moniker.
As Low Cut Connie kept their foot on the gas, the joyride would pop out ragers like Boozophilia, Are You Gonna Run and a very seductive version of INXS's Need You Tonight.  If you mixed the DNA of Elton John, Jerry Lee Lewis and Johnny Rotten, the end result would be Adam Weiner.  From his amazing talent on the keys, to his acrobatic positions while playing and of course, the high octane stage sprint as he engaged with as many fans as he could.  If those attending didn't know who Low Cut Connie was before they walked in.  They will absolutely remember the name when they leave.
Living Colour entertained the crowd during their soundcheck as Guitarist Vernon Reid and Singer Corey Glover would go back and forth like Ralph and Ed from the Honeymooners.  But then it would be right to business when they returned to rock the house as they would serve up rock grooves like Middle Man, Desperate People and Ignorance is Bliss.  I've unfortunately never seen these amazing musicians live before.  But it's impossible not to be blown away by their abilities.
Even with the level that they played, you could just see it on their faces throughout their set that they were just having fun and keeping it loose.  When Vernon Reid started up the band's iconic Cult of Personality, the crowd cheered louder than any point of the day.  As Reid put on a six string clinic on stage, Corey wanted to have a bit more up close time with the fans as he jumped off stage and navigated his way right through the middle of the crowd.  It was a pretty insane sight to see.  Living Colour would give the fans one more memorable moment as they finished their set with a killer cover of Should I Stay or Should I Go.
Next up, the powerful musical duo of Mike Kerr and Ben Thatcher of Royal Blood.  As they take the stage, the lighting around the band starts to strobe as if we were landing at Philadelphia International Airport.  But they wasted no time pumping out the jams with heavy hitters like Typhoons, Trouble's Coming and Hook, Line and Sinker.  There's no denying the intensity that these two bring and that obviously correlated right into the crowd's reactions.
One of the many highlights was without a doubt Ben Thatcher's percussive bombardment drum solo following Little Monster.  The power of each hit was only matched by his furious speed moving around the kit.  The genius behind Mike Kerr's approach to playing bass while simulating it as a guitar really changes the dynamic of their live show.  His vocal range soars off the stage with every note and he really kicked up a notch for closing out the set with hit songs like Figure it Out and Out of the Black.
One of the bands I was looking forward to the most was The Pretty Reckless.  The second Singer Taylor Momsen walks on stage with attitude, confidence and tenacity.  Rocking her signature black leather jacket she hits the mic and opens up with a chilling cover of Soundgarden's Loud Love.  With a dimly lit stage, Momsen's trademark blonde hair could be seen whipping around to the heavy tones of songs like Only Love Can Save Me Know and of course, their chart smashing single Death By Rock and Roll.
There's no doubt that The Pretty Reckless are everything you'd want in a hard rock band.  What is more rock and roll than a little impromptu jam session, complete with a blistering guitar solo by Ben Philips.  Shortly after, Taylor Momsen gives her sincere thanks to all of the fans before they dive into the lost song of the night.  Which is another in the long line of great songs tearing up the radio with Take Me Down.  The thunderous applause following was plenty of evidence of a job well done.
After a day full of awesome music, the crowd explodes as the final act sets to take the stage.  With the stage glowing in saturated blue lighting the loud and clear chants of "DISTURBED" echo through the pavilion.  Soon all four members stand ready for war until their General David Draiman lets out the very familiar yells of the anthem Ten Thousand Fists in the Air.  Every fan in attendance pound their fists in the air creating a scene like something out of the movie 300.
It's no secret that Disturbed was going to be the heaviest band on the bill.  And they brought such a level of intensity and command that the mosh pits opened immediately.  After Stupify had Dan Donegan and John Moyer taking flight, I ran into a family that had surprised their 12 year old son Angelo Morelli with tickets.  His dad, who has been a fan since the first record, told me that he's a die hard Disturbed fan and this would be the first time he's ever seen them live.  If that's not a testament to longevity and influence of their music.  I don't know what it is.
Disturbed's setlist ran like a greatest hits with crushing and lifting tunes like The Vengeful One, Voices, The Game and of course, their incredibly moving rendition of Sounds of Silence.  It seemed like the band hadn't even left the stage yet before those thunderous "DISTURBED" chants begin to ring out.  Finally Draiman's voice echos from back stage "I can't FUCKING HEAR YOU!".  The fans' screams were enough to get the band back out.  They jump right into the inspired track The Light.  Draiman had everyone wave their lit phones in the air during the chorus, creating an amazing site.  And what better way to close out the day and their set, then with their legendary Down With the Sickness.  
What a killer way to wrap up this year's MMRBQ 2022.  It was just an incredible day of live music, while watching thousands just kick back and enjoy every minute.  There are few radio stations in the country that care as much about not only their listeners but their community as much as WMMR.  From all of the tireless work done by the Preston & Steve Show with Camp Out for Hunger and their yearly blood drive, to the desire to bring exposure to local bands and other community driven acts from DJ's like Jaxon, Jacky Bam Bam, Brent Porch and of course the legend himself, Pierre Robert.  This station really set themselves apart from the rest.
Before every band performed today, they were introduced by those very same personalities.  But there was one person that could not make the show, and was probably one of, if not the biggest driving force behind putting this year's show together.  And that is Music Director Sara Parker who had unfortunately fell ill the day before.  Before The Pretty Reckless, DJ's Jaxon and Sydney Taylor had Sara there through Facetime to witness the payoff of all of her hard work.  And the fans let her know just how much they appreciated it with cheers and a rounding applause.  Every year this show represents the love of music and what it means to this city.  And over the last fifteen years it has grown bigger than anyone could have thought.  I know I can speak for all those fans that packed the Freedom Mortgage Pavilion when I say, We can't wait for next year!