The Social Hits Play on The Pauses
May 8th
The Pauses are a popular indie band from right here in Orlando or "MickeyTown" as their social media sites cleverly state. Compiling traditional instruments with keyboard synths and original constructed samples, their sound is very original, complex without complication and every nuance and element is perfectly placed. At first listen to the bands latest album Unbuilding released in 2018, has me closing me eyes and imagining myself in a 16bit world where I am trying to find the clue to get me to the next level in a video game. Tierney Tough's vocals lend an angelic subtleness with her harmonies which compliments Jason Kupfer's work on guitar, keyboard and synth and Nathan Chase's drumming effortlessly.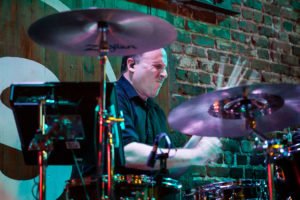 The first time I had ever seen the band was at The Plaza Live when they opened for The Crash Test Dummies and was immediately drawn in by their music. Tonight The Pauses play a more intimate setting at The Social with The Joy Formidable. The stage is decorated with glowing glass globes and light up cat figurine, which are common fixtures at the bands shows. The nights setlist included Unbuilding's "Don't Wake Me Up", "Eventually, Everything Changes", "Heart of The Steal", "The Beginnings of Things", "The Best of the Most of the Least" and their newest single "Digital Detox" and from 2011's A Cautionary Tale "Pull the Pin" and "Beyond Bianca". As I walked around The Social there were some that had never seen the band before, and there were others that were there in support. But you could see that everyone was fixated on the music coming from that stage. The Pauses are a breath of fresh air in a musical world where cookie cutter type bands seem to be produced daily and lack originality.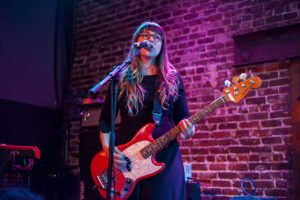 Over the last 8 years, The Pauses have produced two albums, a split EP with fellow band The Great Deceivers and a seven track live set on AudioTree Live. The band will be touring the east coast over the summer to support their newest album Unbuilding (see dates below). Locally their next show will be at The Orpheum in Tampa on October 11th and then they will be playing The Fest 18 in Gainesville November 1st through 3rd. Visit the bands site at Thepauses.com all the bands merch and releases including on limited vinyl and cassette, you read that right CASSETTE!
Summer Tour:
May 17

Miami, FL

May 18

Fort Lauderdale, FL

Jun 21

Athens, GA

Jun 22

Augusta, GA

Jun 24

Atlanta, GA

Jun 25

Charlotte, NC

Jun 26

Richmond, VA

Jun 27

Brooklyn, NY

Jun 28

Philadelphia, PA

Jun 29

Washington, DC

Jun 30

Durham, NC

Jul 19

Dallas, TX

Jul 20

Austin, TX

Jul 27

Chicago, IL

Oct 11

Ybor City, FL

Nov 01

Gainesville, FL

Nov 02

Gainesville, FL

Nov 03

Gainesville, FL