The Disco Biscuits Bring The Winter Tour To House of Blues In Orlando
December 11th
In 1995, four friends studying at the University of Penn starting jamming together for no other reason then their love of music. The bands influences derived from psychedelic rock, electronic music, soul, blues, jazz and classical which when put together, gave birth to one of the most followed and revered bands in their genre. For the first time in seven years, the band has embarked on a full length tour up and down the east coast with Florida having the most shows with four including back to back nights in Ft. Lauderdale. For the bands first show ever at the House of Blues, the Biscuits will send Orlando on a musical journey with plenty of dancing and cheers.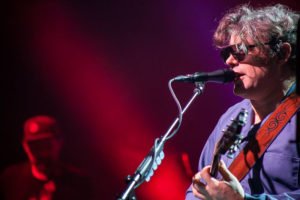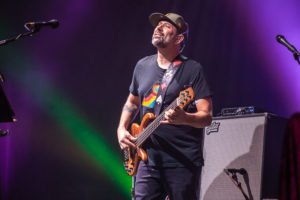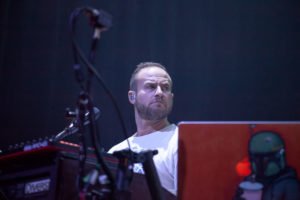 The band is met with a rousing applause for their first steps onto this stage. Singer/guitarist Jon Gutwillig (Barber) kicks off the first set with a guitar intro that builds up with every passing measure until it all leads right into the sea tale of returning home in "Magellan". Barbers guitar work serves as a conductor while it guides the song along in between the lyrical gaps. Keyboardist Aron Magner adds the dramatic undertone on the keys at the 10:15 mark bringing a sense of danger ahead. After the final verse, the song puts everyone at ease as the band slows it down to a somewhat ambient and relaxing feeling, giving you a sense of Magellan's relief as his homeland in sight.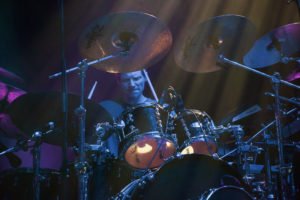 Bassist Marc Brownstein (Brownie) serves as the maestro for the bands second song with the upbeat "Kamaole's Sand". Brownie takes the lead on vocal duty on this jam while supplying a funk type groove on the bass. Though Barber takes his leads throughout the song, the standouts on this one are drummer Allen Aucoin with his rapid fire deliveries across the kit and Brownies bass work from start to finish. It's not hard to see why this song has such an upbeat feel to it musically and lyrically, and that's because Kamaole is a town on the southwest edge of Maui, which being there would put anyone in a good mood.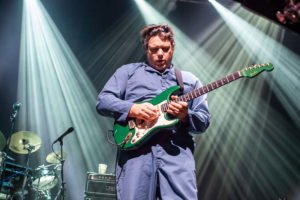 I've heard different meanings behind the song "42". Some say it came from Brownie knowing that Jerry Garcia was on 7 different drugs when he wrote the classic "Eyes of the World" and he could go six times harder (6×7= 42). Another one is that it's based on Valenzetti Equation is a mathematical relationship that is used to predict the future, specifically how much time before human extinction. I don't care if it'd based off Jackie Robinson's jersey number, it's one of the Biscuit's best jams live. And then when you have that sandwiched around "Rock Candy", only good things are going to unfold in front of you.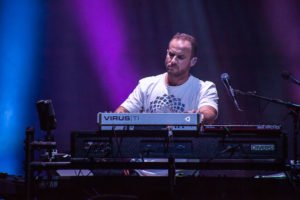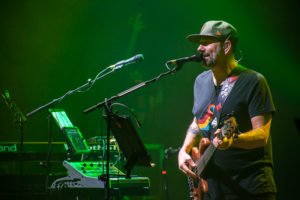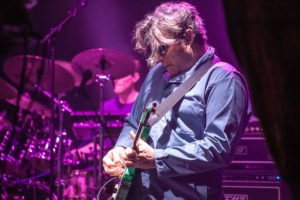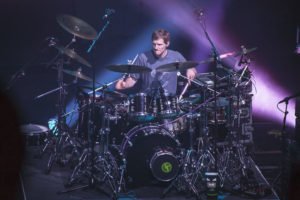 All the way through the the montage, Aron Manger was channeling is inner Richard Wright. I'm pretty sure he used all seven of his keyboards, some even at the same time to achieve sounds I've never heard before. At many points it felt like they were about to break into a Pink Floyd song whenever the songs would get slow and dark, but they just kept on jamming. Between Aron and Allen on the drum pad (using midi samples) they took the feel from 70's rock to the electronica induced 80's and even threw in some disco type beats. It all kind of made me feel like I was on a musical time machine that I didn't want to get off of. But as fate would have it, the Disco Biscuits would wrap up the first set shortly after that.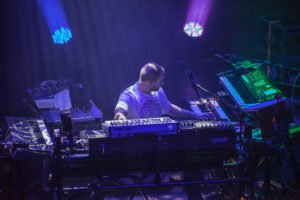 "Electric Slinky" is the starter of the second set of the night. This is a song that has a blues/funk fusion feel going on. Once again, Aron Manger sets the tone on the black and whites of the Hammond giving it a Stevie Wonder "Superstitious" vibe. Barber's blues chording with his wah and Brownie laying down that head bobbing bass lines blend perfectly with the keyboards. This was one of my favorite songs of both sets not just because I'm a fan of that kind of music, but because of how they were able to move around within the song and make it create different atmospheres.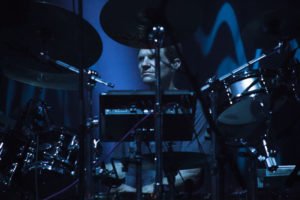 Like the first set, the Disco Biscuits give us another of those song sandwiches if you will. This time we get the funk/jazz hit "House Dog Party Favor" wrapped around futuristic sounding"Gangster". The band moves seamlessly from one song to the other despite them having two very different feels. Without missing a beat, the Biscuits dive right into their cosmic fan favorite "Helicopters" receiving an ovation of approval from the crowd. After a short stint backstage, the Disco Biscuits come back out to finish out their first night at the House of Blues with "Spectacle" off 2002's Steel Reel Vol 6.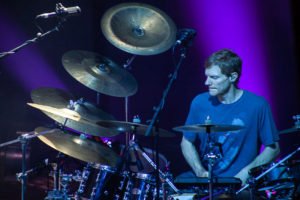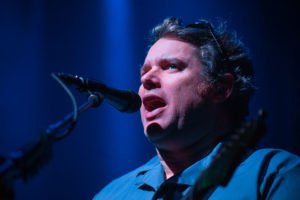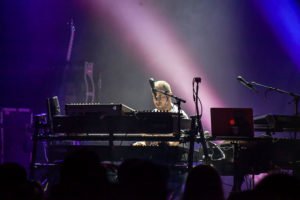 The Disco Biscuits will play their four show New Years Eve stint at New York City's Playstation Theater closing out 2019. But don't worry Bisco fans, 2020 promises to bring not only more touring but a new album set to drop next summer which would be the bands first release since 2011's Otherwise Law Abiding Citizens. For all music, merch, tour info and news, head to the bands website at http://www.discobiscuits.com/. Check out the whole show from the bands live stream below!