Joe Bonamassa Lights Up The Live Music Capital Of The World With Livestream Event From Austin City Limits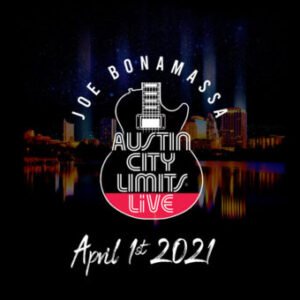 It has been almost seven months since the last time Joe Bonamassa took to the stage to deliver the blues to his fans all over the world.  On March 27th Joe kicked off a small set of 5 socially distanced tour dates in Macon, Ga and would wrap up on April 3rd in Huntsville, Al.  While he was out and about, Joe Bonamassa would play two dates at the historic Austin City Limits. Luckily for not only those who were in attendance but for all the Joe Bo fans across the land, he was gracious enough to broadcast his April 1st show around the globe for another amazing live stream event.  Armed with a setlist that was hand picked by the fans, an arsenal of vintage guitars and a room of live music deprived fans, tonight would be a show that we'll all remember for a long time to come.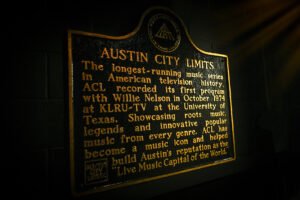 "Blue and Evil" serves as the soundtrack for our visual tour around the city of Austin on our way to the Moody Theater.  The towering monument to the great Willie Nelson sits off in the distance as we read the Rock & Roll Hall of Fame historic marker dedicated to the very building that we will call home for the next two and a half hours.  Soon we find ourselves walking through the doorway to find tables and chairs setup across the floor as the subtle yet powerful sight of a loaded stage stares back at us.  As the camera starts to lower its focus back to the stage, we can hear the recognizable sound of the John Sebastian track "Welcome Back" filling up the room through the darkness.  And it was almost as if the ring of Joe's guitar itself magically lifted the lights to reveal the band and kick off the nights festivities.
The Power Quartet would consist of the legendary Steve Mackey on bass, long time tour mate and incredibly talented drummer Anton Fig, the ever soulful vocals of Ms. Jade Macrae and of course the master of ceremonies, Joe Bonamassa in his custom floral embroidered suit.  Opening up the setlist would be the hard hitting groove track "Oh Beautiful!" of his 2014 album Different Shades of Blue.  From the very first note the energy exploded off the stage traveling through the room and our ears.  I can only imagine that playing for a full room of fans for the just the 4th time in over a year takes your playing up a couple notches, making the performance that much more rewarding.
Something I was excited to see was backup singer Jade Macrae from her usual spot on the backline to right up front with Joe.  The two's vocal harmonies through out the show were nothing short of stellar and "Love Ain't a Love Song" was a fine example of that.  As the song wraps up the room erupts with cheers and applause which is something a lot of people haven't heard in a long time.  At the end of his first interaction with the crowd, he announces that the next song would be one that he has long dedicated to the great late Gary Moore with his iconic "Midnight Blues".  Joe would be toting his newly acquired stunning 58′ sunburst that had come all the way from Cape Town, South Africa because you can't really play a Gary Moore tune without a burst (you could but I wouldn't recommend it).
The song is played with such emotion and feeling from the subtle noted intro through its fierce solo section.  Bonamassa manipulates the guitar into giving it a voice all of its own and my god could it sing!  Following the rough and tumbleness of "Lookout Man!" Joe makes a guitar change to a worn in Fender Tele and due to a tuning issue the show before, he announced he was just going to check the tuning because it had been a little stubborn and this was going to be a long song.  "Beyond the Silence" certainly proved to be that.  For thirteen and a half minutes we were given a master class in jamology 101 as Joe, Anton Fig and Steve Mackey would change from section to section so seamlessly and made it all look so effortlessly.  Sitting back and watching the level of musicianship between the three of them was just mesmerizing.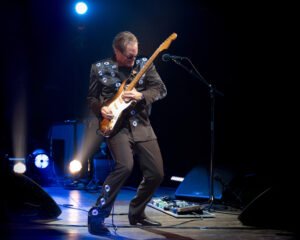 Following his completely reimagined cover of Tom Waite's "Jockey Full of Bourbon" Joe announces that "The next song is one that I wasn't sure about at the beginning of the tour but everyone has seemed to like it.  It's a song we've never played before off an album called Black Rock I wrote  many years ago in Greece".  "Wandering Earth" is a song that certainly surprised me that has never been played live before. It's one of my favorites tracks off of that album and has the presence that could definitely hold down a spot in any setlist. With its powerful vocal attack, march like blues progressions and of course Bonamassa's intense blistering solo section, the crowd in Austin gave its stamp of approval with their thunderous ovation at songs end.
Sometimes the low points in a musicians life can be leaned on to have something positive come out of a negative.  "Miss You, Hate You" could be considered one of those examples.  Before the song, Bonamassa gives the fans a bit of a history lesson on the origins behind it.  Joe's high school girlfriend had come out to visit his first band Bloodlines on the road and he had the misfortune of over hearing her "canoodling" with the rhythm guitar player.  With the original working title of "Miss You, Fuck You" it didn't quite work out.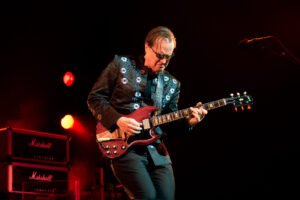 But with some polishing the song did make it on to his first record and became his first ever single, helping launch his career to where it is now.  As the ballad of heart break plays out and maneuvers its way into the solo portion, you can start to feel the progressive swing from Joe's guitar work to Mr. Anton Fig's percussive explosion behind the kit.  Between his stick hits on the rims and his lightning fast triplets, I was waiting for it all to transition into Zeppelin's "Moby Dick".  But we are on a time constraint people. Maybe next time.
"We're in Austin, Tx right? Just refresh my memory." Joe asks the crowd only furthering the ovation in the room.  "Because what I'm about to try. Attempt. Takes real balls".  And with out warning, count or cue Bonamassa erupts into the Stevie Ray Vaughn instrumental "Scuttle Buttin".  I'm pretty sure Joe's finger work on this song had a faster firing rate than some automatic rifles.  Even at that high rate of speed, every single note was crystal clear and the tone was a spot on match for SRV's.
In a blind taste test, 0 out 10 could tell if it was Joe Bonamassa or Vaughn actually playing this unforgiving tune.  With the dust barely settling from the previous six string onslaught, Joe takes the tempo in a much different direction and slides into The Jeff Beck Group classic "Blues De Luxe".  His vocal range on this song I believe, is still floating in the atmosphere over the city of Austin which played off the iconic volume swells perfectly.  After playing at an almost inaudibly low volume, Joe drops the clutch going from 1st to 5th and tears into another amazing solo.
With the crowd still in the midst of showing their praise Joe tells the room with a sigh of relief "I haven't played that in 20 years!".  As he says that, famed guitar tech Mike Hickey emerges from the shadows as he hands off Bonamassa's Lazarus Burst.  Joe strolls off to the side of the stage where his trusty Theremin is setup and uses his guitar like a conductor controlling a cosmic orchestra.  With a heavy four count Joe and company march into my favorite track "Ballad of John Henry".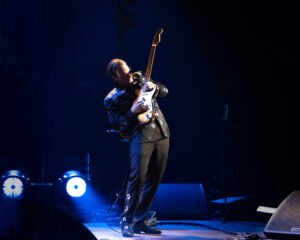 Following the songs climatic bridge section, Lady Macrae can been seen removing the mic from its stand and absolutely belting out harmonies that would rival the great Clare Torry's parts in Pink Floyd's "The Great Gig In The Sky".  I was in total awe at the power that came from her voice as was everyone in the crowd.  In a friendly bout, Joe returns to the Theremin for another go as the planetary maestro, but Jade won in an unanimous decision.
With the band receiving a standing ovation they say their thanks and head off stage.  But through the darkness of the Moody Theater the applause only intensifies until the sounds of an acoustic guitar ignites from the stage.  What Joe Bonamassa show would be complete without its token encore song "Woke Up Dreaming".  This song live always feels like you're on an emotional roller coaster with its highs and lows.  Joe's change ups between heavy and light picking creates different layers within this acoustic juggernaut of a song.
After the song concludes Joe give his final goodbye's before serving up the Robert Johnson and CREAM classic "Cross Road Blues".  Much like the other songs Joe covered in this show, the tones of each is what stood out to me.  I could close my eyes and with the exception of his voice, it was almost impossible to tell that it was a different band playing it.  His approach is both true and original but it is always the right blend of amazing.  And just like that folks, with one final bow from the band the Austin City Limits Live event comes to a successful close.
What can I say but that Joe Bonamassa does it again.  This was just another in the infinite line of not only successful shows from him but another in the unique way that Joe connects with his fans.  He could have easily made this a one off like his show at the Ryman Auditorium but instead wanted to bring the fans back into the venues with a string a 5 shows.  And what better chance to capture the magic than to film a show at one of the most iconic venues in the country for the world to enjoy.
Even as a fan, it was simply exciting to hear a live crowd react to music again and to no surprise it was Joe Bo that made it happen.  Fans heard him loud and clear that there will be a DVD of this show at some point in the future.  But for the next month, the Austin City Limits Live show will be streaming until May 2nd.  To view this incredible performance and for all your show packages and merch head to https://shop.jbonamassa.com/collections/acl-livestream. And even though Joe was able to hit the road, there are thousands of musicians that can not.  So please help in any way that you can by donating to the Keeping The Blues Alive!