August Burns Red Celebrates 10 Years Of Constellations
August 1st
Originally released just over 10 years ago, August Burns Red's third album Constellations began shredding through speakers and headphones across the world. On tour with Silver Planet and long time road mates Silverstein, House of Blues in Orlando would be the next stop of this U.S. tour. As the the anticipation of the fans grow, the intro riff to System of a Down's Chop Suey rings out through the room, this would mark the start of the show as this is a staple prior to ABR coming out.
Just as Serj Tankian's last lyric concludes, the house lights drop out and the building erupts. The bands intro starts to play as smoke and amber stage lights fill the room and drummer Matt Greiner jogs up to the drum riser and stands up on his thrown, acknowledging the crowd with drum sticks and devil horns in hand. He is then joined by fellow members Dustin Davidson, Brent Rambler and JB Brubaker with fists in the air and smiles on their faces. Then singer Jake Luhrs emerges from the shadows of stage left pouncing upon his platform at center stage, unleashing a mighty roar that could actually be heard without a mic in his hand.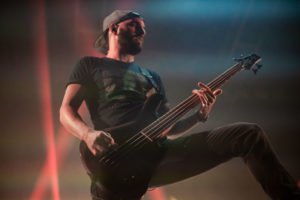 As Brent and JB dive into their pick scrapes to start the albums first track "Thirty and Seven", the floor opens up, but it's not until the songs final breakdown that creates absolute mayhem. If that wasn't enough intensity, wave after wave of fans crowd surfing up front screaming the lyrics back pounding their fists in the air to show their allegiance. Jake Luhrs had the entire venue jumping as fan favorite "White Washed" tee'd off and than gave everyone one more opportunity again later in the song.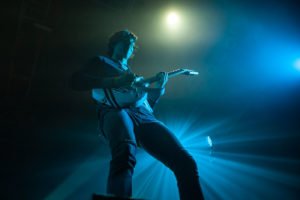 "Mariana's Trench" was the calm before the storm. As Brubaker plays the well known clean intro, Luhr again asks for some help from the crowd, this time by having everyone use their phones as lights and wave them side to side, creating a wave effect. As the sea of cell phone luminescence lit up the building, the songs build up was met with a blanket of lighting that swept from the ceiling to the floor as the rest of the band came in. When it came time to unleash the brutal track "Meridian", the band added bassist Dustin Davidson as a third guitarist and had Jake Luhrs pulling double duty singing and playing bass. Having essentially four guitar players chugging away on a triplet driven rhythm like that you could feel it in your chest as you couldn't help but head bang along at the same time.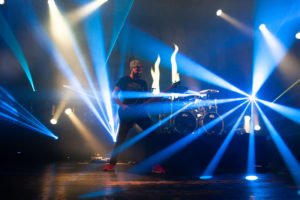 "Rationalist" once again let Davidson spread his wings and showcase his talent on a six string, this time on lead guitar as JB jumped to bass. To close out the Constellations album and that portion of the set was the roller coaster track "Crusades".  The album version has your emotions going up and down, but witnessing it live adds so much more feeling to an already great song. To bring in the second half of the show, Matt Greiner showcased his talents during yet another triumphant drum solo. You could honestly give an average drummer four more arms and two more feet and they would still not come close to the rhythmic fury or composure (no pun intended) that he displays behind the kit.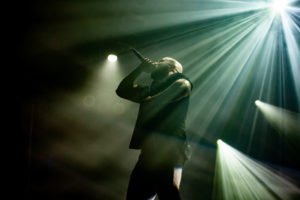 And who shows up to battle the king of the kit…. you guessed it, Dustin Davidson. I am just going to pay him the compliment of calling him the John Paul Jones of the band because at this point, he's literally done everything but sell merch. After the dust settles from the percussion dual, JB Brubaker takes the stage back for his ominous intro to "Ghosts" off the Found In Far Away Places album which featured Jeremy McKinnon of A Day To Remember on harmony vocals.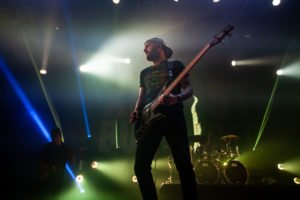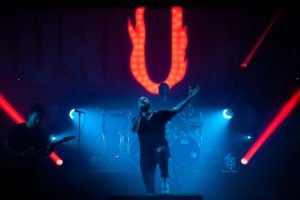 One of the many highlights of the show was one that I had not personally seen August Burns Red do before, and that was a cover song. To help them pull of NOFX's hit "Linoleum", Silverstein singer Shane Told hit the stage with his left arm still in a sling after breaking it at a show in Texas. Shane absolutely killed the vocals and the rest of the band were top notch. Next up , the band switches gears and goes back to 2011's Leveler to play fan anthem song "Empire". When it came time for the crowd to chant the climatic verse before the solo, everyone in attendance gave it everything they had as it echoed throughout the building. And what better song to close out the blistering 18 song sold out show, but "Composure".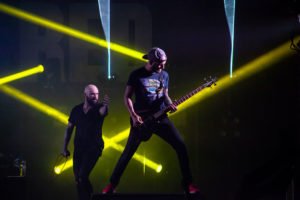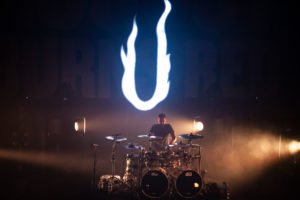 The highlight of 2007's Messengers, the songs furious drumming and aggressive guitar playing had solidified early on that this was bands cornerstone track. After the song ends, the cheers from the crowd were loud and sincere. Like everything with August Burns Red, it's all about the fans. Everyone in the band made sure to throw out pics and setlist's into the crowd as a small thank you. The show we had all just witnessed was one that will stick with us and we can only hope to have more "10 Year Anniversary" shows for a long time to come.
Another aspect that has made this tour such a success has been lighting tech David Summers and his brilliant work every night. It was atmospheric at times and aside form the music itself, it was difficult to tell weather I was at a ABR show or Pink Floyd.  This will be my fourth different tour seeing August Burns Red and the stage show has never been better.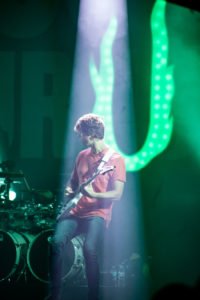 Ray Duker is the bands tour photographer and videographer who has a style all his own. His saturated style of photography has produced top quality images on a nightly basis on this tour, as well as countless tours prior. Ray's video skills was something that I hadn't seen before, and even though I had only first seen his work when this tour kicked off, the highlight for me was a short he did for Matt Greiner and his prototype Zildjan bell outside at this show. Together they are unsung hero's contributing to live and social media content for all fans to soak up and enjoy.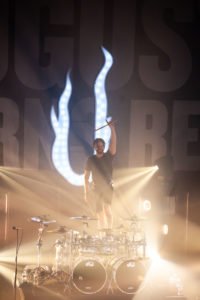 This leg of the Constellations Anniversary Tour wraps up in New York at the Playstation Theater on August 11th. The band will have a break before they head to Australia for a 6 show run starting on October 11th and then off to Hawaii for a show on October 20th. November 19th will be the start of the European leg of the tour which will carry them into early December. For all you beer connoisseurs out there, ABR has teamed up with Elder Pine Beer and released two different styles of brew from their brewery in Gaithersburg, MD. For more info go to https://www.elderpine.com/home. For any other info, merch or content, head over to https://www.augustburnsred.com. Any for additional info on other Atom Splitter artists go to https://atomsplitterpr.com