The Allman Betts Band Bring The Joy Of Live Music And Southern Rock To Hard Rock Live Orlando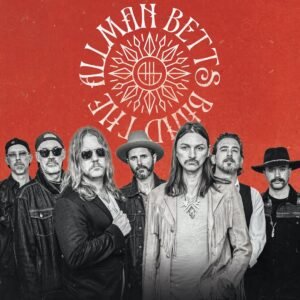 As I was walking around Hard Rock Live Orlando it wasn't hard to miss the fans wearing T-shirts of tours past.  Whether it was supporting The Allman Brothers Band, The Allman Betts Band or any members past or present they had seen out on the road.  It created a visual timeline of shows going back as far as the mid eighties.  A lot of those in attendance had been fans of the Allman family name since the beginning and now are out in full support of the musical bloodlines of Allman, Betts and Oakley.  With the band on the road supporting their newest album Bless Your Heart, The Allman Betts Band would certainly fill the void of live music in these fans lives with a setlist of classic tunes and great covers.
As soon as the lights start to dim the crowd immediately beings their thunderous ovation which is soon met the sounds of the famous theme song from the Clint Eastwood's iconic Fistful of Dollars.  Much like in the movie, the song builds intensity with every passing verse raising everyone's level of excitement that much higher.  But as the tape ends, the band steps in to seamlessly pick up where the song left off and bring their intro to a climatic end.  With that last note still ringing out singer Devon Allman starts to strum out the the first couple chords to the bands first single off Bless Your Heart with "Magnolia Road".
The vocal harmonies achieved between Allman and Betts were nothing short of powerful and amazing while the music itself delivered so many rich elements from each member of the band.  With 7 different musicians on stage these songs take on a life of their own as each layer stands out from one another while creating a musical unison that is not pulled off very often.  After the upbeat swing of "King Crawler" the band pulls a cover out of their sleeve with The Grateful Dead's "Shakedown Street".
Berry Duane Oakley would pull double duty on bass and lead vocals on this Dead track but would have additional help on vocals from Devon, Duane and John.  This is one of my favorite Grateful Dead songs and the band did this song so much justice and more as they've done in the past.  Duane Betts elegantly rips through Jerry Garcia's solo section and keyboardist John Ginty adds his own dose of funk on the Hammond organ and then goes riff for riff with Devon on guitar.  This was definitely a fan favorite as the fans young and old were dancing while clapping and waiting for their chance to yell "Whooooo" when the time was right.
As much as the fans are here to listen and celebrate The Allman Betts Band's music and new album, they were all eager to hear some classic Allman Brothers tunes.  John Ginty would lead the room and the band into the classic song "Ain't Wasting Time No More" to the biggest ovation of the night so far.  Devon Allman's voice was full of soul and passion much like his father's throughout his career. As his voice carried over the audience like a rhythmic blanket, guitarist Johnny Stachela would steal the show and mesmerize the crowd with his incredible slide playing.  Watching him skate note to note so effortlessly and playing with such feeling was just remarkable.
Before the crowd's applause could even die down Berry could be seen clapping his hands to get the fans to join in as Duane Betts would start off one of The Allman Brothers most recognizable songs with "Jessica".  Betts and Stachela would team up to play that iconic guitar riff in perfect harmony to where it sounded exactly like the recording did almost 50 years ago.  Duane Betts would really shine and take lead just like his father Dickie Betts had done so many times before.
This would also give us our first good chance to see the percussive pairing of R. Scott Bryan (drums & bongos) and John Lum on drums.  During the songs breakdown we could get a glimpse at the rhythm contrast between Lum playing the main beat on the drums and Bryan playing a different but upbeat rhythm while staying in the same time signature.  This song will always be known as one of the greatest instrumentals of all time and getting to see it played live by this group of musicians was absolutely incredible.
"Much Obliged" would throttle it back a bit as the slower tempo.  A hidden gem off Bless Your Heart towards the bottom of the track list this song had you sitting back and being hypnotized by not only Allman's soothing baritone delivery, but Johnny Satchela's addictive slide riff that you can't help but hum back to yourself.
Following another stop off The Allman Betts Band's new record with the rowdy everglade anthem "Airboats and Cocaine" we visit the title track of their first album "Down to the River".  This was a solid blues track that Devon Allman owned from start to finish.  Between his subtle yet moving guitar solo and the way he was able to get the crowd involved with singing the chorus as he would slowly back away from the mic really paid off with the overjoyed reaction and loudest ovation so far.
And what rock show be complete with out a little "Purple Rain".  The arrangement that The Allman Betts Band had put together to pay homage to the late great Prince was just filled with so much emotion and warmth that it had every single fan on their feet singing along and waiving their hands back and forth.  I had seen the band play this live in the past on social media clips or YouTube, but the power that you get when you experience it live takes it to a whole other level.  After band introductions they transition right into another Allman Brothers classic with "Trouble No More" which had the room shoot right back up out of their seats in excitement.
The band would close out their set with the second single of their first record in "Shinin'." This is one song of The Allman Brothers Band set that could easily pass for something out of their fathers catalog.  Duanes tender vocals, the twangy guitar tones and the perfect blends of organ and slide had me convinced that If I closed my eyes, I could be listening the The Allman Brothers Band themselves.  As the song concludes and the band heads off stage, the house lights would still be off but some of the stage lights were still lit.  This subtle hint let the fans know that there was still some music to be played.
The applause from the crowd lasted until well after the band returned to the stage right up to Devon kicking off the first song of tonights encore with the first track of Bless Your Heart, the track "Pale Horse Rider".  The band gave a moving performance about a man lost in life and you could just hear that out pouring of emotion from singer Devon Allman.  This was a strong pick for an encore considering it could have easily found its way higher up on the setlist as the "Waaa ahh ohhh's" still swirl in our heads.
But after an amazing 13 song set, The Allman Betts Band would make number 14 a memorable one and end this show one a very high note.  Devon Allman takes the time to thank everyone for being such a great crowd and showing his appreciation of those who came to support them as opening acts and now as the headliner.  And as he says "We'll leave you with this one right here" he begins to play The Allman Brothers Band's greatest theme with "Midnight Rider".
As he strums away on that white Gibson acoustic guitar the crowd immediately begins to clap along on their own and lend their singing voices louder than they had been all night.  I stood there and watched adult fans excitement take them right back to being kids at a show in the 70's and that is one of the many powers of music.  This is such an iconic song that has meant so much to so many people over the years, that being here to see it played by the next generation of Greg Allman, Dickie Betts and Berry Oakley really what makes it and this show so special to be a part of.
This was one of the best shows I've been to in a long time.  The incredible level of musicianship and just sheer talent on that stage elevated them above a lot of other acts out there.  But something that really makes their show so different than most you'll see, is the generational ties.  I had seen a little girl maybe 5 years old on her dads shoulders watching the show as he wore an Allman Brothers tour shirt from the 90's and I guarantee that she will own an Allman album of some kind .  The Allman Brothers legacy has been growing since 1969 and now that same legacy has trickled down to grand children and even great grand children.
After the show I made my way to the stage to see if I could get my hands on a pick or setlist when an older couple in their 70's was already there.  The woman called out to the tour manager "Excuse me sir. Can you come here for a second".  "I was a young hippie girl in the 70's who would follow the Allmans all around.  Can you tell the band for me, that their fathers are extremely proud of everything they've done".  That really took me back when I heard it, but I'm sure she is not wrong.  The Allman Betts Band are paving their own road with their own music, but at the same time carrying the torch of their families music for more generations to come.
There will be plenty of opportunities to catch the band as they are touring straight through November and will pick back up in March of 2022.  For all tour info, tickets and merch go to Allman Betts Band .  The band are also doing a special 3 show live stream event June 14th, 21st and 28 so head to No Cap for tickets.  Don't forget to grab your copy of The Allman Betts Band's newest record Bless Your Heart or available on all streaming platforms.