A Day To Remember Scores At San Diego's Petco Park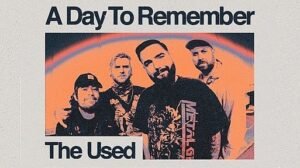 As an extension of their summer tour which kicked off in July, A Day To Remember brought a triad of talented openers along for their "Just Some More Shows" tour. A swarm of concertgoers dressed head-to-toe in black sprawled across a field in downtown San Diego. The Sycuan Stage was surrounded with fans, with a dimly lit Petco Park as its backdrop.
To kick off the evening, alternative band Magnolia Park brought their fun energy to San Diego's Petco Park venue at Gallagher Square. Hailing from Orlando, Florida, the six-piece group has gained an impressive 642,000 followers and 5.9 million likes on TikTok since their formation in 2019. Lead singer Joshua Roberts brought a fierce spirit to the stage as they opened with their song "Feel Something," which features Mayday Parade's Derek Sanders on the studio recording. Guitarists Tristan Torres and Freddie Criales, keyboardist Vincent Ernst, bassist Jared Kay, and drummer Joe Horsham round out the group. The field was packed for the show and everyone welcomed Magnolia Park's fresh take on the alternative genre. Contrary to early punk music with its anti-establishment messages and angry tones, Magnolia Park opts for a more indie vibe. Many of their songs feature personal lyrics about important topics such as inclusivity and intolerance. Their set included a cover of Fall Out Boy's "Sugar, We're Goin Down" which was incredibly well-received and an excellent introduction to the "Just Some More Shows" lineup.
Setlist:
Feel Something
Back on My Bullshit
Liar
Sugar, We're Goin Down (Fall Out Boy cover)
Love Me
10 for 10
The next opener, Movements, wasn't too far from home; they originated in Orange County in 2015. Vocalist Patrick Miranda, lead guitarist Ira George, bassist Austin Cressey, and drummer Spencer York make up the post-hardcore foursome. The band's set was mainly filled with songs from their 2017 debut album Feel Something. They also played their latest release, single "Cherry Thrill" much to the delight of their fans in the audience. The crowd's energy increased with each band that came on stage, and Movements was no exception. The group's sound has a calming indie quality to it, with smooth guitar tracks yet raw and intense vocals. They closed their set with their most streamed song, "Daylily." 
Setlist:
Third Degree
Barbed Wire Body
Skin to Skin
Colorblind
Full Circle
Cherry Thrill
Daylily
Next up, the longest running of the four bands on this tour was rock group The Used. Since forming in Utah in 2001, The Used has sold over 10 million albums and their discography includes 8 studio albums, many of which are certified gold and platinum. You could tell that the crowd, filled with self-proclaimed "elder emos," was beyond excited as they came on stage. Lead singer Bert McCracken charged onto the stage with a chaotic and captivating energy. His colorful outfit and exaggerated facial expressions really spotlighted his performance as a frontman. Other members of the group include bassist Jeph Howard, guitarist Joey Bradford, and drummer Dan Whitesides, all of whom brought their A game for the 11-song set. McCracken strutted across the stage, highlighted by bright red and white stage lighting while wrapping a microphone cord around his forehead like a headband. The band's setlist included a variety of songs from over two decades of releases. The audience seemed particularly exhilarated in the middle of the set when they played their song "The Taste of Ink" from their eponymous 2002 debut album, The Used. 
Setlist:
A Box Full of Sharp Objects
The Bird and the Worm
Take It Away
Listening
Blow Me
I Caught Fire
The Taste of Ink
All That I've Got
Buried Myself Alive
Blood on My Hands
Pretty Handsome Awkward
The crowd waited in anticipation as stagehands raised a large black banner with giant white letters spelling "ADTR" emblazoned across the front. Shortly after 9:30pm the lights dimmed, the curtain dropped, and there stood the main event: A Day To Remember. Lead vocalist Jeremy McKinnon traversed the stage as fans shouted along to a highly recognizable opening song, "The Downfall of Us All." Lead guitarist Kevin Skaff wore an oversized gold chain necklace complete with a glittery San Diego Padres logo pendant. Rhythm guitarist Neil Westfall greeted the venue with smiles while drummer Alex Shelnutt played with intensity, each song met with passionate energy from the fans. 
The band went on to play a 20-song set including four encore songs, bringing out all the hits from their discography. The setlist was diverse, though it did include five out of twelve tracks from one of their most popular albums. With a quarter of the set dedicated to their 2009 release, Homesick, the crowd enjoyed hearing fan favorites like "I'm Made Of Wax, Larry, What Are You Made Of?" and "If It Means A Lot To You." During their cover of Marshmello's "Rescue Me," the venue was illuminated by a wave of rainbow stage effects and cell phone flashlights. Many songs were accompanied by smoke machines, streamers, and beach balls. However, during "All Signs Point to Lauderdale" members of the band and crew tossed several rolls of toilet paper into the audience – equally unexpected and enjoyed by all. McKinnon stated that out of all of their choruses, "All Signs Point to Lauderdale" probably contained the best and most recognizable. 
There was no shortage of mosh pits throughout the night, especially during "Mr. Highway's Thinking About the End." Curious onlookers from neighboring high rise apartment buildings peeks their heads onto balconies to see what the excitement was about. Chants of the iconic lyrics "DISRESPECT YOUR SURROUNDINGS!" from the crowd could surely be heard from a few blocks away. It was an energetic evening to say the least, and as the band closed with "The Plot to Bomb the Panhandle," the andrenalin-infused venue moshed along til the very end.
Setlist:
The Downfall of Us All
All I Want
Paranoia
A Shot in the Dark
Degenerates
2nd Sucks
Right Back at It Again
Rescue Me (Marshmello cover)
Have Faith in Me
Last Chance to Dance (Bad Friend)
I'm Made Of Wax, Larry, What Are You Made Of?
Mindreader
Miracle
All Signs Point to Lauderdale
Mr. Highway's Thinking About the End
Resentment
Encore:
If It Means a Lot to You
Monument
Sometimes You're the Hammer, Sometimes You're the Nail
The Plot to Bomb the Panhandle

You can catch A Day To Remember touring across the US through the end of 2022. While "Just Some More Shows" wraps up with a performance at the When We Were Young Festival in Las Vegas this month, November and December brings the "Reassembled: Acoustic Theater Tour" featuring special guests, Wage War. The group isn't slowing down anytime soon with European dates following that as they tour with Bring Me The Horizon through early 2023.