Frontman Greg Puciato's Live Stream "F–K Content" Proved To Be More Than Your Average Event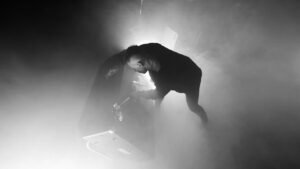 (Photo Credit: Jim Louvau)
With streaming being the new norm in order for fans to have live music in their lives, the bar has to constantly be raised.  There are only so many ways artists can make their performances really stand above the rest.  But in the case of legendary front man Greg Puciato, originality is just another day at the office.  Greg's F–K Content stream will allow him to stretch his creative legs and produce an unparalleled experience for his fans.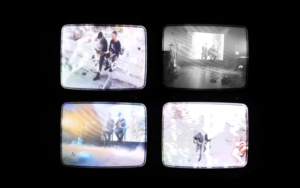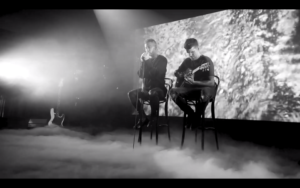 With smoke blanketing the stage we get our first song of the night with "Heaven of Stone".  The short acoustic tune would serve as a primer to the nights festivities. After "Creator of God" our screens are flooded with the visuals reminiscent of the infamous video in The Ring.  We then find ourselves in the studio with the band as they unleashed the brutal and passionate track "Absence As A Presence" which one of four brand new tracks released just for this live stream event.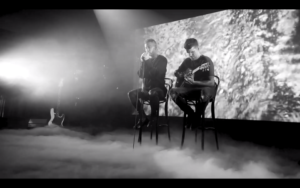 We leave the black and white embrace of the studio, dropping viewers right into the intense and chaotic setting the band has waiting for us .  As drummer Chris Hornbrook leads into "Fire For Water" the lighting flashes around the band, Greg Puciato's distorted robotic voice makes our ears perk up.  This musical onslaught would carry on beyond this ominous track as the dark groove of "Deep Set" and the steamroller that is "Do You Need Me to Remind You?" would leave its foot on our neck even while revisiting the opening of "Absence As A Presence".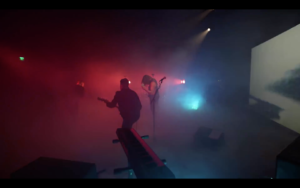 As the show navigates itself from candid recordings of Greg explaining the structure of certain parts of the show, the studio jam sessions and the stage performances themselves (prepare yourselves this may get deep), it begins to feels to me like were are viewing all of these elements from Greg's perspective and less like a mini-doc/show.  It's like a first person narrative as he takes us through everything that has lead him and the band up until show time.  Who knows, maybe one day instead of "Being John Malkovich" we'll get a "Being Greg Puciato" documentary we were live in his shoes and watch this visionary artist create music.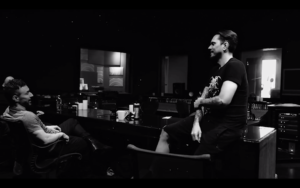 Greg and the guys pull us back into the recording room to give us another new track "I Don't Wanna Deal".  This song takes on more of a hardcore or heavy punk vibe and just motivates you to get up and start two stepping where every you may be.  After the 3 minute adrenaline shot to the arm, we get a tour of the guitar and amp setup the band used to record their new tracks and listen to Greg talk about the pleasantries of life on the road which sound like anything but the life of a rock star.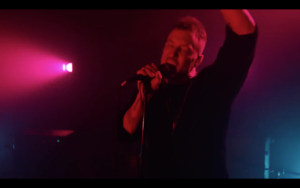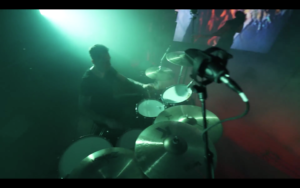 Through the smoke engulfed stage "Roach Hiss" crawls from our speakers and off Greg Puciano's newest album Child Soldier: Creator of God.  This song just has all of that in your face rawness fans would expect to hear on one of his records, but seeing it played through the colored fog and with all of that intensity takes the song to a whole other level.  To bring us to the other side of the musical spectrum, the band deliver up "Crazy All Around".  Greg trades up his signature growls for layered harmonies as he not only shows of his vocal range, but also showing his skills on guitar and bass as he lays down all the string tracks.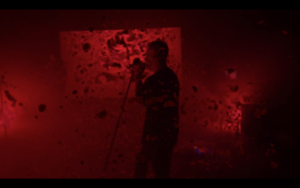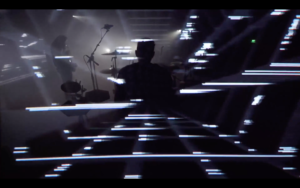 As Jeff Geisser's distorted bass vibrates in our chests, our screens are taken over with the graphics of floating swirling blood through the thick red lighting.  Another track off Child Soldier: Creator of God but like the bands last song, this one hits on the softer side.  But it is quickly counteracted with the explosive "Evacuation".  After a slow progressive build up that has us thinking we're going to get a trio of soothing emotional tracks are instead met with a sledgehammer.  Greg's screams over Nick Rowe's pulsating guitar riff takes us by surprise as it transitions from the previous verse.  The songs chorus is powerful and full of soul and is a superbly well rounded anthem and definitely my favorite of the night.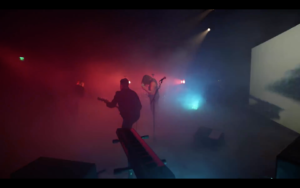 "Lying at the Bottom of the Sky" would be the fourth and final new track and ultimately of this amazing show.  Right before the song we can see Greg and his producer talking about how he wanted to end the show with this track.  This is also where we learn that the song was conceived and recorded the week of the show.  The delay on the guitar adds such an ambiance and takes on a life of its own under Greg's emotional vocal performance and really closes the show out on a soaring high note.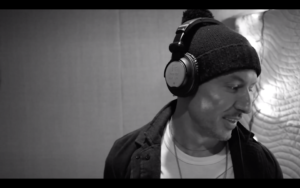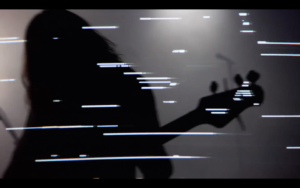 To be honest, I anticipated this to be a blistering set containing a mixture of Greg Puciato's solo work and hopefully some Dillinger Escape Plan material.  But I was really blown away by the not only the diversity between the heavier songs and the more emotional driven tracks, but the unique way he spliced so many different video elements together.  We were able to get behind the scene footage, intense live performances and conversations about the development of the show itself.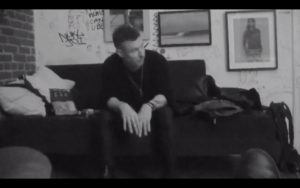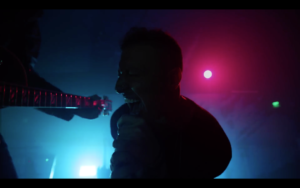 Greg's talents were on full display during his stage show as well as through his drive and his vision for his music as seen in his candid conversations in the studio.  Greg Puciato's newest album Child Soldier: Creator of God is out now so grab your copy and merch at Federal Prisoner.  And don't forget about Greg's other project, metal super group Killer Be Killer and their new album Reluctant Hero.  Make sure you get over to their site for your one stop shop at Killerbekilled.com.