Blue Ridge Rock Festival: Day 2 & Conclusion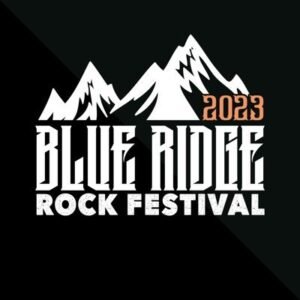 When we arrive at the venue, not a cloud could be found in the sky.  All we had a crystal blue skies and a full day of as much entertainment and music as we could possibly handle.  Walking in just after noon, you could already tell the crowd was in full effect.  Looking in any direction would have you gazing upon what seemed like an endless sea of fans, soaking in the early bands and really just enjoying themselves. Despite how Day 1 ended.  Day 2 was already off to an epic start!
After getting myself situated and settled in at the Media tent, I decided to start my day off right and venture down to the ZYN Stage to catch Crown the Empire.  The band brought their theatrical edge to the festival with their soaring melodies and grandiose production.  Singer Andy Leo was in top form as he worked the stage and crowd from side to side, firing up the sea of fans. Their set was a visual and auditory feast, complete with mesmerizing light displays, showcasing their evolution into a powerhouse in the post-hardcore scene.
Following Crown's memorable display, I made the voyage to the Famous Monster Stage to kick things up a notch and take in Chelsea Grin. Tom Barber's ear wrenching growls played as the sinister maestro over the mind fields of doom punching rhythms and earth quaking breakdowns.  With tracks like The Isnis, Playing With Fire and of course Hostage, it's amazing the stage held in one piece.   With their brutal breakdowns and guttural vocals, followed suit, intensifying the mosh pits and proving their status as metalcore heavyweights. The band's undeniable chemistry and stage presence were palpable, and their performance was a visceral experience for everyone in attendance.
As much as I would wanted to stay and soak in all of the chaos.  One of the high points of the entire festival was Trust Company  making a long-awaited return to the stage. Their alternative rock classics had fans singing along with nostalgic fervor, providing a fitting reunion setting.  For the first time in almost fifteen years, all four original members hit the stage to deliver an unbelievable performance.  The enormous crowd fed off of the band's raw energy as they took us down memory lane with a laundry list of classics like Falling Apart and Running From Me.  But to no surprise, the pinnacle of the entire set was when the band served up their catapulting hit Downfall.  Every fan belted out every single word with excitement and conviction, turning this into one of the most moving sets all week.
Right next door. Of Mice & Men, veterans of the metalcore scene, delivered a powerhouse set that paid homage to their past while looking towards the future. Their anthems of resilience and unity resonated deeply with the crowd, creating a sense of camaraderie that transcended the music.  Their performance was a solid mixture of soaring vocal harmonies coupled with the equally paired screams and savage guitar riffs produced heavy fan favorites like Would You Still Be There and O.G. Loko.  But the band would drop a ton of new music on the audience from their newest record Tether which isn't set to come out until October.  That's a hell of a sneak peak!
Soon, it would be time for another dose of chaos.  After the Burial's festival performance was nothing short of a sonic juggernaut that left the crowd awe-inspired and craving for more. As soon as the Minnesota-based metalcore veterans took the stage, they unleashed a relentless torrent of crushing riffs, intricate guitar work, and thunderous rhythms that sent shockwaves through the audience. Their technical prowess was on full display, with guitarists effortlessly navigating complex arrangements while seamlessly transitioning from face-melting solos to bone-rattling breakdowns.  And you'll have to look no further than tracks like Exit, Exist, Death Keeps Us From Living.  
And what better way to slap an exclamation point of destruction than with Behold the Crown.  The sheer energy emanating from the stage was infectious, sparking mosh pits and headbanging galore, as vocalist Anthony Notarmaso's powerful growls and emotive cleans soared over the cacophony, creating an electrifying atmosphere that left fans in a state of metalcore euphoria. After the Burial's festival performance was a testament to their status as pioneers of the genre, delivering an unforgettable set that left no doubt about their enduring influence and captivating stage presence.
Next, we would follow the masses to the ZYN Stage for another dose of brutality from a couple of guys from Kentucky.  Knocked Loose's performance was an unrelenting onslaught of hardcore aggression that left the crowd in a frenzied state of catharsis. Hailing from Oldham County, Kentucky, this band brought an unbridled intensity to the stage that few can match. From the moment they kicked off their set, the mosh pits erupted, and the crowd's energy reached a fever pitch. Frontman Bryan Garris's guttural screams cut through the air like a chainsaw, while the band's relentless guitar riffs and bone-shaking breakdowns created a visceral experience that was as punishing as it was exhilarating. Knocked Loose's set was a relentless barrage of sonic brutality that left no room for respite, and the audience reveled in the chaos, making it one of the most memorable performances of the festival.
What has always separated Knocked Loose from the rest of the pack is not just their ferocious sound but also their ability to connect with the audience on a primal level. Garris's impassioned stage presence and his genuine interactions with the crowd created a sense of unity, turning the performance into a shared release of pent-up energy and aggression. As the band powered through their setlist, it was clear that Knocked Loose had not only mastered their craft but also harnessed the raw power of hardcore music to create an unforgettable live experience that left fans exhausted yet exhilarated, a testament to the enduring vitality of hardcore in the modern music landscape.
Another of the reunions at this year's festival, and one of the most anticipated would hands done have to be Flyleaf.  Flyleaf's  triumphant return to the spotlight, reminding fans of their enduring impact on the alternative rock scene. With the iconic frontwoman Lacey Sturm at the helm, the band delivered a set that was both emotionally charged and musically powerful. As they took the stage, the crowd was instantly drawn into a world of hauntingly beautiful melodies and introspective lyrics. Lacey's vocals soared with an ethereal quality, carrying the weight of the band's catalog with grace and authenticity. The chemistry among the band members was palpable, and it was evident that Flyleaf's spirit remained intact despite lineup changes. The setlist featured a blend of their classic hits and newer material, with each song evoking a sense of nostalgia and resilience. The performance culminated in a heartfelt rendition of "All Around Me," a song that had the entire audience singing along, creating a moment of unity and connection that defined the festival experience.
Flyleaf's stage presence was captivating, with a minimalist yet effective visual backdrop that allowed the music and Sturm's emotive delivery to take center stage. The band's performance felt like a cathartic journey, with Lacey Sturm's introspective and introspective lyrics resonating deeply with fans who had grown up with Flyleaf's music. This festival appearance served as a triumphant chapter in Flyleaf's ongoing story, proving that their music still holds a special place in the hearts of listeners and that their future in the rock world remains bright.
As we slide next door, we all know that we are about to witness one of the most power and unique experiences of the entire festival.  Sleep Token's performance was a mesmerizing and otherworldly experience that transcended the boundaries of genre and left the audience in a state of awe. This enigmatic collective, known for their blend of post-rock and progressive metal, created an atmosphere of ethereal beauty and profound emotion from the moment they took the stage. The shroud of mystery that surrounds Sleep Token only added to the intrigue, and as they delved into their set, it became clear that their music was a sonic journey into the unknown. The combination of delicate, haunting melodies and thunderous, atmospheric soundscapes created a sense of transcendence, with Vessel, the group's lead vocalist, acting as the charismatic and enigmatic guide through this sonic dreamscape.
The visual aspect of Sleep Token's performance was equally captivating, with minimalistic yet evocative stage design and lighting that enhanced the ethereal atmosphere. The audience was spellbound, with many fans swaying and closing their eyes, completely immersed in the music. Sleep Token's festival appearance was more than just a concert; it was a profound and immersive experience that left a lasting impression, reminding everyone in attendance of the transformative power of music and the unique artistry of Sleep Token.
From one monumental electrifying performance to another, Motionless in White's set was a theatrical and spine-tingling spectacle that left an indelible mark on the audience. Hailing from Pennsylvania, this band has long been celebrated for their distinctive fusion of industrial metalcore and gothic aesthetics, and their live show fully embodied that unique identity. As they took the stage, an eerie ambiance descended upon the festival grounds, with dimly lit visuals and elaborate stage props setting the stage for a night of dark and macabre entertainment. Frontman Chris Motionless's charismatic presence and commanding vocals led the charge, as the band delved into their setlist, which was a perfect balance of their earlier metalcore roots and their more recent industrial-infused sound. The result was a performance that felt like a journey through a haunted carnival, with anthems of rebellion and darkness that had the crowd singing along with fervor.
What truly set Motionless in White apart was their meticulous attention to detail in both their music and stage production. The combination of intricate costumes, unsettling visuals, and pyrotechnics created a visually stunning and immersive experience. The band's dedication to their craft was evident in every aspect of their performance, from the precision of their musicianship to the depth of emotion conveyed through their lyrics. Motionless in White's festival appearance was a testament to their status as modern-day gothic rock icons, and it left fans both exhilarated and haunted by the dark and theatrical journey they had just experienced.
Lorna Shore's festival performance was an electrifying display of extreme metal prowess that left the crowd in a state of sheer sonic devastation. Hailing from New Jersey, this blackened deathcore outfit unleashed a torrent of musical brutality that was nothing short of awe-inspiring. As they took the stage, the atmosphere grew thick with anticipation, and the band wasted no time in launching into their blistering set. Vocalist Will Ramos's guttural growls and hair-raising shrieks cut through the air like a serrated blade, while the relentless onslaught of blast beats and bone-crushing breakdowns from the band's instrumentalists created a maelstrom of chaos and intensity that had the audience in a frenzy. Lorna Shore's technical precision and raw aggression were on full display, making it abundantly clear why they are regarded as one of the genre's leading forces.
What Lorna Shore does differently, is not just the sheer brutality of their music, but also the artistry and atmosphere they cultivated. Amidst the chaos, there were moments of eerie and haunting beauty, as the band incorporated symphonic elements and atmospheric passages that added depth and complexity to their sound. The result was a set that felt like a descent into a dark and immersive sonic abyss. Lorna Shore's festival performance was a testament to the genre's capacity to elicit powerful emotions and provoke visceral reactions, and it left no doubt that they are a force to be reckoned with in the world of extreme metal.
 Slipknot's live performance is nothing short of a thunderous, visceral assault on the senses. Hailing from Des Moines, Iowa, the band has consistently pushed the boundaries of heavy music, and their stage show is a testament to their unparalleled intensity and showmanship. As the curtain drops and the chaos ensues, the masked and jumpsuit-clad members of Slipknot take the stage with a ferocity that is both mesmerizing and terrifying. Frontman Corey Taylor's versatile vocals, ranging from melodic crooning to ear-piercing screams, serve as the perfect complement to the band's sonic onslaught, while percussionist Shawn Crahan's pounding rhythms and percussion solos add an extra layer of chaos to the mix. The combination of blistering guitar riffs, thunderous bass, and relentless drumming creates a wall of sound that engulfs the audience, leaving them in a state of exhilaration and catharsis.  A special moment during their performance was when it was announced that it was drummer Jay Wienberg's birthday.  Taylor would lead the 50,000+ crowd in a thunderous yet joyous rendition of Happy Birthday.