Clutch & Helmet Crash Into The Roseland Theater In Portland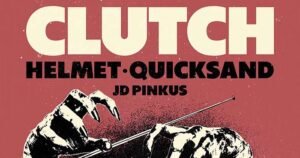 On tour for their 13th studio album Sunrise on Slaughter Beach, Clutch packed the Roseland Theater Sunday evening in downtown Portland, OR.
Lighting off the night of was former bassist of the punk band Butthole Surfers, JD Pinkus. His unique almost psychedelic banjo country music was something that a lot of fans didn't expect. His banjo was high pitched with his vocals balancing the sound. His set was a low light intimate experience that most of the crowd who saw his set won't forget.
Second on the docket was Quicksand. This legend of a band gave their fans a taste of their latest work, then followed that up with reminiscent trip down memory lane with songs from their discography. With front man Walter Schreifels throwing our the hardcore lyrics that kept the crowd wanting more. Giving the sense of how could it get any better. Oh but wait… there's more.
With the lights low the Alt-Metal Pioneers Helmet took the stage. Over the years of Helmets existence, the line up has changed. But what hasn't changed is front man Page Hamilton. He hasn't skipped a beat, or lost a step in his ability to hammer out monstrous guitars riffs. The riffs the band has been known for since the 90's. Highlights of their set was undoubtedly one of their most famous songs "Unsung" that had the whole crowd moving as one. It was clear that even though years have passed since their beginning, Helmet has not let go of any of their punch of aggression or drive under the leadership of Hamilton. Some people today may not find their show "entertaining". But the thing to remember is, that they most likely inspired most of the nu-metal bands of today.
Hitting the stage next was headliners Clutch who came out and waved to the audience then started immediately with Red Alert (Boss Metal Zone) before jumping right into 'Walking In The Great Shining Path of Monster Trucks. The front row was a mix of ages from young to old who were all feeling the flow of the music from the first note, straight on through to the end. Front man Neil Fallon even commented on how the young faces needed to be taken care of. "…they are our retirement plan."
The Maryland based rock band who are on their 31st year of rocking together, and have stayed consistent to their sound the entire time. Which has created a cult-like following. No matter the venue, the band always draws a capacity crowd of a mixed bunch of ages. And this night was no different. They didn't need a huge stage set. They didn't need any special effects, sexy dancers, or any other bright shiny things for their shows. Their songs, their talent, and a great light show are enough to fill halls and captivate the audience. They give everything and at the end they send the sweaty fans home again.
The Clutch fans young and old, were all that this show with one intention. To not miss an opportunity to celebrate the latest album release with their rockers.
Clutch Setlist
Red Alert (Boss Metal Zone)
Walking in the Great Shining Path of Monster Trucks
Nosferatu Madre
Promoter (Of Earthbound Causes)
El Jefe Speaks
Pure Rock Fury
Green Buckets
The Elephant Riders
Mountain of Bone
Willie Nelson
The Mob Goes Wild
A Shogun Named Marcus
Animal Farm
Passive Restraints
Skeletons on Mars
Noble Savage
The Face
Encore:
Slaughter Beach
Earth Rocker
The House That Peterbilt