Everclear Rocks The House At Ace Cafe In Orlando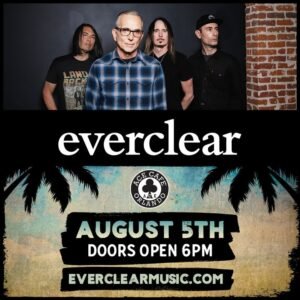 The soundtrack to a thousand high school drives came to life on Friday when Everclear brought their unique brand of alt rock to Orlando's Ace Cafe.
Celebrating the band's 30th anniversary, Everclear charged through a set list heavy on the first three albums that brought them fame in the 90s. The opening harmony of "So Much For the Afterglow" drew a roar of approval from the crowd and gave frontman Art Alexakis and company time to take the stage.
Alexakis flashed a smile, took a breath and launched 90 minutes of music with the opening line "This is a song about Suzanne." "So Much for the Afterglow" gave way to "Everything to Everyone," before stepping back to 1995's Sparkle and Fade.
"Heroin Girl" showcased both the catchy riffs and deeply personal lyrics that characterize Everclear's sound. Alexakis introduced most songs with a brief anecdote or aside, briefly sharing before "Heroin Girl" that he was honoring both 30 years as a band and just as many years sober. Songs like "Strawberry" and "Loser Makes Good" remain reminders, though, of just how close the world came to missing out on Everclear.
Lead guitarist Dave French showed his considerable talents in the solo on "Heartspark Dollarsign," while bassist Freddy Herrera and drummer Brian Nolan easily kept pace on fan favorite "Father of Mine."
Alexakis took his time in between songs, talking to the crowd and noodling around on the guitar with French. The opening riffs for Led Zeppelin's "Whole Lotta Love" made a short debut in the jam session, perhaps a nod to the Icarus logo on Alexakis' classic Zep tee.
Everclear joins other 90s bands on the nostalgia circuit of late, including Alice in Chains, Offspring, Rage Against the Machine, Bush, 311, Weezer and Limp Bizkit. While they're not selling out arenas like some of their counterparts, the craving to hear "Santa Monica" will sell tickets for as long as the band is game to play.
Alexakis was well aware of the power of the fans, frequently thanking them for coming out and playing two requests: "Amphetamine" and, later in the setlist, "Volvo Driving Soccer Mom." He also walked the front rail after finishing the show, personally handing out guitar picks and setlists.
No sooner did the show end than the hard realities of 2022 come crashing back down with the metaphorical curtain. But there was just enough sweet nostalgia left over for the drive home to remember the days of CD stores, dial-up and skateboarding after school with Everclear blasting in the Discman.

Setlist: 
1) So Much for the Afterglow
2) Everything to Everyone
3) Heroin Girl
4) Heartspark Dollarsign
5) Father of Mine
6) Nervous & Weird
7) Amphetamine
8) Loser Makes Good
9) Wonderful
10) Strawberry
11) AM Radio
12) Local God
13) I Will Buy You a New Life
14) Summerland
15) Volvo Driving Soccer Mom
16) Santa Monica
17) Molly's Lips (The Vaselines cover)
Photos and Review by Kyle Martin