LaMacchia Releases "Thunderheads" Today Via Aqualamb Records, Debut Solo Album From Candiria Guitarist John LaMacchia ft. Kellii Scott (Failure) & More Guests; In-Store Performance & Tour Dates Announced
LaMacchia
Releases Thunderheads Today
Via Brooklyn's Aqualamb Records
Debut Solo Album From Candiria Guitarist John LaMacchia
Led By Singles "Bled Out" And "Angels Delight,"
Tracks Feature Guest Contributors Kellii Scott (Failure),
Michael MacIvor (Candiria), Mario Quintero (Spotlights) &
Andrea Horne (Vaureen)
With Praise From Revolver, Metal Injection, New Noise,
Ultimate Guitar, Ghost Cult & More
Order Vinyl, CD, Digital Variants 
HERE
Each Album Comes With Accompanying 100-Page Art Book
LaMacchia Celebrates New Record With In-Store Performance
At New York's Limited To One Record Store On June 19,
New Tour Dates Announced For August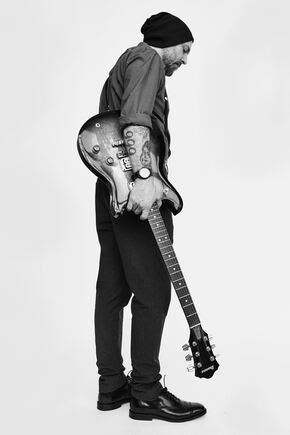 (Photo By Billy Kidd for Allen Edmonds)
The anticipated debut solo album from LaMacchia is out today via Brooklyn imprint Aqualamb Records. Entitled Thunderheads, the nine-track stunner is the debut solo record from the accomplished musician John LaMacchia, known for his work as the guitarist for Brooklyn hardcore/prog-metal group Candiria.
Yet on Thunderheads, LaMacchia pushes the envelope further with a fresh experimental indie rock vibe, featuring layered sonic nuances and male-female vocal interplay that presents a dimensional new palette that is comparable to Massive Attack, Doves and Radiohead.
The first two singles from the album have been led by "Bled Out," a deep dive through crunchy guitars and free-falling bass, entwined with the candy-sweet vocals blend of LaMacchia and Sabrina Ellie, as well as "Angels Delight," one of the moodier orchestrations on the album, featuring the lush vocals of Candice Freshko and full of pulsating electronics and evocative guitar that show off the versatile talent of LaMacchia.
See the video for "Bled Out" here:
Composed and recorded over the course of 2020 and 2021 during the pandemic break, Thunderheads plays like a lullaby for the apocalypse. With healthy doses of self-respect and emotional bravery that serve as a salve for our pandemic-weary heart, it allows listeners to escape a world that is falling apart with music and creativity.
In addition to John LaMacchia, who has recorded all of the guitars, vocals, keyboards and programming for Thunderheads, additional guest contributions come courtesy of Kellii Scott (Failure) on drums, Michael MacIvor (Candiria) on bass guitar, Mario Quintero (Spotlights) on keyboards and Andrea Horne (Vaureen), Candice Freshko and Sabrina Ellie on vocals.
Praise for the album has come from a number of esteemed publications, including the following:
"The music is more closely related to the moody, introspective excursions of Massive Attack or Radiohead than the spazz-metal freakouts of, say, the Dillinger Escape Plan — a mellower sound he previously explored with his long-running side project Spylacopa." — Revolver
"The album is heavy in its ambient and enveloping energy, with clear themes of devotion, lament, and acceptance, as LaMacchia navigates the complexities of the human soul." — New Noise
"Very real How To Destroy Angels-type vibe on this one." — Metal Injection
"Fans of Radiohead, Massive Attack and Doves will feel right at home here with the experimental indie-rock energy." — Metal Sucks
"Thunderheads (Aqualamb Recordings) — the debut record of LaMacchia — plays like the 3am winding down of a night of excess. Thrills and sensual desires wedded to a shadow of sadness and introspection." — Ghost Cult
To celebrate the new record, LaMacchia will appear at an in-store performance at New York's Limited To One Record Shop on June 19 and has also announced a series of new tour dates in August where he'll be playing the new music live:
August 4 @ Lucky 13 (Brooklyn, NY)
August 5 @ Mr Beery's (Bethpage, NY)
August 7 @ Ortlieb's (Philadelphia, PA)
The track listing for Thunderheads includes:
Bled Out
Put You Down
A Ghost On Tectonic Plates
It's All Over Now
Angels Delight
Disconnect
Pagliacci Kid
Bad Penny
YRUTHEWAYUR
Thunderheads 
is now available at 
Aqualamb Records' website
 with blue and pink vinyl variants, CD and digital options. Each purchase comes with an accompanying 100-page book filled with lush artwork, drawings, lyrics and additional content to get inside the mind of 
LaMacchia
 and the creative process.
About LaMacchia
LaMacchia is the new project led by musician and artist John LaMacchia of Brooklyn prog-metal's legendary Candiria. The result is what we wish post-aughts music would have sounded like; layered with new-wave moodiness, and akin to Autolux, Massive Attack, Doves and Liars, to name a few. And with the musicians he sought out to fulfill that burden, including Kellii Scott on drums (Failure), Michael MacIvor on bass (Candiria), Mario Quintero (Spotlights) and vocalists Sabrina Ellie, Candice Freshko and Andrea Horne (Vaureen).
@lamacchiamusic
About Aqualamb Records
Inspired by the lack of album art in the age of invisible music, Brooklyn-based record label AQUALAMB publishes 100+ page printed books of artwork and writings as a tangible accompaniment to its releases. Essentially, each album's art and liner notes (traditionally confined to an LP gatefold, a CD booklet, or the screen of some music-playing device) are reconfigured into book form. Each book includes links to the music and digital content.
www.aqualamb.org
socials: @aqualambrecords