Watch LAMB OF GOD's "Omens"
Watch LAMB OF GOD's "Omens"
Omens Title Track Now Available Everywhere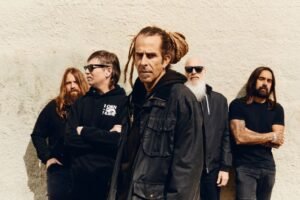 Photo: Travis Shinn
Watch and listen to "Omens," the title track from LAMB OF GOD's forthcoming 9th album. The new single from the GRAMMY-nominated metal colossus is available everywhere for download and streaming.
"I think a lot of the messes human beings find ourselves in could be very easily prevented simply by paying attention to obvious repeating patterns, both in our personal lives and in a broader sociohistorical context," says LAMB OF GOD frontman D. Randall Blythe. "What some call 'omens' are really just manifestations of the fact that there is nothing new under the sun. It's foolish to ignore this, but we all do it."
Watch the "Omens" music video HERE:  https://youtu.be/VHVsG2taJVs
The gargantuan "Omens" follows the album's first single, "Nevermore," which collected more than 1 million views on YouTube and over 1 million streams on Spotify shortly after its release just last month.
The hard rock and metal press described "Nevermore" as "crushing" (Metal Injection), "like a nail bomb" (Revolver), and "a thundering taste of what's to come" from the band's new album (Kerrang!).
The Omens album arrives on October 7th, 2022, on Epic Records.
Album preorders are live, and tickets are on sale for The Omens Tour, featuring Lamb Of God and special guests Killswitch Engage, Motionless In White, Spiritbox, Baroness, Animals As Leaders, Suicide Silence, and Fit For An Autopsy join on different legs. The tour kicks off on September 9th in Brooklyn, New York.
Omens follows 2020's self-titled No. 1 Hard Rock Album, saluted by the likes of Rolling Stone and NME. Omens is perhaps their angriest album yet. Produced by longtime collaborator Josh Wilbur (Korn, Megadeth), Omens is a vicious new testament for the Richmond, Virginia-based band, a furious entry in their beloved catalog. "The world is crazy and keeps changing. Omens is a reaction to the state of the world," Blythe explains. "It's a very pissed-off record." He pauses for emphasis. "It is extremely pissed-off."
The New Wave Of American Heavy Metal architects tracked Omens at Henson Recording Studios in Los Angeles, California, a location that birthed classics from The Doors, The Ramones, and Soundgarden, among others. "The inner workings of the band have never been better," explains guitarist Mark Morton. "You can hear it in Omens. You can see it in our performances, and if you're around us for five minutes, you can feel it."
The Omens album pre-order is live now at Lamb-Of-God.com, boasting special bundles and several exclusive items, including colored vinyl, shirts, hoodies, box sets, and CDs with an alternate color cover.
Nevermore
Vanishing
To The Grave
Ditch
Omens
Gomorrah
Ill Designs
Grayscale
Denial Mechanism
September Song
The Omens Tour dates are as follows:
Lamb of God w/ Killswitch Engage, Baroness, Suicide Silence
Sep 09 – Brooklyn, NY – Coney Island
Sep 10 – Camden, NJ – Freedom Mortgage Pavilion
Sep 11 – Alton, VA – Blue Ridge Music Festival
Sep 13 – Youngstown, OH – Youngstown Foundation Amphitheater
Sep 14 – Baltimore, MD – Chesapeake Employers Insurance Arena
Sep 16 – Atlanta, GA – Coca Cola Roxy
Sep 17 – Jacksonville, FL – Daily's Place
Sep 18 – Tampa, FL – MIDFLORIDA Credit Union Amphitheatre
Sep 21 – Boston, MA – MGM Music Hall at Fenway
Sep 23 – Louisville, KY – Louder Than Life Festival *No KSE, No Suicide Silence
Sep 24 – Chicago, IL – Huntington Bank Pavilion at Northerly Island
Sep 25 – Sterling Heights, MI – Michigan Lottery Amp at Freedom Hill
Sep 26 – Indianapolis, IN – TCU Amphitheater at White River State Park
Sep 30 – Denver, CO – Fillmore Auditorium
Lamb of God w/ Killswitch Engage, Motionless In White, Fit For An Autopsy
Oct 01 – Salt Lake City, UT – The Great SaltAir
Oct 02 – Grand Junction, CO – Amphitheater at Las Colonias Park
Oct 04 – Fresno, CA – Selland Arena
Oct 07 – Sacramento, CA – Aftershock Festival *No Fit For An Autopsy
Lamb of God w/ Killswitch Engage, Spiritbox, Fit For An Autopsy
Oct 09 – Vancouver, BC – Doug Mitchell Thunderbird Sports Centre
Oct 10 – Kent (Seattle), WA – Accesso ShoWare Center
Oct 11 – Portland, OR – Theater of the Clouds
Lamb of God w/ Killswitch Engage, Animals As Leaders, Fit For An Autopsy
Oct 13 – Inglewood, CA – YouTube Theater
Oct 14 – Phoenix, AZ – Arizona Federal Theater
Oct 15 – Albuquerque, NM – Isleta Amphitheater
Oct 16 – El Paso, TX – UTEP Don Haskins Center
Oct 18 – San Antonio, TX – Freeman Coliseum
Oct 19 – Houston, TX – 713 Music Hall
Oct 20 – Irving, TX – The Pavilion at Toyota Music Factory
ABOUT LAMB OF GOD:
"For millions of headbangers, Lamb Of God are simply the most important contemporary metal band in the world," Guitar World observed. Lamb Of God grew from basement shows and grimy DIY venues to arena headliners. Over the course of their career, the Richmond, Virginia-based band earned a reverence akin to musical forefathers (and road companions) Metallica, Slayer, and Megadeth. Timeless songs like "Laid to Rest," "Redneck," "Walk with Me in Hell," and "Now You've Got Something to Die For" became anthems in the heavy metal songbook. They shoved heavy metal into the new millennium with New American Gospel (2000). As the Palaces Burn (2003) joined Rolling Stone's Top 100 Greatest Metal Albums of All Time. Ashes of the Wake (2004) was the first Lamb Of Gold album certified gold by the RIAA, a feat once all but impossible for a contemporary extreme metal band. Sacrament (2006), Revolver's Album of the Year, went gold as well. The raw and organic malice of Wrath (2009) began the band's enduring relationship with Wilbur. Both the diverse Resolution (2012) and the explosive VII: Sturm und Drang (2015) debuted in the Top 5 of the Billboard 200. The 2020 self-titled set, their first new material in five years, added instant classics "Memento Mori" and "Resurrection Man" to the repertoire, alongside eight more monster tracks. Revolver, Metal Hammer, and Loudwire included Lamb Of God on their year-end Best Albums lists. The momentum continues with Omens, the band's most aggressive and ambitious album yet.
LAMB OF GOD is:
D. Randall Blythe – Vocals
Mark Morton – Guitar
Willie Adler – Guitar
John Campbell – Bass
Art Cruz – Drums
LAMB OF GOD online: