Baroness Gives The Fans What They Want They Wanted To Hear At Will's Pub In Orlando
Even the biggest bands once played to small bars, but rarely do they return from the sold-out arena and revisit their roots.
Baroness reversed that trend on their latest tour, providing an intimate performance of a fan-chosen setlist to a small but energetic crowd of roughly 100 at Orlando's Will's Pub.
Fans had 80 songs from five albums to build their own setlist, but the show kicked off with some expected classics like Kerosene, March to the Sea, and Chlorine & Wine. Lead singer John Baizley wryly noted, "You picked the songs we would have played anyway. But thanks for picking the easy ones."
Baroness has played some of the biggest stages and festivals in the world since their debut almost 20 years ago from the Savannah, Ga., rock scene; they'll return to Florida in May for Welcome to Rockville. And in some ways, you can appreciate their music better coming from amplifier stacks the height of the Chrysler Building.
What gets lost though on those big stages is the craftsmanship Baroness puts into their music, and the unbridled energy poured into their performance. When you're close enough to get hit by sweat, you begin to appreciate just how tight the band performs.
Baroness' sound has been more or less uniform across albums. It's a breed of metal that emphasizes tight synchronicity between crashing drums and thundering basslines, with technical but accessible guitar solos. Hearing it recorded is a beautiful thing, but seeing it live you come to truly appreciate just how intricate and interwoven the guitars really are.
Flanking Baizley on stage was Gina Gleason, a guitar virtuoso who made every blistering guitar solo look easy. Titles like "lead guitarist" don't seem to matter as much in Baroness; Gleason does a lot of heavy lifting on solos, with Baizley filling in occasionally and trading licks. But the partnership and communication between the pair (limited to glances and smiles because of the noise) is akin to Dwayne Wade and LeBron James flawlessly setting up slam dunks.
Exactly how in sync they are became evident halfway through the show with a stripped down mini-acoustic set. Cocainium, followed by Little Things and Foolsong each gave a glimpse not only into Beazley and Gleason's precision, but a snapshot into how the songs came into being.
While the guitars serve the crunch and sweetness of Baroness, it's the rhythm section that propels the songs forward. Sebastian Thomson was unstoppable on drums, crisply snapping songs like Isak and Rays of Pinion to attention. Building a thick groovy bed for Baroness was Nick Jost, who consistently found a way to mesh dark intense thunder with the bright guitar licks. Arguably the best showcase of the teamwork between drum and bass was the head-bobbing Swollen and Halo.
For hardcore Baroness fans, seeing a band this close up was a can't miss opportunity.
Setlist:
Kerosene
A Horse Called Golgotha
March to the Sea
Green Theme
Chlorine & Wine
Swollen and Halo
Shock Me
Tourniquet
Isak
Take My Bones Away
Cocainium (Acoustic)
Little Things (Acoustic)
Foolsong (Acoustic)
Can Oscura
Board Up the House
Borderlines
If I Have to Wake Up (Would You Stop the Rain?)
Fugue
Eula
Rays On Pinion
The Birthing
Seasons
The Gnashing
The Sweetest Curse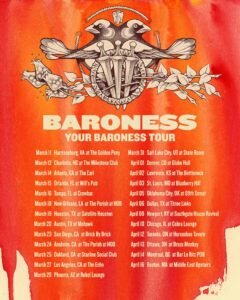 Photos and Review by Kyle Martin