Sick Jokes Premieres New Video For "Pop Goes The Vessel" Via ReGen Magazine; From Pop-Industrial-Metal Act's Debut "MMXX"
SICK JOKES
Premieres New Video For "Pop Goes The Vessel"
Track From Debut MMXX (2020)
Released Via Label COP International
Nine-Track EP Features John Fryer (Black Needle Noise)
Pop-Industrial-Metal Act Features Cohort Of Contributors Spanning The Globe, From Detroit, Los Angeles And Austin
To Normandy, France For An Entirely Virtual Collaboration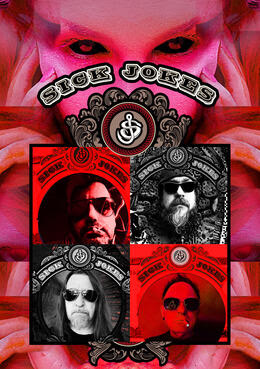 Today, on-the-rise pop/industrial/metal act 
Sick Jokes
 partners 
with 
ReGen Magazine
 to premiere the new video for track "Pop Goes The Vessel." See it 
HERE
.
The song is from the band's debut EP 
MMXX
 (2020 in Roman Numerals, naturally) that is naturally fueled with all the aggression, rage and mania that have become the hallmarks of this year. Find it now via independent label 
COP International Records 
HERE
.
ReGen Magazine
 says of the track and video, "Blending elements of industrial/metal with the accessible melodies of electro-pop … the imagery matching the song's themes of excess."
Michael Madill, Sick Jokes' guitarist/lyricist/sound designer tells the magazine, "We wanted to figure out a way to make a video during the pandemic, with all of us scattered around the world. So we called up our old friend Kevin Leeser, who used to do design and live visuals for us back in Detroit years ago. The song is using the metaphor of a stroke to symbolize excess, and so the general idea was to have the video represent a trip through the bloodstream, moving through the vessels as the pressure builds and things start to boil, until… pop goes the vessel, baby. The five of us all shot our own footage from our respective spots around the globe, and then Kevin did a bunch of cloud tank shots and graphics and edited it all together into this glorious fever dream."
Heavy, brooding, at times even a bit uplifting, the nine-track MMXX (four original songs, five remixes) is the collaborative effort of a band of old cohorts spanning the globe with Madill stationed in Normandy, France and keyboardist Robert McCarroll, drummer Kenny Wilson and dual vocalists Sean Haezebrouck and Plasmic spread out between Los Angeles, Detroit and Austin.
Madill, McCarroll, Haezebrouck and Wilson spent their formative days in a handful of industrial bands local to Detroit in the first half of the '90s (HAL, Noc Barrage, Batterie Acid), and found the zeitgeist of 2020 to be the spark to create some new material in the genre—this time around, joined by colorful L.A.-based singer Plasmic, a prolific producer in her own right.
The new material caught the ear of legendary producer John Fryer, whose Black Needle Noise project featured Haezebrouck on drums for a series of live shows in 2019. With the help of Fryer, the newly minted Sick Jokes was signed to COP International and was able to hone in on four original songs and five additional remixes (one by Fryer himself).
The EP is now available for purchase in digital formats 
HERE
.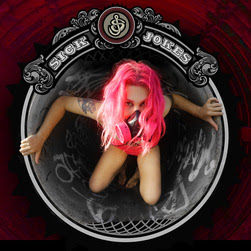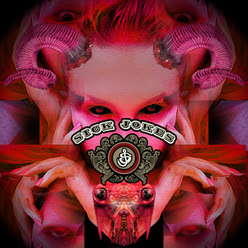 About COP International
The year 2021 marks COP International's 30th anniversary with ambitious plans for its expanding roster of artists, already including Stabbing Westward and Azam Ali, as well as Chiasm, Deathline International, Jean Marc-Lederman, Johnny Tupolev, LUNA 13, Sick Jokes, and Suicide Queen. The label reached a turning point in 2019, teaming up with legendary producer John Fryer to form a production company under the COP International umbrella. Fryer is producing and engineering the majority of the forthcoming COP catalog and also working as A&R in helping to select appropriate acts. "The level of craftsmanship, artistic talent and meticulous attention to detail is what sets John's work a world apart," says COP International founder Christian Petke. "When we first started talking, I brought up John's relationship with 4AD where he was the principal engineer and producer. This is exactly what we have in mind for this collaboration. Our philosophy is quite simple: Find exceptional talent, don't limit ourselves or the artists, and build a tribe based on the excellence of the releases. We have signed a couple bands that have major chart potential based on previous entries, and we are very excited about our projects for this year. Another thing that is rather important to us is a certain level of closeness and mutual appreciation we have as label and artist. It is our responsibility to provide a nurturing environment that allows the artist to focus on their craft. We support and shield them and provide the business machinery that will develop their full potential."
Find Sick Jokes Online