Review of Morgan Rose's Debut EP "Controlled Chaos"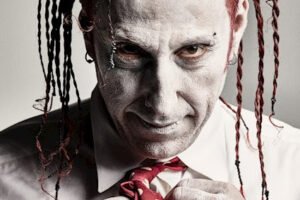 There is not much of a positive spin someone can really put on how 2020 has unfolded since March.  But in that slim margin, musicians could turn a negative into that very positive by using this extensive down time to tap into their creative minds .  But in Morgan Rose's case, it meant finally being able to achieve something that has been an itch on his artistic side for some time. On November 27th Morgan released his first solo album with Controlled Chaos on Rise Records.
I was curious to see if Morgan would venture out to be a front and center singer on the record, but true to form he will pull double duty of drums and lead vocals while he adds piano to his credit.  Joining him on Controlled Chaos will be longtime bandmate in Sevendust with guitarist Clint Lowery and Jason Christopher from Corey Taylor's band on bass.  These 3 veteran musicians will give life to Morgan's vision over 5 songs and fans will not be disappointed.
Following a short sampled and keyboard intro, Controlled Chaos starts off with the bruising track "The Answer".  The song's melodies and catchy euphoric chorus is the perfect contrast to Clint's driving riff work.  You can certainly hear the Sevendust elements in it which let's be honest, was going to happen. This is not a spin off Sevendust album by any means. But having two core members who collaborate often for as long as they have, at some point will lay down some familiar tones. But I highly doubt there will be anything in the complaint jar about it.
With the longest running track of the album, Morgan and friends serve up "Faster Man". Rose starts off with a slow and easy drum beat that you just can't help yourself to tap along to. Before long  you can feel the progressive build up with every passing verse and chorus until its climatic peak around the 4:30 mark. Following Morgan's impressive display of his vocal range, the song has a nice long fade out that is topped off with the isolated notes of a piano ringing as the track comes to a close.
As "Faster Man" concludes, it flows seamlessly into our next track listing with the atmospheric "Clarity".  This song has Morgan Rose showing us every element of his vocal reach. For the verses it stays a soft and melodic but kicks it up a couple gears for his emotional out pouring choruses. Towards the end of the track Rose turns it up as he belts out from his more dirty register that Sevendust fans are used to hearing. Clint Lowery does a fantastic job supplying the track with subtle and well timed leads adding fluid layers behind vocal work and the hypnotic rhythms.
The beginning of "Come Alive" takes on a bit of a sinister approach with it's eerie piano part echoing off the drums, especially as Morgan's deep intimidating voice talks over them. But the hammer drops with the first verse fueled by Clint's punishing riff which catapults Rose's scream through our ears.  This is the perfect pairing combo of the heavier guitar parts that have clean harmony vocals cutting through and lifting the song up to a place you weren't expecting it to go.
I was really surprised with the last track on Controlled Chaos with the emotionally charge "Exhale".  Given Morgan's resume in heavy rock and metal, I thought for sure the album with end with a rager of a track. But instead we get a song that sounds like something that would fit on a David Gilmour solo album or a B side on Pink Floyd's Momentary Lapse of Reason.  This is such a pleasant curve ball for fans because not only does it take them in a completely different direction musically, but truly shows how powerful Morgan Rose is as a vocalist. Everyone can spot his backups on any given Sevendust record. But if I played this song for those same people, they would be blown away to know who was singing.
To me this album is a check mark in the success column in Morgan Rose's career and should be incredibly proud at what he has created. Through all 5 tracks it is very clear how versatile he is as a musician and even though he normally sits behind the band, Controlled Chaos brings him right up front center amongst his peers. Clint Lowery and Jason Christopher are monumental in their parts with creating different layers within each song wether it be on strings on their vocals. Something that might not get enough recognition is the stunning vocal work from both men. Fans are obviously familiar with Clint's work on the mic. But Jason Christopher is an amazing vocalist who can give most front men a run for their money.
Controlled Chaos is available now on all major streaming outlets. But head to Morgan's website for all merch and physical copies which include a signed 5×5 cover art card Morganknrose.com