Joe Bonamassa Breaks New Ground With His Worldwide Live Stream Event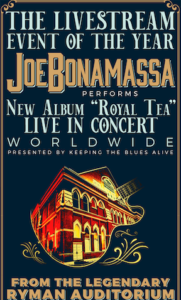 When you go to a show you expect to get your moneys worth. Wether it be hearing the songs you want to hear, the stage show you want to see or getting the performance that you expect. All of these things are never even a question in your mind when it comes to a Joe Bonamassa performance. Every single element is to the highest standard, not just the performance itself but the entire presentation. If a man can stand in the Florida heat and humidity for over an hour and forty-five minutes all while wearing a nice expensive suit because that is the standard that he holds himself to for his fans, than thats pride and professionalism on a whole other level (I know because I was there).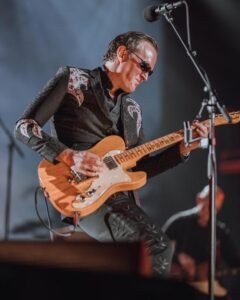 (Photo Credit: Kit Wood)
I can assure you that his live stream show is no different, but actually forced him to set the bar even higher. So how do you make this experience unique and original but still keep it true to a show you'd take on the road? Well Joe Bonamassa has thought outside the box and offered a VIP option that will be as close as the fans could get to being there in person. And that is to have fans submit a photo of themselves to have cardboard cutouts made and put in assigned seating around the venue. Yes, baseball and other sports have done this also. But can you name a single musician to do it? The Answer is no, you can not.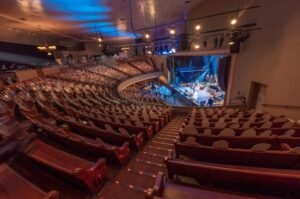 (Photo Credit: Kit Wood)
To kick this extravaganza off we take to the sky above the legendary Ryman Auditorium and then slowly make our way through the front door. As you can hear what sounds like sound check, a photo of Joe emerges standing in the middle of his sold out cardboard crowd. And what show would really be complete with out cardboard cut outs of your very own parents in the front row as Debra with her stand out blonde hair and Len Bonamassa with his fedora and sunglasses look eager for the start of the show. Next we shoot across the pond to a shot of the London Bridge as we go on a tour to visit other historic landmarks of the city. And then just like that, we're back in the great city of Nashville just in time for the start of the show.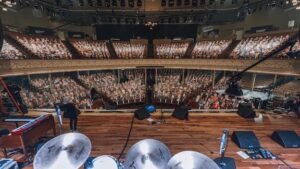 (Photo Credit: Kit Wood)
As we pan down from the upper balcony, you can hear the band tee up the first song of the night as well as the first song off Joe's newest album Royal Tea. Tonight Joe dons a change up to his standard sleek suit stage dress. In honor of this special performance he will be wearing a black suit with custom sequence embroidery on the shoulders and sleeves of his jacket and traded in his polished dress shoes for a pair of boots that Schwarzenegger would be jealous of, while the ladies on vocals would both be wearing matching jaselle jackets.
"When the Door Opens" reveals itself as a softer but edgy track with leads reminiscent of Zeppelin's "All of My Love". While the song progresses, everything begins to pickup into a heavier swing tempo while Joe goes to work with his wah pedal and explosive Gary Moore style attack to his solo.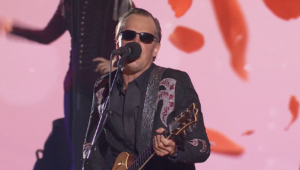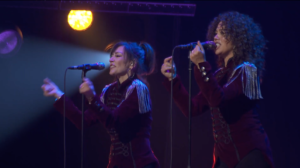 Some fans may notice that there are some fresh faces on stage tonight. We have Rob McNelley on guitar, Dannielle DeAndrea on back up vocals and Greg Morrow on drums as well as some familiar company with the legendary Reese Wynans on the black and whites, the world renowned Michael Rhodes on bass and last but certainly not least Ms. Jade MaCrae on backing vocals. Joe would also be playing without a horn section for the first time in recent memory. There have been a few lineup changes over the years but you can always count on the fact the Joe Bonamassa always surrounds himself with world class musicians whenever he takes the stage.
The title track "Royal Tea" would be the next song poured over the viewers eyes and ears. The guitar and snare paired intro would lead into a bit of a blues breakdown riff if you will as Jade and Dannielle lay their soothing harmonies over top. This is just one of those songs that has the blues seeping from every verse. One that you may think had been written by a man from the Mississippi Delta sitting on milk crate with a guitar and some soul, it just has the old school feel to it.
After a quick instrument change Joe addresses the room and the fans with some humor while mimicking the echo in the room with "How is everyone feeling out there… out there… out there? Sorry for the people at home, it's a little quiet in here. But you're all here in spirit."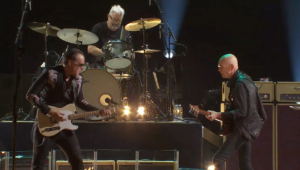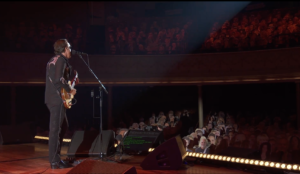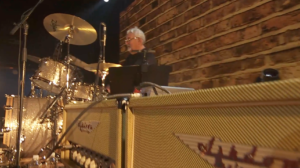 "High Class Girl" would mark the first appearance of Joe's 59′ burst Lazarus which had been brought back to life by the talented Kim LaFleur and his team at Historic Makeovers. Once the iconic flame top cooled down from a heavy work load it was time to bring out veteran harmonica player Jimmy Hall for the jam "Lookout Man". At some points the song had a very John Mayall vibe as the harp and guitar worked off of each other.
Of the songs that I had heard prior to the show, "Why Does It Take So Long To Say Goodbye" was certainly one I was looking forward to. As Joe picks his chorded notes he slides into the songs lead making his famed Bolin Burst sing with every slide and bend. Some guitars in the right hands can just elevate a song and in this case, you could hear that all the way to the last note.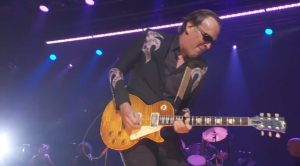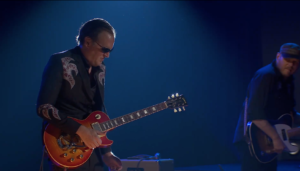 This would be the first show I've seen of Joe's that consisted of a rhythm or back up guitar player with him on stage. Having those extra six strings applying different layers and harmonies really adds to the texture of each song plus, Rob McNelley certainly holds his own when the opportunity strikes. Something that also added to the experience through out the night was the massive HD screen behind the band.
From song to song different images and graphics would emerge to give eye popping visuals correlating to each tune. During the rumpus track "Lonely Boy" Bonamassa  calls McNelley, Jimmy Hall and Reese Wynans to arms as they each showcase their talents in the spotlight. I must admit, it is always a pleasure to watch the legendary Reese Wynans let loose on the keys and always with a smile on his face.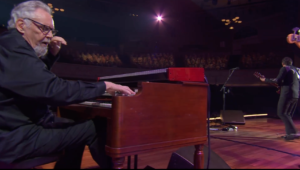 After a brief 5 minute intermission, the show resumes to the sound of a guitar string being hammered on as it echoes through the darkness of the room. The camera locks in on Joe as he channels his inner Rory Gallagher for the classic "Cradle Rock". One shot that really stood out was the camera angel behind the tea set as Bonamassa is swirling away during the songs slide solo.  The shows encore performance was packed with excellent tunes including Free's "Walk In My Shadow" and "Evil Mama" off Joe's 2018 album Redemption. But it would be the rolling hybrid of Jethro Tull's "A New Day Yesterday" into an absolutely epic instrumental of Yes's "Starship Trooper" that would close out this incredible performance on a truly high note.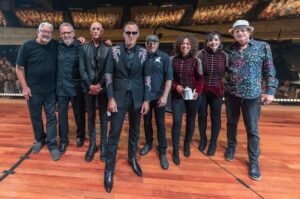 (Photo Credit: Kit Wood)
For an hour and forty-five minutes we were treated to a first class show by some of the very best in the business. Joe Bonamassa has once again shown why he is one of the most respected musicians and showmen in the world, a true master of his craft. The overall production was nothing short of spectacular and if I dare say even rivaled his live show which really sets the standard for future events like this. This concert was not only to provide the fans with a top notch performance but to do it all for a great cause.
With times the way they currently are, there are many people around the world in need of help, and musicians are no different. Joe's non-profit organization Keeping the Blues Alive Foundation has helped ease the financial burden of many musicians all over the world and to date, the program has raised over $350,000 in total and has supported more than 190 touring musicians impacted by the pandemic. Between ticket sales and donations during the After Party Showcase this event raised $32,000 already for Bonamassa's Fueling Musicians program.
TICKETS STILL AVAILABLE TO WATCH THE LIVE STREAM CONCERT ON DEMAND INCLUDING THE AFTER PARTY SHOWCASE:
 PRE-ORDER JOE'S NEW STUDIO ALBUM ROYAL TEA: