KORETSKY Releases "Hauntingly Atmospheric" Debut EP MMXX
KORETSKY
Photo credit: Carlo Di Caterino
Today, July 10, 2020, multi-instrumentalist and producer Olé Koretsky under the band name KORETSKY is releasing his debut EP MMXX including his acclaimed singles "Call It A Day" and "The One" which Post-Punk.com described as "a hauntingly atmospheric opening track, while sombre, dark, and on the surface, acidly cynical, has an innate catharsis showcasing both strength of heart and resolve in spirit." After taking two years away from the music business, Koretsky is diving back in, showcasing his post-punk disposition overlaid with a darkwave electronica sheen, giving the five tracks of MMXX a deeply intense, intimate, and often achingly beautiful sentiment.

With the release of his EP at hand, Koretsky stresses that he is not trying to forget his past nor unduly emphasize it – he simply feels ready to rejoin the world. "I really want to work," he says. "The trick has been to actually do it. I need to release these songs so all these dark, sad feelings can leave my system. This is a cathartic and healing project for me."

Listen to the MMXX EP below
A multifaceted artist, producer and DJ, Olé first met friend and bandmate Andy Rourke (The Smiths) in 2003 and in 2009, while the two worked as presenters at NYC-based internet radio station East Village Radio, they decided to form DJ outfit and band Jetlag. When The Cranberries' vocalist Dolores O'Riordan (and Olé's life partner) decided to join the band, the trio decided to change the band name to D.A.R.K. and in 2016, released the critically-hailed debut album Science Agrees. In addition, Olé also worked with The Cranberries, having toured and recorded two albums with them.

Both "Heartbreaker" and "Signs of Life" were originally written years ago, and were intended for inclusion on what would have been an album for Jetlag. As Koretsky recalls, he and O'Riordan were visiting her hometown of Limerick, Ireland when he was working on it. "I remember Dolores listening to what I'd written and saying, 'That's catchy!' I said, 'Thanks, but there's a problem: it only feels good when I sing in the chorus, Heartbreaker / Why won't the Lord just take her – that's a little disturbing, isn't it?' And she said, "No, don't worry about it – it's grand!'" Based on her approval, he kept that phrasing intact – and D.A.R.K. went on to debut the song during their 2017 tour.

Tragically, O'Riordan passed away in January 2018, giving those lyrics an eerily prescient quality. But, as Koretsky says emphatically, "That song was never about her – it was written with her input. I included it on this EP because she really liked it, and it also fits in sonically with the other songs."

For "Signs of Life," another older song, Koretsky invited Tina Kristina, a Mexico-based musician he met through Rourke, to step in for the vocals. Her soulful delivery contrasts beautifully with the darkwave-inspired instrumentation.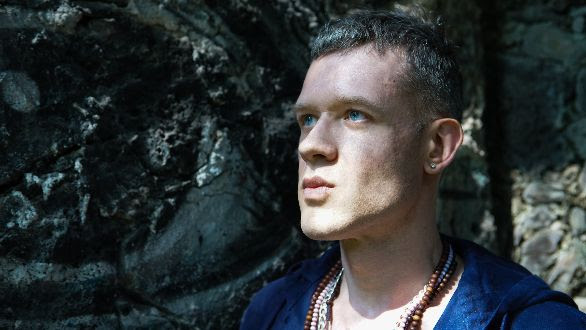 Olé Koretsky of KORETSKY
Photo credit: Ivan Sawyer Garcia
A second guest vocal appearance, courtesy of Koretsky's childhood friend Adrian Spoleti, came as something of a surprise. When Koretsky decided to cover the Prince-penned song "Nothing Compares 2U" (so memorably performed to perfection by Sinead O'Connor in 1990), Spoleti claimed he could sing an equally moving version. Incredulous, Koretsky told Spoleti, "Talk is cheap. Sing it for me!" To his astonishment, Spoleti was, in fact, not boasting: his vocal performance on the track is breathtaking.

The two newer compositions, the prickly "Call It a Day" (in which Koretsky describes grappling with despair) and the hauntingly atmospheric opening track "The One" (which he deliberately kept uncluttered, to allow the simple, stunning melody to shine through), both chronicle his unsettled but ultimately indomitable spirit during the past two years.
While Koretsky acknowledges that all of the songs on MMXX have a certain somber quality to them, which is only natural given his grief as he recorded them, he also believes that working on this EP has helped him find hope again. "I feel like allowing these songs to be dark is an appropriate way for me to express myself, and working again has been incredibly helpful for me. This release is my way to start looking ahead and rejoin the world in a way that helps me feel more hopeful about the future."