In Flames Sets Hard Rock Live Ablaze
December 15
To say that Swedish metal has been instrumental in the progression of metal as a whole would be a huge understatement. But to say that In Flames has been at the front of the pack over the last 30 years would be right on the money. 13 albums as well as additional EP's would make up the bands extensive history since 1990. Singer Anders Friden and lead guitarist Bjorn Gelotte (originally on drums) are currently the longest tenured members joining the band for 1996's The Jester Race that album would give birth to the bands mascot Jester and would coin the phrase of fans of the band as Jesterheads. I, the Mask was released in March of this year through Nuclear Blast and would mark the first album and tour for new comers bassist Bryce Paul and drummer Tanner Wayne. Whether it be a new or old lineup, the fans just want their chance to see their favorite band do what they do best and I'll be damned if they didn't disappoint.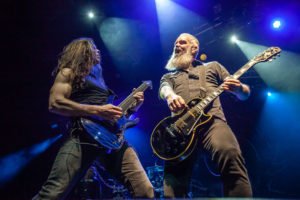 While the fans cheer in anticipation of the band hitting the stage, the panning synthesizer intro of 2002's "Cloud  Connected" fills the venue. Singer Anders Friden waves the crowd to get ready as the band breaks into the headbanging infused track. This song in particular was always one of my favorites, so to start the show off with this one was starting it off on a high note. After the band rips through one great song, it's right into another. It's crazy to think song number two of the night is twenty years old at this point from 2000's Clayman "Only For the Weak". In Flames set the pace very high out of the gate, sending the fans into a frenzy in the pit and those wanting to surf their way up to the front.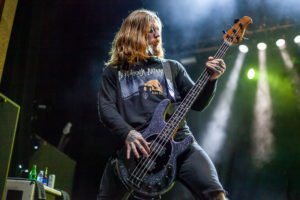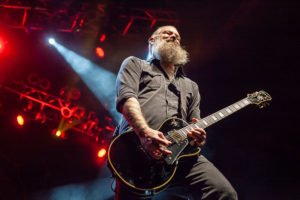 After the mayhem subsides, Anders informs the crowd "That tonight will be the best night of our lives. Because the setlist we have for you… holy fucking shit! And if you walk away unhappy, then fuck you!". As soon as he says "This next one is Take This Life.", the crowds excitement is immediately met with Anders' roar as they break into it. Some bands that have been around for a while will pace them themselves on stage. Either it will be a lighter set or maybe just stay in place and not move around all that much. Not these guys. From the first note all five members looked like they were shot out of a canon and gave everything for the full 18 blistering songs of their set.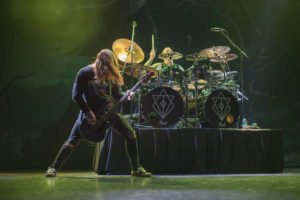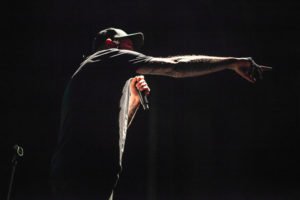 Between Bjorn and Chris Broderick shredding their asses off, oh and yes, THAT Chris Broderick formerly of Megadeath which at one point I thought he was going to turn green and tear ass through the pit. Drummer Tanner Wayne was like a sonic jackhammer all night behind the kit while bassist Bryce Paul threw down backup vocals and kept blasting away on that low end. And then there's Anders Friden, who's vocals sound as good if not better then they did when he joined back in 1995. He had notice one fan who would randomly crowd surf when the band had stopped playing. After calling him out a second time, he invited the kid to sit at the end of the stage and have a beer for the next song.
For fans that are all about the "older" music, only four of the eighteen songs are from their newest album. But I, The Mask has no problem holding up to their older albums. It is a solid record from start to finish and is one that you can listen to straight through with "Call My Name" "Burn" and my personal favorite ""I Am Above" as some of the highlights. In Flames has made it this far in their careers by putting out some of the best music time and time again and this album follows suit. And let's not forget about the incredible live show they put on which was high energy and nothing but greats music all night.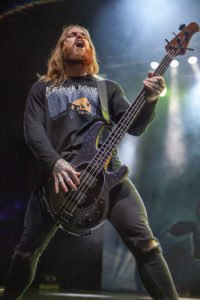 This would conclude the second part of the U.S. leg of the tour which wrapped up on December 20th in Dallas. The only news of In Flames touring in 2020 is a couple shows in Europe then to New Zealand and Australia for five shows. Make sure to pick up your copy of I, The Mask available on all streaming platforms and the bands site as well as all merch and up to date tour info at http://www.inflames.com/