Joe Bonamassa Closes Out The Guitar Event of The Year Tour At The St. Augustine Amp
November 23,
There are very few musicians in the music industry, let alone blues musicians, that are more of a work horse then guitar titan Joe Bonamassa. To produce one highly acclaimed album after another and tour relentlessly for one band is more than enough for any musician. But Smokin' Joe takes it to a whole other level by writing material and touring for himself and also doing the same for the three other projects he is involved with (Black Country Communion, With Rock Candy Funk Party and Beth Hart). For Bonamassa's thirteenth solo album, that's right readers… thirteenth, last September's Redemption was released on J&R Records and has one of the most diverse track list in recent memory. Tonight the fans will have the gift of blues presented by the best in the business.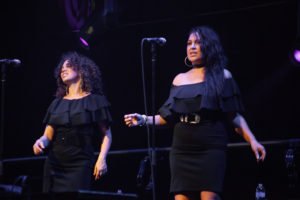 Show time was delayed by ten minutes as Joe caught wind of all the fans that where still on their way into the venue. Being the consummate showman that he is, he wanted to give them the best chance to catch the start of the show. While "There's No Business Like Show Business" serves as a filler while the band takes the stage, through the darkness on stage, there stands the Les Paul totting (60 Burst with double whites I might add) , sharped dressed man with the shades taking in the vibe as the crowd express their excitement. As the lights come on revealing all eight members of the band in position to kick of the two hour and forty-five minute Guitar Event of the Year!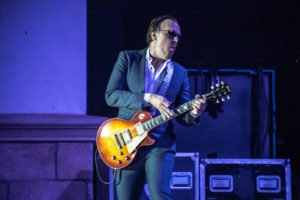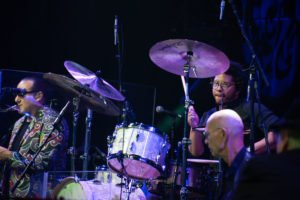 The first songs of the set represented the Redemption album in fine fashion. With the drum intro to "Evil Mama" serving a tribute to Led Zeppelin's "Rock & Roll"  it then lead into the head bobbing back and forth riff with bassist Michael Rhodes, starting the show off on a high night. "Just Cause You Can Don't Mean You Should" is a song that has the blues seeping out of every verse. The legendary Reese Wynans grabs his solo time on the keys right before Joe Bonamassa rips into a blistering fret run that was very reminiscent of blues icon Gary Moore.  "King Bee Shake Down" offers that upbeat swing tempo to get those fingers snapping. It also allowed the fans to catch a glimpse at how to properly play a slide as Bonamassa basically makes his vintage Strat speak for him.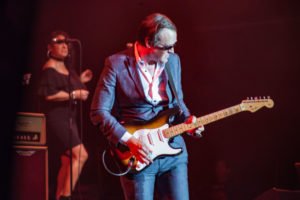 In between songs two and three, famed guitar tech and Jackson/Charvel enthusiast Mike Hickey appears from back stage to make the hand off of a Burst for a Strat. A highlight of the first half of the set was the incredible rendition of the title track off his 2016 album "Blues of Desperation". Leave it to Joe Bonamassa to find a way to make the blues sound heavy with this freight train of a song and seeing it played live is even more dark and ominous then on the record. But once the chorus riff hits with everyone else on stage it crashes like a tidal wave of sound making it almost impossible not to start tapping your feet. Lee Thornburg and Paulie Cerra shine throughout the song and topping of the crescendo with Lemar Carter firing away like a machine gun on the drums.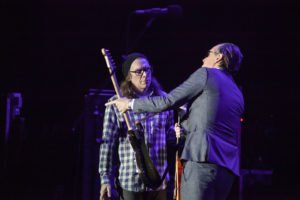 In order to give the best you have to have the best, and that's exactly how Joe Bonamassa brings his show to town. Touring with world class talent brings the level of musicianship on stage to a whole other level. Keyboard player Reese Wynans is a Rock & Roll Hall of Fame inductee for his work with Stevie Ray Vaughn as well as other Grammy winners. Bassist Michael Rhodes, Trumpet player Lee Thornburg and Saxophonist Paulie Cerra all have had immensely successful careers as session players and have worked with hundreds of artist stretching back to the 70's including Tower of Power, Ringo Starr and Glenn Hughes. Back up singers Jade Macrae and Juanita Tippins both have successful solo careers in their native Australia, but on stage you would think these powerful and soulful singers would be from somewhere in the mid-west. Drummer Lemar Carter is an accomplished drummer for Babyface and Demi Lovato who is filling in for the injured Anton Fig.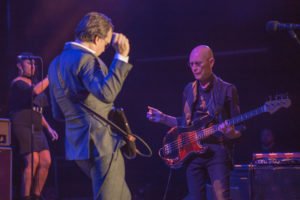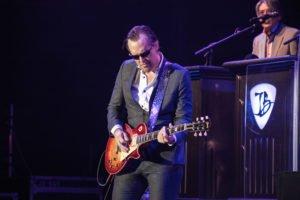 After hits including "Sloe Gin" and "Little Girl", the set comes to a close with one of Joe's biggest songs "The Ballad of John Henry". The hard hitting track has Bonamassa sporting his newly acquired 1960 Burst previously owned by Deep Purple's Tommy Bolin where he give's that Bixby tremolo a workout. The extended middle section gives him free reign to leave us mere mortals in awe as he commands the strings on that guitar like a conductor leading a symphony. Like many other songs in tonight's set, he adds those extended jams which give the songs another dynamic compared to the album versions.
After a short teaser the band reconvene and Joe Bonamassa takes center stage to unleash the whirlwind acoustic "Woke Up Dreaming". Joe's heavy handed playing caused his guitar to scream with every chord played and it truly was a miracle it wasn't a pile of splinters at songs end. As the lights come back on revealing the entire band it is "Mountain Time" that will close out the evening. The fourteen minute musical marathon had a steady climb throughout and hitting its climatic resolve around the ten minute mark leaving fans breathless, ending the show on an incredibly high note.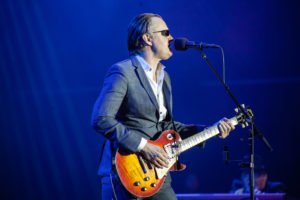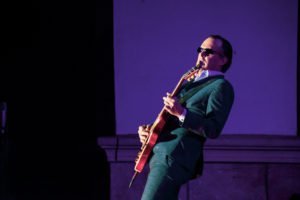 Fan's could be heard yelling "WE LOVE YOU JOE!" and "THANK YOU JOE" as he walked off stage attempting to let him know that they appreciate everything he gave in his performance. Joe Bonamassa wants to do right by his fans and giving them the best possible show every time he takes the stage. I have never seen another artist tour and put out as much great material as he does. Year after year there's always an album or a tour of some kind that bring us together in our appreciation of the blues. Even though this show would close out the 2019 touring for Joe and company, another tour is already planned out for winter of 2020. Be sure to pick up Joe's newest album Redemption which is streaming on all major platforms and his latest live DVD from the Sydney Opera House. For all music, merch, news and gear head over to Joe Bonamassa's site over at https://jbonamassa.com/. Also be sure to pick up Reese Wynans new album Sweet Release featuring some of the biggest names to ever play the blues!