Hip-Hop Back on the Attack: Wu-Tang Clan, Nas and Busta Rhymes on N.Y. State of Mind Tour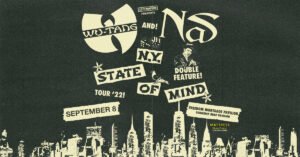 It was a beautiful night in Camden, NJ, to celebrate 25 years since Wu-Tang Clan's, as part of their N.Y. State of Mind Tour. The big cross-country tour features fellow 90's East Coast Hip-Hop legends Nas and Busta Rhymes. Rather than the traditional concert set-up, these artists switched up the traditional show structure. This show had no opening act. Instead, fans were treated to a nonstop, 2-hour high energy frenzy of hip hop classics, performed by all the artists, all at once.
The intensity and unpredictability of which artist would jump out on stage next gave fans no choice but to stay engaged in the exhilarating chaos in front of them. After nearly 30 years since coming together, these artists still had the drive to put on the energized show that their music deserves, giving themselves no breaks whatsoever. Their longevity only further cements their legacies into music history.
Starting out was Wu-Tang Clan member and founder RZA, hyping up the crowd, having them chant, "Hip-Hop" and "Wu-Tang yellow bee, we are the swarm." Shortly after, he introduced clan brother, GZA, performing the song "Liquid Swords," coming from GZA's second solo studio album. Slowly introducing each clan member with their respective songs, Wu-Tang kept things fresh. Raekwon busted out from the shadows, carrying a bottle of champagne, starting off his self-written song, "Incarcerated Scarfaces," paying homage to all his friends in jail and soon after came out Ghostface Killah, breaking out his song "Mighty Healthy." U-God then started off "Da Mystery of Chessboxin," with Inspectah Deck taking the song a step up.
Raekwon comes back out decked out in a purple outfit, representing his album Only Built 4 Cuban Linx… mainly referred to as The Purple Tape. Young Dirty Bastard, son of late Ol' Dirty Bastard and nephew of RZA, popped out, excited to keep the crowd moving. Wearing a full 76ers jumpsuit, Jones pays respect to the Philadelphia basketball team, bringing energy to the stage akin to players on a court.
His youthful energy kept the show fun as everyone reminisced about Ol' Dirty Bastard's "Shimmy Shimmy Ya" and "Got Ya Money." On the big screen, they featured clips of New York in the 90's, classic hip-hop albums, artists and music video snippets, as well as one of their biggest influences, Kung-Fu movies. Ending on the song, "C.R.E.A.M," out walks Nas, fist in the air, ready to perform "Verbal Intercourse," with Raekwon and Ghostface Killah.
Representation matters, Nas highlights in his lyrics as he raps about the truth, his upbringing and the struggles that stirred in the streets of New York. Rather than trying to hide his horror, he confidently calls out his history, sharing it with thousands of fans he would consider to be family. Embarking the start to his set with his earlier song "The Message," calling out to the ones who have been there since the beginning to sing along. Dropping out of school to pursue his true passion, Nas started his music career in 1991. 31 years later, he's touring 25 major cities with other incredibly influential rappers of his generation on the N.Y. State of mind Tour, named after his song from 1994 album Illmatic.
Bouncing from hit to hit, Nas delivers a powerfully confident performance, keeping everyone on their toes. Hands bounced up and down rhythmically throughout his set. Tearing through "Got Ur Self a Gun," he asks the crowd "Who was there in 94?" before transitioning to "It Ain't Hard to Tell." He bounces from his classic songs to his newer work, highlighting the best of his discography. Raekwon walks back out for "Eye for an Eye," before showcasing another Hip Hop master.
Strutting out on stage sporting a colorful 90s outfit, Trevor George Smith Jr., aka Busta Rhymes, and his hype-man, Spliff Star, wore a radiant smile that spread across the thousands of excited fans. Approaching the very edge of the stage, the colorful duo's infectious energy got everyone out of their seats. "New Jersey? New York? Philly?" Smith called out. Philly fans shouted the loudest, being the closest city to the Freedom Mortgage Pavilion. He looks through the crowd as if we were all the same, coming together as siblings.
"Collectively, we are all a bunch of serious hip-hop mother fuckers, let me show you how to get the dice rolling…" as he rolls smoothly into his iconic fast-rap track, "Look At Me Now." Smith, a revolutionary rapper known to spit the quickest, erupts at the crowd like a volcano, spewing fiery lyrics that no one could hope to match. Known to shred through lyrics like it's nothing, Busta Rhymes shows up and shows out at the Camden show, surpassing everyone's expectations. Since his first solo debut album in 1996, Smith is still going strong 26 years later, happy as can be with no intentions of stopping.
Throughout the show, front row center was soaked in champagne, arms wrapped around one another as the smell of ganja filled the atmosphere, hands forming the shape of a "W" in the air along with twinkling phone lights and abundant echoes of the voices following along to the classic songs of Wu-Tang Clan, Nas and Busta Rhymes. N.Y. State of Mind means never resting, never ceasing the hustle, and that's exactly what this show portrayed, the non-stop hard work and dedication of the performers and the backup musicians and DJ's during the set.
The music kept going all night, with unpredictable transitions and notable names on the stage for each song, outfit changes and East Coast Hip Hop songs gathered from the last 30 years. As the Camden show comes to a conclusion, RZA reminds us that "Everything you see tonight, from the lights to the clothes, all that shit behind us, it all started with one mic." Every performer that sang that night held up one index finger as Nas walked out for the last performance of his 2002 hit single "One Mic." Busta Rhymes has his hands on Nas' back, supporting the sendoff Nas delivers to well over 15,000 adrenalized fans. All great things must come to an end, however this tour will be an unforgettable piece of music history that will be passed down, remembered by future generations and those who are inspired by hip-hop.