Third Eye Blind's Summer Gods Tour Arrives At The Mann Center In Philadelphia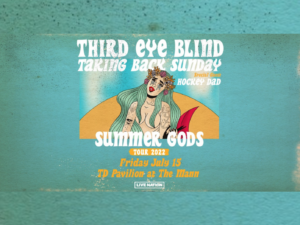 Third Eye Blind has had tremendous success over the last twenty-five years.  The band has produced some of the most iconic and memorable songs within that time that has proven to be the soundtrack to many fans' lives growing up.  In the midst of the COVID downtime that all but crippled touring, the band put out their seventh studio album Our Bande Apart.  After just over a year since their last tour, Third Eye Blind packed their bags and hit the road with alt-rock juggernauts Taking Back Sunday and the Australian Alt-Rockers Hockey Dad for the Summer Gods Tour.  And tonight, the music gods would surely shine down on the fans at The Mann Center.
When Taking Back Sunday hits the stage, it's full steam ahead as they plow into their set with the high energy of Tidal Wave.  Right away fans launch out of their seats and begin to jump and dance.  This song was the perfect way to start off their time on stage.  It set the tempo of the night on a high note, not to mention it's that intensity that has always been a big draw to this band.  Front man Adam Lazzara worked the stage like a man possessed between dancing behind the mic and his signature mic twirls.  During Liar (It Takes One to Know One), Lazzara made one lucky fan's night, as he knelt down and grabbed her hand as he sang to her.  Which soon led to him taking her hand and rubbing the side of his face.  If you weren't there, you probably wouldn't believe it.
Another thing that fans always look forward to when they come to a Taking Back Sunday show is that personal engagement with the band.  Now, that particular engagement might be more personal than most.  But there would be plenty of "How are we doin ladies and gentlemen" and crowd conversations to go around.  They definitely had the fans in mind when they dish out some heavily favored hits like Timberwolves in New Jersey, You're So Last Summer and A Decade Under the Influence.  The band had also dropped in a new track early in the set with the raucous anthem Just Us Two.
Taking Back Sunday would hit the fans hard with What's It Like to Be a Ghost? off of their acclaimed 2006 record Louder Now.  The energy had the crowd up front almost jumping onto the stage, while the reactions of the rest of fans in the venue would make you forget that there were even seats in the venue.  They would follow that up with another in the laundry list, a fan favorite with Cute Without the 'E' (Cut From the Team).  But I don't think it was a surprise that Taking Back Sunday would wrap it up with the one that has served as their musical banner MakeDamnSure.  The crowd was anything but tight lipped throughout the show.  But as soon as Lazzara started singing, the entire building erupted into thousands of backup singers that really brought the end of their set to a triumphant close.
Setlist:
Tidal Wave
Set Phasers to Stun
Liar (It Takes One to Know One)
Just Us Two
Timberwolves at New Jersey
You Can't Look Back
You're So Last Summer
Flicker, Fade
Better Homes and Gardens
A Decade Under the Influence
What's It Feel Like to Be a Ghost
Cute Without the 'E' (Cut From the Team)
MakeDamnSure
As The Mann Center sits at near capacity, the stage lights drop, igniting a quake of applause.  While the band's intro plays, one by one Third Eye Blind take their spots until front man Stephan Jenkins jogs up the winding ramp to his mic and they jump right back to their 1997 self-titled album with Thanks a Lot.  With the stage now lit up, it was hard not to be taken back by the stunning setup between the platforms leading up to the piano and drum kit.  To that elaborate panels of sticks and small logs that served as the backdrop.
The first portion of the set was a whirlwind of hits and fan favorites including Anything, Faster, Never Let You Go and The Kids Are Coming (To Take You Down).  Tonight, most fans would get their first chance to hear their amazing rendition of Joy Division's classic Disorder.  
But it would be during Third Eye Blind's heartfelt and upbeat ode Narcolepsy that would present the highlight of the entire night.  Mid-song, Jenkins trots off the stage and onto a small dividing wall that separates the front row area from the lower seating.  As he walks by slapping hands with fans he looks out and says "It's been three years since we've been in Philly.  Do you know how good this feels?!".  Right there the crowd explodes with cheers and screams.  It was really special watching him not only engage with those fans around him.  But the sheer joy that was written on their faces.
Towards the tail end of the night, we would get a pair of intimate acoustic songs with Red Star and The Background, things pick back up for a handful of killer songs before the set gets rounded out with none other than their iconic Jumper and Funeral Singers.  If there were one or two absolutely memorable songs you hadn't heard yet, we would all be right.  Keeping the excitement high, Third Eye Blind would leave the fans hanging for a bit before coming back out to really close out the show with a bang.
The band would have two Aces up their sleeve when they opened the encore up with Semi-Charmed Life and then brought this amazing night to a close with How's It Going to Be.  To no surprise, the thousands here tonight could probably be heard singing along all the way downtown.  With a three year absence, Third Eye Blind absolutely made up for lost time and truly gave these fans a night to remember with a staggering 25 song set.
Setlist:
Thanks a Lot
Dust Storm
Anything
Faster
Crystal Baller
Never Let You Go
The Dying Blood
The Kids Are Coming (To Take You Down)
Disorder
Narcolepsy
Palm Reader
Can't Get Away
Graduate
Wounded
Red Star
The Background
Box of Bones
Losing a Whole Year
Motorcycle Drive By
Blinded (When I See You)
Jumper
Funeral Singers
Semi-Charmed Life
How's It Going to Be