Welcome To Rockville Kicks Off This Week! KISS, GNR, Korn & NIN Headline, Plus Shepard Fairey/Obey Giant Artwork, Live Broadcasts From DWPresents On Twitch And SiriusXM; Limited Tickets Still Available

America's Largest Rock Festival
Welcome To Rockville
Kicks Off THIS WEEK,
Campgrounds Open Wednesday
KISS ("End Of The Road" Farewell Tour), KORN,
GUNS N' ROSES (First Show of 2022) & NINE INCH NAILS
Plus, Five Finger Death Punch, Breaking Benjamin,
Shinedown, The Smashing Pumpkins & Many More
Limited Single Day And Weekend Festival Passes Still Available For
May 19 – 22 At Daytona International Speedway
In Daytona Beach, Florida
Fans Can Get Ready With Rockville Radio LIVE On The SiriusXM Mobile App
Unique Experiences Include Shepard Fairey/Obey Giant Artwork
On Fest Grounds, Live Broadcasts From DWPresents On Twitch And SiriusXM & More
DAYTONA BEACH, FL (May 16, 2022) – Welcome To Rockville–America's Largest Rock Festival–will kick off the Danny Wimmer Presents festival season in Daytona Beach, Florida in just a few days with lots of excitement and unique onsite experiences for attendees.
A limited number of weekend and single day festival passes are still available at 
www.WelcomeToRockvilleFestival.com
. Festival pass upgrades will also be available at the box office onsite while supplies last.
Welcome To Rockville offers fans the opportunity to see the first-ever performance of Guns N' Roses in Daytona and one of the last KISS Florida shows ever, as part of the band's "End Of The Road" Farewell Tour.
Returning to its home at the World Center of Rock at Daytona International Speedway this Thursday through Sunday (May 19-22), the 11th edition of Welcome To Rockville offers its biggest lineup yet. The top-notch talent includes headliners KISS, KORN, Guns N' Roses and Nine Inch Nails, plus appearances by 80+ additional bands including Five Finger Death Punch, Shinedown, The Smashing Pumpkins, Breaking Benjamin, Megadeth, Jane's Addiction, Papa Roach, Rise Against, Halestorm, In This Moment, Seether, Bush and many more.
Here are some highlights for Welcome To Rockville 2022:
The festival grounds will feature custom Shepard Fairey/Obey Giant artwork on 16' pillars.
SiriusXM's Octane will be broadcasting all weekend long.
Listen to Rockville Radio LIVE on the SiriusXM mobile app. Count down the days until Welcome To Rockville with Rockville Radio on SiriusXM available for a limited time on the SXM App! Hear music from all the bands and SXM Octane 'big uns' playing this year, plus select live performances and interviews during the festival weekend at siriusxm.us/RockvilleRadioSXM 
DWPresents Twitch  (https://www.twitch.tv/dwpresents) will be livestreaming the Wednesday night campground party and exclusive backstage content daily. The DWPresents Twitch schedule includes:
– Wednesday:  6pm – 11pm ET (featuring performances by Steel Panther, Moon Tooth, Cold Kingdom, Crooked Teeth)
– Thursday: 2pm – 4pm ET That Space Zebra Show, 4pm – 6pm ET The Gunz Club
– Friday: 1pm – 3pm ET That Space Zebra Show, 3pm – 5pm ET The Gunz Club, 5pm – 7pm ET The Pinfield Power Hour
– Saturday: 2pm – 4pm ET That Space Zebra Show, 4pm – 6pm ET The Gunz Club
– Sunday: 2pm – 4pm ET That Space Zebra Show, 4pm – 6pm ET The Gunz Club
Jose Mangin is the official Welcome To Rockville festival host providing exclusive backstage interviews, fan interaction and more
Welcome To Rockville's Campground theme – I Love The '80s: Dress up in your '80s best for the pre-party and participate in the campground contests on Friday and Saturday mornings from 10am – 12pm. Campers are encouraged to deck their campsite in their best '80s-inspired decor for the entire weekend. More information can be found at https://welcometorockville.com/foodfunandmore/
Welcome to Rockville will feature four immersive fan rides in 2022. Fans can cool off in-between sets at the WhipSplash water slide, see the festival grounds from the Welcome to Rockville Roundabout Ferris Wheel, take a spin on The Round Up and enjoy the breeze on The Swinger.
The official Welcome To Rockville mobile app is now live. Build your own schedule, pre-order merch to pick up on site, review the Rockville grounds and more.
Welcome To Rockville is produced by Danny Wimmer Presents, one of the largest independent producers of destination music festivals in America.
Danny Wimmer Presents is proud to host Bud Light, Bud Light Seltzer, TickPick, Jack Daniel's, The Kraken, U.S. Army, The Music Experience, Jose Cuervo, Three Olives, Checkers and Rally's, Hard Rock Hotel Daytona Beach, Ronz World, Hard Rock Premium Hard Seltzer, Stoked Poke, Curaleaf, Revolver, Inked Mag, Hellflower Soap Co., Mortus Viventi, Blackcraft Cult, The Pretty Cult, Then, Now, Always, Authentic Mosh Apparel, Parlor Root Beer, and Travel Smart Vacations.
Welcome To Rockville non-profit partners include: Demons Behind Me, Fxck Cancer, Take Me Home, and To Write Love On Her Arms.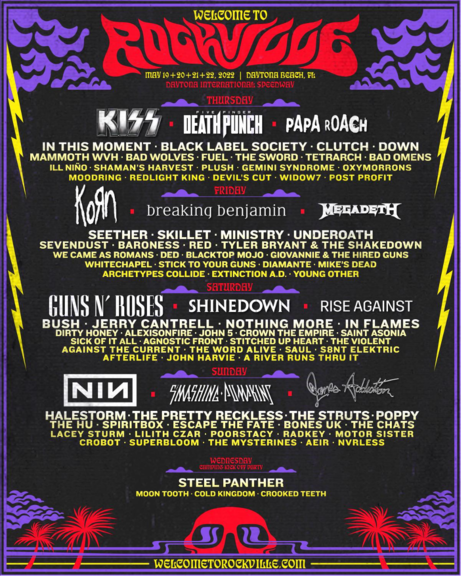 For more information on #WelcomeToRockville, visit:
About Danny Wimmer Presents: Since 1995, music industry veteran Danny Wimmer has been producing concerts and festivals, both large and small. In 2011, he formed Danny Wimmer Presents, which now produces the largest rock and alternative festivals in the U.S. By combining A-list talent with local cuisine and culture, DWP has become recognized within the industry for delivering the highest-quality entertainment experiences to fans, artists, sponsors, partners and host cities. DWP creates memorable and all-encompassing festival experiences, leaving both consumers and partners with lasting and meaningful impressions. DWP's event roster includes Aftershock, Inkcarceration, Louder Than Life, Welcome To Rockville, Epicenter, Hometown Rising and Sonic Temple Art + Music Festival. Previous DWP festivals include Rock On The Range, Carolina Rebellion, Chicago Open Air, Northern Invasion and more.  Since 2020, DWP has been an innovator in the digital content space with over two dozen international livestreams, acclaimed social series Offstage with DWP and the DWPresents Channel on Twitch featuring That Space Zebra Show, which has garnered over 11 million worldwide views since it's launch in mid-2021.
About Daytona International Speedway: Daytona International Speedway is a state-of-the-art motorsports facility and was awarded the SportsBusiness Journal's prestigious Sports Business Award for Sports Facility of the Year in 2016. Daytona International Speedway is the home of The Great American Race – the DAYTONA 500. Though the season-opening NASCAR Cup Series event garners most of the attention – as well as the largest audience in motorsports – the approximately 500-acre motorsports complex, also known as the World Center of Racing, boasts the most diverse schedule of racing on the globe. In addition to at least nine major event weekends, the Speedway grounds are also used extensively for events that include concerts, civic and social gatherings, car shows, photo shoots, production vehicle testing and police motorcycle training. The iconic venue was the site of a host of motorsports events early in 2022, beginning with AHRMA Classic Motofest and the Rolex 24 At DAYTONA in January, and the 64th DAYTONA 500, which will debuted the first points race for NASCAR's 'Next Gen' car as part of Speedweeks Presented by AdventHealth, in February. The tradition-rich 81st Annual Bike Week At DAYTONA returned in March, featuring DAYTONA Supercross and the DAYTONA 200. May will see the "Welcome to Rockville concert (19-22) and the Heroes Honor Festival (27-28). Later in the summer during Independence Day weekend (July 2-3), the track, in association with Torneos, will host Soccer Fest before the NASCAR Cup Series returns for the final race of the regular season with the Coke Zero Sugar 400 on Aug. 27.