DEADMAU5 ANNOUNCES 'CUBE V3 TOUR' NORTH AMERICA 2019
TICKETS ON SALE NOw
Following the tremendous reception to his Instagram video posted earlier this week announcing his return to the road (over 300,000 views in less than 24 hours), world-renowned electronic artistdeadmau5 is pleased to formally announce details of his North American'cube v3 tour' for this fall.
Produced by Live Nation, the 16-city tour will kick off September 12 in Dallas and will see deadmau5 bringing his brand new cubev3 production to major markets across the continent. His fourth major North American tour with the cube will find him landing in Austin, San Francisco, Phoenix, Chicago, San Jose, Seattle and more. Los Angeles has deadmau5 returning to Hollywood's legendary Palladium where he first broke records of most continuous sold-out shows in a rowin 2011. Confirmed dates follow below with more to be announced later.
Tickets go on sale to the general public beginning Friday, April 5 at 10am local time at
LiveNation.com. To ensure tickets get in to the hands of fans and not scalpers or bots, the tour has partnered with Ticketmaster's Verified Fan platform. Fans can register now through Monday, April 1 at 10pm ET here for the Verified Fan presale. Registered fans who receive a code will have access to purchase tickets before the general public from Wednesday, April 3 at 10am local time through Thursday, April 4 at 10pm local time.
deadmau5
is on point to debut the new cubev3 production this Saturday, March 30 at Ultra Music Festival. Fans around the globe can tune in at www.ultramusicfestival.com  starting at 10:00pm PT/1:0am ET and watch a live stream of the performance in anticipation of what's to come later this year at his shows.
The original cube debuted at Coachella April 2010, catapulting deadmau5 to become one of the most in-demand live acts in the world, with its follow-up Cube 2.1 arriving in 2017 at the launch of his "lots of shows in a row tour." cubev3 – created by deadmau5 with Chris Schroeder of Chris Schroeder Productions, with technical design by Collyns Stenzel, and video content plus additional programming by deadmau5 – comes to life from Miami with the semitransparent look and deadmau5 custom content.Cubev3 will be the most complex production he has ever presented changing positions from 90 degrees into 45 degrees and rotate 360 degrees with mind bending content from deadmau5 & his custom touch designer system.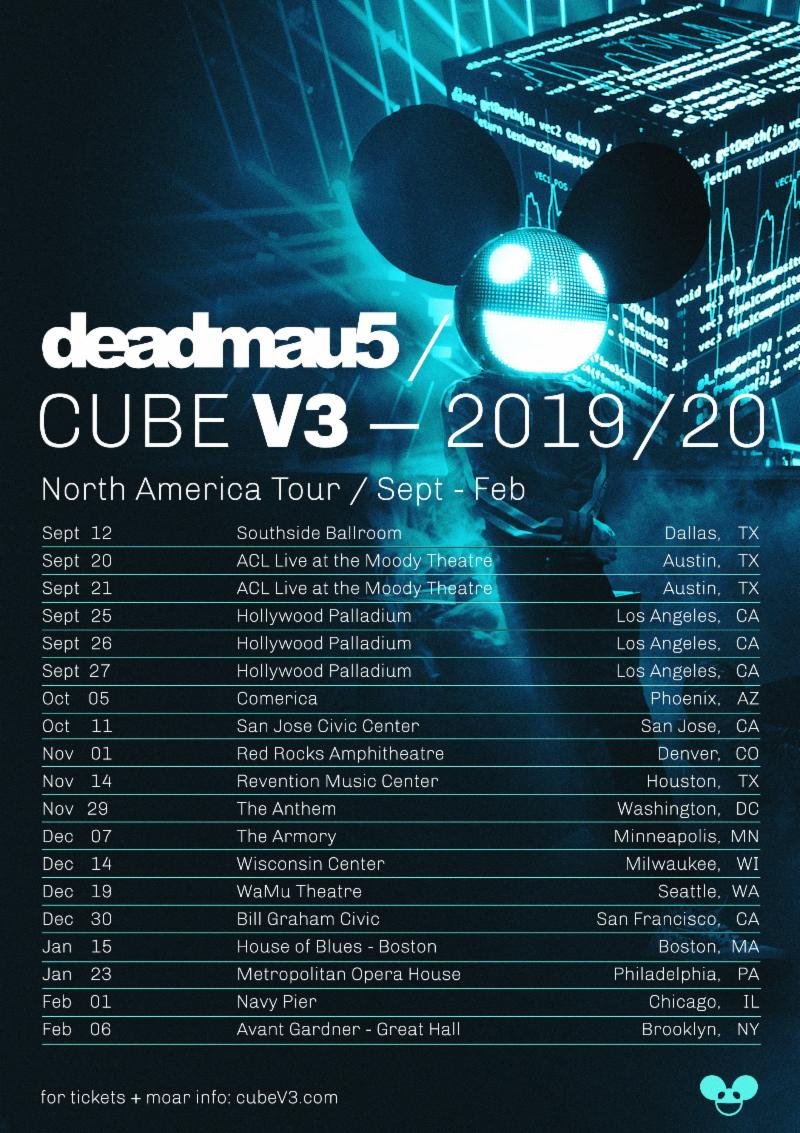 deadmau5′ cubev3 tour dates:
| | | |
| --- | --- | --- |
| | | |
| | | ACL Live at the Moody Theatre |
| | | ACL Live at the Moody Theatre |
| | | |
| | | |
| | | |
| | | |
| | | |
| | | |
| | | |
| | | |
| | | |
| | | |
| | | |
| | | Bill Graham Civic Auditorium |
| | | |
| | | |
| | | |
| | | The Great Hall at Avant Gardner |
About deadmau5:
Joel Zimmerman, more commonly known as deadmau5 (pronounced 'dead mouse'), is one of the world's most respected electronic music producers of modern times. Enjoying international chart success with his platinum-certified single "Ghosts 'n' Stuff," as well as "Professional Griefers," "Sofi Needs A Ladder" and "I Remember," he has also released seven critically acclaimed albums: an orchestral album where's the drop?, W:/2016ALBUM/ and  > album title goes here < (both reached #1 on the Billboard Dance/Electronic Chart), 4×4=12 (recently recognized for having sold over 1,000,000 copies in the United States), For Lack Of A Better Name, Random Album Title and while(1<2). The multiple JUNO Award-winning and GRAMMY®-nominated artist's ability to push the boundaries of his talent grows at an equal rate to his fan base, which counts almost 15 million over his combined social media channels. His latest music offerings which includes original productions, remixes and collaborations with featured guests like Rob Swire ("Monophobia"), Lights ("Drama Free"), Shotty Horroh, Scene of Action and more can be found on the mau5ville: level 1, 2 & 3 series. deadmau5 kicked off 2019 with his first ever film score for the Jonas Akerlund-directed spy thriller Polar available worldwide now via Netflix with its soundtrack released on mau5trap.
About Live Nation Entertainment:
Live Nation Entertainment (NYSE: LYV) is the world's leading live entertainment company comprised of global market leaders: Ticketmaster, Live Nation Concerts, and Live Nation Sponsorship. For additional information, visit 
www.livenationentertainment.com
.