Taylor Swift Puts On A Monumental Performance For The City Of Philadelphia At Lincoln Financial Field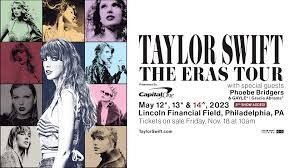 Five years. It has been five years since Swifties have been able to see their queen perform live in concert. The wait was finally over and Taylor made her triumphant return to Philadelphia for the first of three sold out shows on May 12th. I have been a Taylor Swift fan since her Country days. Her first, self-titled album, was released in 2006. Taylor debuted her song writing abilities in this Country album. Little did we know, this album was the start of a journey. A journey that would eventually lead her to venture into the Pop world. A journey we would be taken on during her Eras tour.
The Eras Tour has a 45 song set list that includes songs from her albums: Fearless, Speak Now, Red, 1989, Reputation, Lover, Folklore, Evermore, and Midnights. Within those 45 songs, Taylor plays two surprise songs. These songs are different for every single show she plays. This tour has been a long time coming, but it was well worth the wait.
A clock projected onto a stage that could only be described as massive. The clock counted down from 2:30 and when it hit 1:00, the 70,000 plus fans were ready to show Taylor some love. The screams filled the stadium and were so loud, you could hear them all the way down Broad St. Not only were there 70,000 screaming fans on the inside, there were thousands of fans standing outside of the stadium ready to fulfill a dream five years in the making. The clock struck 0:00 and we were greeted with a compilation of Taylor talking and a little teaser of the albums were going to hear during her 3 hour show.
Her dancers began to come out and walk down the lengthy walkway that stretched all the way down the football field. They had beautiful purple, oversized capes that blew gracefully in the wind. As they came together in one harmonious movement, Taylor appeared in a stunning multi-colored jeweled bodysuit. Her matching boots sparkled like diamonds in the lights of Lincoln Financial Field. This was it. Taylor had taken the stage and fans were on their feet ready to dance the night away with their number one girl.
Taylor opened the show with "Miss Americana and the Heartbreak Prince" and "Cruel Summer" from her Lover album. After two more songs from Lover, Taylor addressed the crowd and stated, "Whether you are aware of it or not, you have walked into my hometown show." Taylor went on to talk about how she remembers growing up and watching the Philadelphia Eagles play at the Linc and never in her wildest dreams, did she think she would be playing to a sold out crowd in that very stadium. Well Taylor, not only did you play to one sold out crowd, you played to three.
After a quick costume changed, Taylor appeared wearing a gold fringed, Gatsby like dress. This costume would take us through songs from her Fearless album. Taylor won her first Grammy award for this album so it is only fitting that it would be a part of the set list. Even though the album is 15 years old, fans sang it like it was brand new. Several Swiftie couples even got engaged at the show during "Love Story."
Evermore was next up on the Eras tour. This was one of two albums recorded and released during Covid. Taylor wore a simple, yet whimsical dress that featured a corset top and beading down the front. She added an emerald green cape for her bewitching performance of "Willow." During this performance, her dancers also wore emerald green capes. They surrounded Taylor with glowing globes and flawlessly danced up and down the walkway. No matter where you were sitting in the stadium, Taylor's dancers made sure to put on a show for all to see.
After the more mellow performance of the Evermore album, the stage goes dark and a giant, black rattlesnake appears on the screen. The crowd immediately knows what this means; time for Reputation. Reputation was the last tour Taylor would perform live before Covid. Taylor made this album to show all the haters that they can't stop her. She was here and she was going to be the best version of herself that she could be regardless of the "reputation" she was getting. The rattlesnake starts to disappear from the screen and we hear, "baby let the games begin" and Taylor walks wearing a black and red, fully sequined, one legged bodysuit ready to perform, "Are you Ready for it?."
The bodysuit had jeweled snakes going down the right side. Even her microphone had a black diamond studded snake that wraps around her whole hand. I think I can speak for everyone when I say, we were definitely ready this performance. Taylor and her dancers moved to the middle of the walkway and rose up from the stage onto a platform and would perform the rest of the songs from Reputation using this platform. Different images were projected onto the platform throughout the set as well. This was fitting for this set as the last song of the set, "Look at What You Made Me Do, has the lyrics "Honey, I rose up from the dead, I do it all the time." The energy in the stadium after this set was electric and we were only a little over an hour into the show.
Taylor would only perform one song her from Speak Now album, but it was one of the most beautiful performances of the evening. Taylor wore a sparkling, soft pink ball gown and performed "Enchanted." Taylor looked effortlessly stunning during this performance. She walked down the walkway as if she was floating. As she sang the lyrics, "this night is sparkling," 70,000 bracelets lit up as Taylor lifted up on a platform at the top of the walkway stage. All I can say is it was enchanting to be a part of that experience.
I was most excited for Taylor to perform songs from her Red album. It is hard to choose a favorite album, but for me, it is Red. She started the set with "22." Taylor and her dancers brought the energy to the floor during this performance! At one point, Tylor and her dancers were a the end of the walkway doing the can-can dance. They had the whole stadium feeling like they were 22 and without a care in the world. Taylor ended with her 10 minute version of "All too Well." While singing "All too Well," Taylor wore a jaw dropping floor length, red sequined coat. If you haven't already noticed, sequins were a common theme throughout the night. She played on a black, sparkly acoustic guitar while the crowd sang along with every word for 10 minutes.
With three albums left, next up was Folklore. A little cottage appeared on the stage and the scene was set to make you feel like you were in a whimsical forest. A piano was brought out that was covered in moss. Taylor utilized the whole stage setup during this set. She went from singing at the piano to singing on top of the cottage. She made this look effortless as she does most things. She wore a gown that can only be described as Greek goddess like. I turned to the person next to me and said, "she looks like a literal goddess." Swoon worthy for sure.
I saw Taylor perform her 1989 tour at Raymond James Stadium in 2015. That was Taylor's fourth concert tour and my second live Taylor show. Taylor brought the same energy to the stage as she did in 2015. She came out to "Style" and boy did she come out in wearing an outfit that was fitting for the song. Taylor wore a two piece, pink sparkly(surprise surprise), outfit that had everyone's attention. Her ankle boots matched perfectly. During this set we would hear: Style, Blank Space, Shake it Off, Wildest Dreams, and she ended with Bad Blood. Her "Bad Blood" performance brought the heat, literally. The pyrotechnics during this song were so fun! The flames danced along while Taylor sang the chorus. The dancing, the lights, the pyrotechnics, wow. No one does it quite like Taylor.
This is the part of the show that Swifties look forward to the most. The surprise songs. Taylor chooses two surprise songs at each show. One song is played acoustically, while the other is played on the piano. For night 1 in Philly, Taylor chose "Gold Rush" from her Evermore album. Taylor talks to the crowd before she sings the song and states that in the song, there is a lyric that says, "With my Eagles t-shirt hanging from the door." Taylor wanted fans to know that shirt represents the Philadelphia Eagles and not the band The Eagles. The crowd went wild. I think Taylor won over all the boyfriends and husbands in the crowd with that.
Her second surprise song was "Come Back…Be Here" from her Red album. This was a special request from her opening act, Phoebe Bridgers. Taylor sang this at the piano and put her whole heart and soul into this song. Taylor singing at a piano is something everyone should experience. It is raw and uncut. It is beautiful and timeless.
Taylor finished her surprise songs and allows the fans to process the beauty that just took place. Taylor gets up from the piano, looks into the crowd, takes it all in, and does something that I have never seen done on stage before. She walks back towards the stage and all of a sudden, she is gone! She dives into the walkway! Fans look up at the screen to see Taylor swimming underwater. She swims to the back of the stage and just as she passes under the screen, a wave of splashing water appears. It splashed up to the top of the screen and when it comes down, we see a latter leading up to a cloud in the sky. Taylor is seen climbing the latter and the latter slowly ascends into the cloud.
Her final set of the night brings us to her most recent album, Midnights. Taylor released Midnights in 2022. This was Taylor's first new album since Evermore in 2020. Taylor began the set with "Lavender Haze." The dancers emerged onto the stage wheeling out large, cotton candy like clouds. Taylor appeared in the center of the walkway wearing a multi-colored bejeweled dress with an oversized, fur-like lavender coat. She immediately went into "Anti- Hero." She sings the lyrics, "It's me, hi, I'm the problem it's me" and the crowd sings along as she waves to the top sections of the stadium. She goes on to sing, "Midnight Rain" which was another breathtaking performance.
She was surrounded by large umbrellas held by her dancers which allowed her to do yet another costume change. This time, she wore a blue, bejeweled bodysuit with matching boots and a blue garter on her leg. This outfit was absolutely fitting for her next song, "Vigilante Shit." Taylor gives a sexy, burlesque like performance with her dancers. In the song, Taylor talks about dressing for revenge and that she did. She utilizes the moving platform in the middle of the walkway. Up and down she went on the platform while using a chair as a prop for the performance. Red lights flashing in the background, giving it a dark and sexy vibe. Hands down, one of the best performances of the night; not only by Taylor, but by her amazing dancers.
Taylor finished out the show with: Bejeweled, Mastermind, and Karma. The stage is brightly lit up with lights flashing and her dancers in multi-colored outfits. It was a cute, fresh, and fun way to close out the show. Taylor and her dancers danced up and down the walkway. Everyone was out on stage for this last performance and brought the same energy as they had 3 hours prior. Confetti shot out from the sides of the stage into the crowd as Taylor and her dancers took a bow and ended the magical first night of the Eras tour.
Taylor Swift's concerts are not just a concert, they are an experience. An experience quite like no other. Taylor performed for almost three and a half hours. She brought an indescribable energy and presence to the stage and not once faltered. She is effortless in her performances. A true talent.
The Eras Tour is just beginning. She will be performing at Gillette Stadium on May 19th and 20th. She ends her tour August 4th and 5th in Los Angeles.
Taylor, Thank you for an unforgettable evening.
Setlist:
Miss America & The Heartbreak
Cruel Summer
The Man
You Need to Calm Down
Lover
The Archer
Fearless
You Belong With Me
Love Story
'Tis the Damn Season
Willow
Marjorie
Champagne Problems
Tolerate It
…Ready For It
Delicate
Don't Blame Me
Look What You Made Me Do
Enchanted
Red
22
We Are Never Getting Back Together
I Knew You Were Trouble
Nothing New
All Too Well
The 1
Betty
The Last Great American Dynasty
August
Illicit Affairs
My Tears Ricochet
Cardigan
Style
Blank Space
Shake It Off
Wildest Dreams
Bad Blood
Gold Rush
Come Back… Be Here
Lavender Haze
Anti-Hero
Midnight Rain
Vigilante Shit
Mastermind
Bejeweled
Karma
Photo Credit: TAS Rights Managment