Rise Against's Summer Tour Makes It A Night To Remember At Stone Pony Summer Stage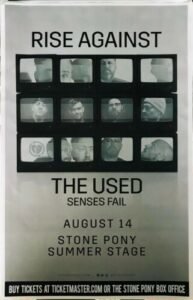 When one thinks of a summer Sunday night, they might think about a relaxing day off before having to get up early for work on Monday morning. On this particular Sunday, the events that occurred at the Stone Pony Summer Stage gave all nearby homes in Asbury Park no choice but to submit to high energy, loud and frenetic rock and roll.  Overjoyed fans gathered on a beautiful night at the Stone Pony Summer Stage in Asbury Park for Rise Against's No Generation Tour, featuring opening bands The Used and Jersey hometown heroes Senses Fail. 
Blaring, heavy guitar hooks and crowd harmonizing sing-along melodies could be heard all over Asbury Park. Locals and ticketless fans flocked the boardwalk, strategically looking for the best spots to sneak a peek of the show. The packed rooftop bar of Watermark had people sardined in, hoping to catch a glimpse of the action as well.
Make no mistakes, this event was completely sold out, with resell tickets selling for as high as over 200 dollars a piece. It was heart-warming to see the spirited fans in their lawn-chairs outside of the gates, listening in to their favorite bands, appreciating the sound and feel from the crowd that blared from within the venue. 
First up was Senses Fail, wasting no time at all and giving the fans exactly what they wanted. The post hardcore rockers opened with Rum is For Drinking, Not For Burning, setting the high energy tone for the night to come. Senses Fail's set was short and sweet, half of their set composed of songs from their acclaimed album "Let It Enfold You".
They ended the night with fan favorite "Bite To Break Skin", including nu-metal teases of Distubed's "Down With The Sickness", Limp Bizkit's "Break Stuff", and Rage Against The Machine's "Bulls On Parade". Fans were still in line down the street by the time Sense Fail ended their set, anxious to get in and be a part of the stirring madness. 
Next up was emo favorites The Used. It was almost hard to remember you were watching an emo band by the pure joy of their performance, especially the infectious smile of lead singer Bert McCracken. The Used's crowd interactions were well received by the audience, like batteries charging one another. There was a real sense of community mixed with lighthearted fun. Quite possibly the happiest circle pit to ever exist.
The Used encouraged the crowd to boo them so that when Rise Against came out and mentioned the Used, they would boo and put their middle fingers up. "Does everybody like booing? Yes. When's the last time you got to boo someone in real life?" exclaimed McCracken. "Let's play some old songs," the crowd cheered in excitement to hear some well-deserved throwbacks.
Ready to kick things up even further, it was time for the moment everyone was waiting for, Rise Against. The American Punk-Rock heroes lit up the stage with feelings of love, rage and connectivity.  Rise Against's lead singer Tim McIlrath stated "The dance floor knows if somebody falls down on you…" with the antsy crowd responding into his held-out mic "pick them up!" community that stood before the sea-breezy stage understood to look out for one another, to help each other when someone falls, and to watch out for the younger generations sitting on the shoulders of their guardians. The protected little girl with rock-fists raised high in the air proves how cooperative and loving this show was. Rise Against even stopped during their song "Re-Education (Through Labor)" to help an injured fan get needed medical attention.
 Tim McIlrath defiantly calls out to the crowd, "We sing songs about awareness, keeping your eyes open, staying vigilant, looking out for yourself, looking out for each other. We sing songs about family, friends, identity, community, this right here," his hand spinning in a circle gesturing at the sea of supporters. "We sing songs about hope, and you may have noticed, we sing songs about revolution," McIlrath's fist in the air, matching the iconic backdrop behind them.
"Revolution is an easy word to say right? A lot of people say it these days, somebody somewhere is trying to pull you into their revolution. I'll tell you how to identify something that is not a revolution. Jersey, there's no racism in revolution, there's no sexism in revolution, there's no homophobia in revolution, there's no xenophobia, and there's no fucking nationalism in revolution." The crowd cheered in unison, backing up the band whose goal is to rise against the fake rebellions and create one where everyone feels safe, welcomed and loved. 
Whipping out his acoustic for cherished songs like "Hero of War" and "Swing Life Away," McIlrath had the audience in tears, hands around each other's shoulders, bodies swaying simultaneously, appreciating the beauty in the melodic sadness. Reminiscing on Warped-Tour days, Rise Against mentioned how they used to play with the Used, often getting there after they did, awaiting boos from the crowd when they asked the audience to give The Used a round of applause.
McIlrath and the band laughed together, smiling at the ocean of middle-fingers, getting ready to play their biggest hit, "Savior." Everyone sang together to this fan-favorite track, preparing for the bitter-sweet end to the successful turnout of this Stone Pony show. 
Photos & Review by Dani Garr