August Burns Red Spread Plenty Of Cheer, Joy And Breakdowns For Their Christmas Burns Red Live Stream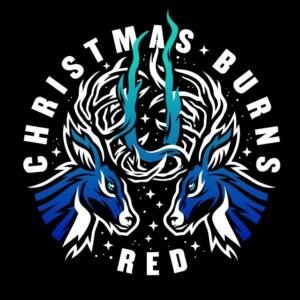 Normally this would be the time of year where a sold out crowd would fill up Lancaster's Chameleon Club and celebrate with the band at their annual Christmas Burns Red show.  But August Burns Red wouldn't let anything get in the way of tradition and strived forward to deliver holiday cheer and great music to their fans around the world.  Since the shows announcement before the bands Thriller Seeker stream last month, fans had immediately took to social media to express their excitement.  But tonight we all get our early Christmas present from August Burns Red.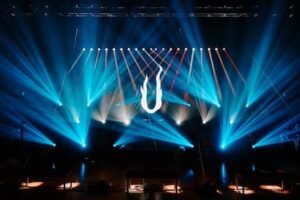 (Photo Credit: Ray Duker)
As the timer tics down to zero the fans including waited in anticipation for the band to hit the stage.  All ABR fans know that the bands entrance song has always been "Chop Suey" from System of a Down so when we hear it, it is really no surprise.  But as the song plays on, it didn't take long to realize that August Burns Red had actually covered the classic tune.  Hats off to singer Jake Luhrs for flawlessly conquering some of the most difficult lyrical bars around.  The band really took the iconic song and made it their own, adding their own flare with minor arrangement changes.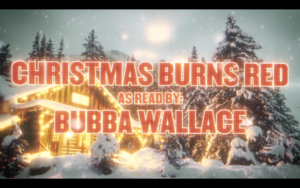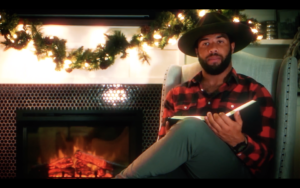 Sitting in front of a cozy warm fire burning, we get none other than NASCAR driver Bubba Wallace delivering us The Night Before Christmas Burns Red.  Bubba recites the holiday tale with such warmth and tenderness, you would think that he had his own Christmas special every year.  Maybe once the day comes to retire from the 43 car, Bubba can lighten the load on Morgan Freeman and help with all of that voice over and narrator work that is out there.
With the silhouettes of the guys making their way on stage, the sound of bells began to fill the room.  Guitarist Brent Rambler kicks off the nights show his intro into the holiday rager "Flurries" which was only fitting as flurries literally fall form the sky.  While the song takes flight, we're drawn to the elaborate and festive stage decorations all around the room.  Surrounding the drum riser was nicely wrapped gifts laid on pillows of snow while outlining the stage were rows of glowing Christmas trees and lastly we have large stocking hung on flight cases back lining the stage.  All we are missing is the big guy in the red suit… but be patient.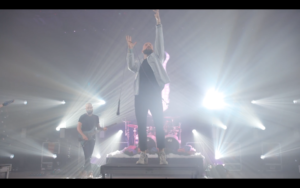 Singer Jake Luhrs joins the band as they unleash the furious opening track of 2017's Phantom Anthem "Kingdom of Sorrow".  With only 3 shows under the bands belt for what would have been one of the biggest tours of the year, the fans never really had a chance to see any of the bands newest material.  Guardians is the bands most dynamic record to date and is just a great album from start to finish.  So luckily for us, we wouldn't have to wait long to get one of these amazing songs.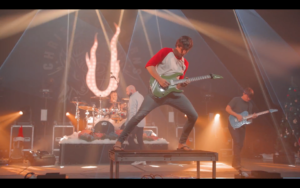 As JB Brubaker and Brent pick away at their respective parts, Jake gives everyone at home a Merry Christmas greeting.  He then makes the announcement "This one is called Paramount" and just like that ABR unload into the songs electric start and our first taste of new music.  "Paramount" is packed with high energy while Jake Luhrs vocal power and Brubaker's guitar leads shine through out their performance.  The excitement was high as this would mark the live debut of the track and it couldn't have been for a bigger audience.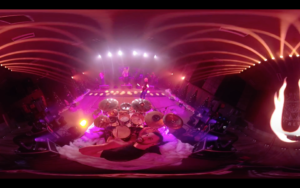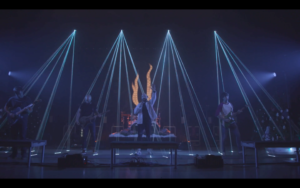 August Burns Red blast through two solid tracks off of Phantom Anthem with "The Frost" and "Invisible Enemies" which was immortalized through it's video of the band as marionette puppets.  We then come across another highlight from the bands new album with "Defender".  The song holds personal meaning to drummer Matt Greiner who wrote the lyrics for the song about his father helping him during a difficult time in his life.  It is an outpouring of emotion lyrically and musically which all comes to a head with the line "Who will deliver the sentence".  The following breakdown hits like a ten ton hammer as O2 and lasers ignite around the stage only to be followed up like a tidal wave of destruction.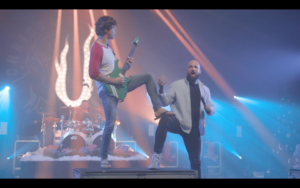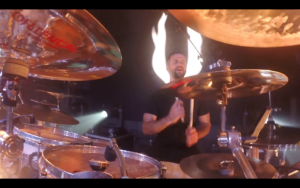 After the dust settles, Jake reminds us "What would a Christmas Burns Red show be without some Christmas songs.  It's about that time to shred another one for you".  Following a quick high five from Matt we take notice to JB now totting the headless bass and Dustin Davidson switches to lead guitar.  "Winter Wilderness" is a holiday instrumental that is just the perfect blend of metal and the Christmas spirit wrapped up in a 5 minute gleeful shred fest.  For newer fans of the band, it might surprise you by Dustin's skillset. But he wasn't done just yet.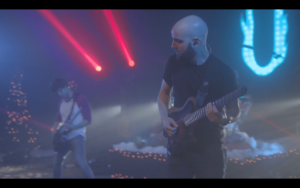 Jake rejoins the band as "Ties That Bind" rolls off the stage.  Dustin Davidson leads the charge in this virtuoso guitar driven track.  He puts on a finger tapping clinic as he works the fret board front to back as JB and Brent supply the low end thunder.  A very surprising sight was seeing how well JB could belt out back ground yells following Jake's growls.  Through the darkness Jake mentions exciting news to the fans that "This is probably the heaviest song we've ever written" which at that point all but concluded that "Bloodletter" would be next.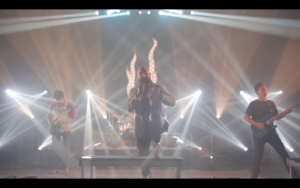 This was definitely the song I was looking forward to hearing throughout the set.  Now the bass finds its way into Brent Rambler's hands as JB and Dustin are on 6 string duty.   The entire song is like a demolition explosion being detonated in stages until there is nothing left but ruble around it.  This song raised the bar for the utter brutality August Burns Red could create and unleash on their fans.  I can only imagine the chaos that would ensue once this song is turned loose in a live environment.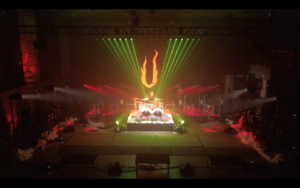 It's really hard to follow up with what just transpired in front of us.  But if there was one song in the ABR catalog that could give "Bloodletter" a run for its money, it would be "Composure".  A staple in just about every set, this breakdown juggernaut could be considered drummer Matt Greiner's most iconic performance behind the kit and the energy it brings with it can always be felt regardless of where you hear it.  As Jake announces the last song of the night, the familiar opening riff to "Ghosts" reverberate across the room.  I did think going in that there might be a chance we could see ADTR singer Jeremy McKinnon reprise his guest appearance on vocals, but that would not come to be. Instead Dustin Davidson would belt out those gripping vocals playing off of Jakes roars.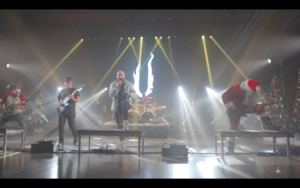 As the band start to walk off stage an air raid siren begins to blare out of our speaker and an arena announcer voice grabs out attention.  "Ladies and Gentlemen, the moment you've all been waiting for. DRUM SOLO!".  Matt is all smiles as he works the drum kit like he has two extra sets of arms, which would be easier to explain how he is able to fill so many hits at once.  For 2 minutes and 8 seconds, Greiner's double bass moved at a faster firing rate than most automatic weapons and left everyone watching in complete awe at how effortless he makes it look.  At the end of his percussive bombardment Matt stands up and lets out a loud "WOOOHOO HOOO!" after the final hit.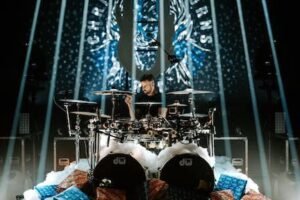 (Photo Credit: Ray Duker)
With the smile still on his face, the bells of the familiar Christmas tune "Carol of the Bells" chime in our ears.  And who is that with the white hair and beard dressed in red and white?  You guessed it, Dustin Clause has finally made his way to the stage as the room fills up with red and green lights almost rejoicing in his presence.  Let's just be honest.  Does it really get more metal than Santa headbanging through a breakdown.  The answer you seek is no, there is not.  The final name on Santa's setlist would be one of the most notable off 2009's Constellations with "White Washed.   The band send us off with a flurry of blast beats, lasers and blinking Christmas lights to cap off a truly merry evening.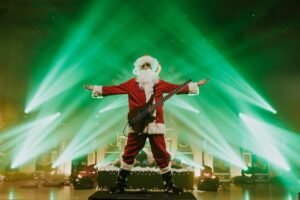 (Photo Credit: Ray Duker)
JB Brubaker took time after a song to thank everyone that had worked behind the scenes to not only get the show off the ground, but to make this years Christmas Burns Red show one to remember.  It was a big labor of love that delivered us an amazing performance while at the highest level.  Once again the lighting team of Dave Summers and Steve Kosiba put on an impressive display as they created stunning visuals.
And a big hats of to the camera team of Aurora Films Clint Tustin, Dan Giangiulio, Anthony Stock as well as resident tour photographer Ray Duker.  They are responsible for capturing all the energy and emotion throughout the show.  August Burns Red close out 2020 on a high note and gave all their fans one of the best gifts of all.  Angry music for happy people!  For any last minute Christmas gift ideas, head over to augustburnsredtourmech.com.  For the XXXL stocking stuffer needs make sure you stop by Keisel Guitars and check out Dustin Davidson's new DD4 signature bass.  To view more of Ray Duker's impressive work behind the lens, check him out on Instagram and be sure to follow!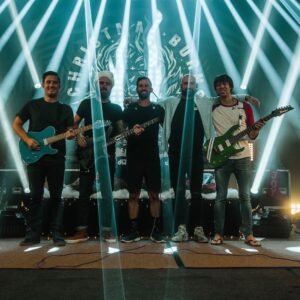 (Photo Credit: Ray Duker)