Puscifer's Groundbreaking Livestream Event "Existential Reckoning: Live At Arcosanti" Extended Through November 8 By Overwhelming Demand; Produced By Danny Wimmer Presents
PUSCIFER'S GROUNDBREAKING LIVESTREAM EVENT
"EXISTENTIAL RECKONING: LIVE AT ARCOSANTI"
EXTENDED BY OVERWHELMING DEMAND
VISUALLY STUNNING CONCERT FILM IS AVAILABLE ON DEMAND
THROUGH SUNDAY, NOVEMBER 8 AT 11:59 PM ET
BUY TICKETS & EXCLUSIVE MERCHANDISE FOR THIS LIMITED TIME 
NEW ALBUM, EXISTENTIAL RECKONING, OUT NOW VIA 
ALCHEMY RECORDINGS/PUSCIFER ENTERTAINMENT/BMG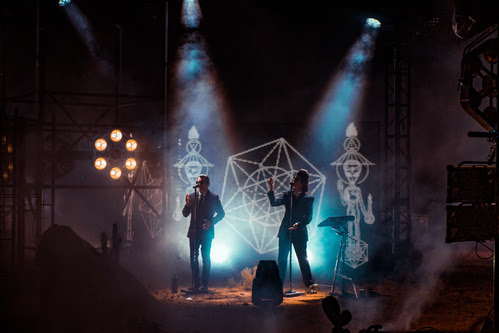 Nov. 2, 2020, Arcosanti, Ariz. – On Friday, October 30, Puscifer celebrated the release of their fourth full-length album, Existential Reckoning (Alchemy Recordings/Puscifer Entertainment/BMG) with the debut of their visually-stunning, livestream concert experience, which was viewed by a record-breaking number of attendees via the Single livestream platform. Dubbed "Existential Reckoning: Live at Arcosanti," it began with a countdown featuring the brand-new video for "Theorem" and proceeded to take viewers deep into the Arizona desert.
The one-of-a-kind concert film has now been extended by overwhelming demand and will be available to watch through 11:59 pm ET on Sunday, November 8. As well, the event's exclusive limited edition merchandise will remain on sale through November 8. Tickets and merchandise can be purchased at pusciferlive.com.
"It warms our twisted hearts to see so much support from our audience," said Maynard James Keenan. "This is what touring looks like in 2020 and they got it and 'showed up.' May they live long and prosper. And may the Pusciforce be with them all."
"We made something really special in a time of great restriction that has been received with love and joy," said Carina Round of Puscifer. "It's of its time and for its time but will ultimately transcend this strange era as a really unique experience."
Puscifer's Mat Mitchell said, "All the positive fan response has been incredible. So happy to have been able to perform a show complementing the new album."
Danny Wimmer, Founder of event producer Danny Wimmer Presents said, "We are so honored to have worked with Shelter Music and Maynard to bring Existential Reckoning; Live at Arcosanti to life. We set out to create a unique experience – something more than just a concert on a computer screen – and it's exciting that this became the biggest rock music PPV livestream."
Over the years, Puscifer have become known for their kinetic live productions, a merging of music and the theatrical. Concertgoers have been treated to live Luchadores, a "Hee Haw" themed revue, and a desert-set campfire replete with an Airstream trailer. But "Existential Reckoning: Live at Arcosanti" is unlike anything the band has ever done before.
The location, Arcosanti, has been described by Architectural Digest as a "utopian metropolis in the Arizona desert" that "looks like the sublime set of a big-budget sci-fi movie." A location that's both inspirational and bewitching, as Arizona itself often is. The 48th state has played a silent, yet meaningful, partner to the musical troupe, with its vistas and deserts often appearing in the band's music videos, as concert backdrops and as the subject of numerous lyrics.
Greg Prato with Consequence Of Sound said, "…the concert was captivating from beginning to end…With eye-popping visuals, unpredictability, and great sound…"
And Ed Masley with Arizona Republic added: "The experimental desert town of Arcosanti proved itself a brilliant backdrop for Maynard James Keenan and Puscifer…The concert made full use of the architecture's cinematic possibilities, played out on multiple backdrops, with Keenan and Carina Round performing on raised scaffolding above a stage divided into quadrants, their robotic movements further adding to the dark, apocalyptic vibe of the proceedings."
Puscifer's set offered a performance of the new album in full and included the following tracks:
1.     Bread and Circus
4.     Grey Area 5.1
5.     Theorem
6.     UPGrade
7.     Bullet Train To Iowa
8.     Personal Prometheus
9.     A Singularity
10.   Postulous
11.   Fake Affront
12.   Bedlamite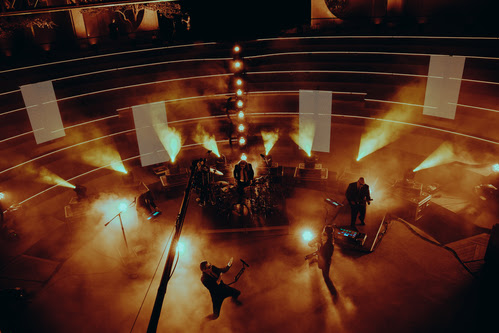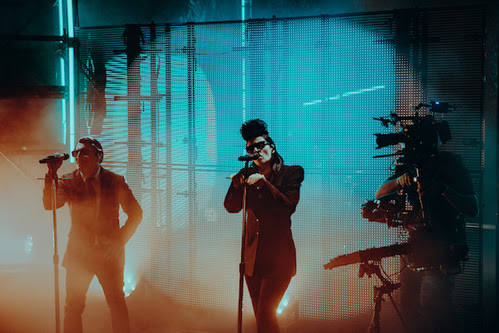 (All "Existential Reckoning: Live at Arcosanti" photos by Mitra Mehvar)
"Existential Reckoning: Live at Arcosanti" was co-produced by Danny Wimmer Presents, the largest independent festival producer in the United States. DWP recently entered the digital content curation space, promoting pay-per-view livestreams and creating the popular digital series Offstage with DWP. DWP is known worldwide for their stellar portfolio of music and lifestyle events, which includes Aftershock, Bourbon & Beyond, Epicenter, Hometown Rising, Louder Than Life, Sonic Temple Art + Music Festival, and Welcome To Rockville.
Existential Reckoning can be purchased now at: https://Puscifer.lnk.to/ExistentialReckoning
(Photo credit: Travis Shinn)
About Puscifer
Born somewhere in the Arizona desert, Puscifer is an electro-rock band, multimedia experience, traveling circus, and alien abduction survivors. The group's catalog consists of four full-length studio albums—"V" is for Vagina [2007], Conditions of My Parole [2011], Money Shot [2015], and Existential Reckoning (2020) —in addition to a series of EPs and remixes. Beyond the core trio of Maynard James Keenan [vocals], Mat Mitchell [guitar, production], and Carina Round [vocals, songwriting], the group's ever-evolving ecosystem encompasses Greg Edwards (bass, guitar, keys), Gunnar Olsen (drums), as well as a cast of characters such as Billy D and his wife Hildy Berger, Major Douche, Special Agent Dick Merkin, and many more. Meanwhile, the moniker's origins can be traced to a 1995 episode of the HBO classic Mr. Show where Keenan first utilized the name "Puscifer." In addition to tallying tens of millions of streams and views, they've piqued the curiosity of press. Entertainment Weekly christened them, "Exceptionally groovy," and Revolver fittingly described them as "indescribable." Renowned for an immersive live show, the group's performances blur the lines between concert and theater, traversing the dusty American Southwest with Billy D and Hildy or the sweaty squared circle with Luchadores. They've brought this to life everywhere from Coachella to Bonnaroo. On their 2020 debut for Alchemy Recordings/BMG entitled Existential Reckoning, Puscifer track Billy D back to the desert and, just maybe, uncover the truth about aliens once and for all.
About Danny Wimmer Presents
Since 1993, music industry veteran Danny Wimmer has been producing concerts and festivals, both large and small. In 2011, he formed Danny Wimmer Presents, which now produces several of the largest rock and alternative festivals in the U.S. By combining A-list talent with local cuisine and culture, DWP has become recognized within the industry for delivering the highest-quality entertainment experiences to fans, artists, sponsors, partners and host cities. DWP creates memorable and all-encompassing festival experiences, leaving both consumers and partners with lasting and meaningful impressions. DWP will continue to add new music festivals to its already stellar portfolio, which currently includes Aftershock, Bourbon & Beyond, Epicenter, Hometown Rising, Louder Than Life, Sonic Temple Art + Music Festival, and Welcome To Rockville. Previous DWP festivals include Rock On The Range, Carolina Rebellion, Northern Invasion and more.  In 2020, DWP launched the popular digital series Offstage with DWP and ventured into the digital content curation space, promoting pay-per-view live streams.  www.DannyWimmerPresents.com
# # #
Puscifer.com
Facebook.com/PusciferMusic
Twitter.com/Puscifer
Instagram.com/Puscifer
YouTube.com/Pusciferdotcom
Dannywimmerpresents.com
Twitter.com/DannyWimmerPres
Facebook.com/Dannywimmerpresents
Instagram.com/Dannywimmerpresents