GWAR Invade and Conquer The Ritz Ybor
September 24th
Since landing on this "insignificant shitball floating in a dark corner of the universe" 35 years ago, the intergalactic fuck ups known as GWAR have wreaked havoc across the world spreading their views on modern society and how bad we've screwed it up. Their latest part of the groups sacred text is The Blood Of The Gods which was released in 2017 on Metal Blade Records.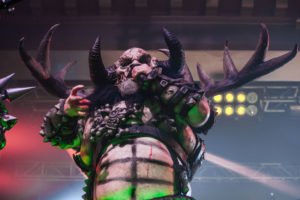 The album touches on multiple different facets of life including politics, religion, factory farming and even the effect of fast food. Since the passing of the bands leader Oderus Urungus in 2014, this scripture would mark the first without him, thus giving this current line up the opportunity to prove to the fans and the world that even death cannot kill GWAR… nothing can!
Even before the band takes stage, the crowd is chanting the bands name and the excitement begins to grow at the sight of the infamous blood canon being brought out. This is one of the many ways GWAR paints the crowd red which is a staple at any show. Out of nowhere primitive weapons begin to get thrown across the stage from behind alien art covered wall.
After the lights go out, the TV's on stage being playing videos of court proceedings and potential trial of having the band removed from Earth. As the bailiff introduces the band, the neck meets of the the long sword of The Berserker Blothar and the headless body spewed blood all across the fans up front as they break into "Fuck This Place" off their newest album. As the titans known as GWAR stand over the masses and belt out classics like "I, Bonesnapper", "I'll Be Your Monster" and "If You Want Blood".
Balsac and Pustulus Maximus were shredding the faces off of all that witnessed while Beefcake The Might and The Berserker Blothar show us all that were are merely men amongst gods and Jizmac provided sonic brutality behind the kit. The highlight reel from the Use Your Collusion Tour is just endless. You have your typical decapitation and mutilation sure, but to have Kaitlyn Jenner come out and give birth on stage to an alien baby to President Trump get down and stroke Blothar's double neck cod piece on his face and even his eye hole puts this tour in a special class all in its own.
GWAR is a band that creates so much more then just heavy music, costumes and fake blood. The amount of detail spent on stage production, backstories and character development has helped elevate this group of galactic scumbags to a level now known by the human race. The band is currently on tour with Sacred Reich, Toxic Holocaust, and Against The Grain until November and then a short holiday tour in December. For merch, news, and music head over to the bands webite at GWAR.net.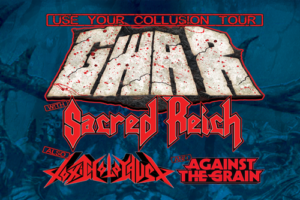 10/5: Clifton Park, NY @ Upstate Concert Hall
10/6: Boston, MA @ Paradise Rock Club
10/8: Milwaukee, WI @ The Rave
10/9: Des Moines, IA @ Wooly's
10/10: Omaha, NE @ Slowdown
10/11: Minneapolis. MN @ Skyway Theatre
10/12: Kansas City, MO @ CrossroadsKC
10/13: Denver, CO @ Summit
10/15: Salt Lake City, UT @ The Depot
10/16: Reno, NV @ Virginia Street Brewhouse
10/17: San Francisco, CA @ The Regency Ballroom
10/18: Portland, OR @ Roseland Theater
10/19: Boise, ID @ Knitting Factory
10/20: Spokane, WA @ Knitting Factory
10/21: Seattle, WA @ Showbox SODO
10/23: Fresno, CA @ Tioga-Sequoia Brewery
10/24: Los Angeles, CA @ The Belasco Theater
10/25: Garden Grove, CA @ Garden Amp
10/26: Las Vegas, NV @ Fremont Country Club
10/27: Tempe, AZ @ The Marquee
10/28: Albuquerque, NM @ Sunshine Theater
10/30: Oklahoma City, OK @ Diamond Ballroom
10/31: Dallas, TX @ Gas Monkey Live
11/1: Austin, TX @ Empire Garage
11/2: Houston, TX @ Warehouse Live
11/4: Nashville, TN @ Exit/In
11/5: Indianapolis, IN @ The Vogue
Holiday Tour:
12/27: Washington, DC @ 9:30 Club
12/28: Brooklyn, NY @ Warsaw
12/29: Cleveland, OH @ House Of Blues
12/30: Chicago, IL @ Concord Music Hall
12/31: Cincinnati, OH @ Bogarts