Nothing More SPIRITS 2023 Tour Invades Jannus Live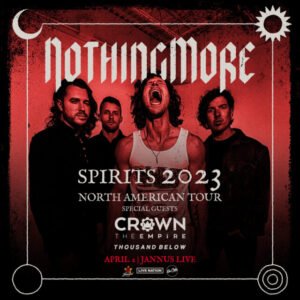 On April 2nd, Nothing More made their third stop on the Spirits tour in Florida. The sold-out show took place at Jannus Live, an outdoor venue, right in the heart of downtown St. Petersburg. The first show of the tour started two days prior in Virginia. Spirits would be Northing More's first headlining tour of 2023 after the release of their latest album, SPIRITS. For support, Nothing More brought along Thousand Below and Crown the Empire. 
Prepping fans for a night full of high-energy music, Thousand Below was the first band to take the stage at Jannus Live. The Californian, post-hardcore band might be relatively new to the scene, with their first album, The Love You Let Too Close being released in 2017. They have quickly gained a dedicated following thanks to their emotionally charged lyrics, intense live performances, and dynamic sound. After releasing their third LP, Hell Finds You Everywhere in December 2022, the setlist was full of new music.
Their music can be characterized by heavy, churning guitars (Josh Thomas on guitar and Josh Billimoria on bass), pounding drums (Max Santoro), and soaring vocals (James Deberg) that range from melodic singing to ferocious screams. On stage, these elements come together to create a sound that is cathartic and explosive. Despite the chaos of their sound, the band plays with tightness and technical proficiency, seamlessly transitioning between moments of calm and moments of chaos with ease.
Thousand Below had the audience completely captivated with lyrics that are sincere and full of intense, raw emotion. Many of their songs deal with themes of loss, heartbreak, and personal struggle. Whether it's the soaring melody of "Chemical" or the anguished screams of "Sinking Me," there is a palpable sense of emotion and vulnerability to their music that is truly moving. 
You could really feel the energy of both excitement and raw emotion radiating through the crowd during Thousand Below's set. While the band creates a deep connection with their fans through their relatable lyrics and explosive sound, they took it a step further, taking the time to take selfies and chat with fans after the show.
Set List
Hell Find You Everywhere
Chemical
Gone to Me
Venenosa
Silent Season
Sabotage
Sinking Me
As the sun started to set, Crown the Empire made their way to the stage. The Dallas-based metalcore band has been busy over the last few months, both working on a new LP and touring with major names like Slipknot. Their newest album, DOGMA will be coming out later this year on April 28th. Crown the Empire's live shows are often praised for their intense energy, and their show in St. Petersburg did not disappoint.
Crown the Empire started out with a blast of energy as they played the album title song, "DOGMA". Their stage presence captivated fans, with all of the members constantly engaging wit the audience. Lead vocalist, Andy Leo and bass player Hayden Tree could be found taking shots provided by fans on stage in between songs. 
Their music features heavy guitar riffs (Brandon Hoover), catchy choruses, and electronic elements, which create a dynamic and electrifying sound that keeps fans energized throughout then entire set. They finished strong by playing their heaviest song to date, "Dancing with the Dead, " which left fans craving more.
Set List
DOGMA
The Fallout
Black Sheep
BLURRY (Out of Place)
Zero
What I AM
Immortalize
Machines
In Another Life
Dancing with the Dead
After a slight delay due to technical difficulties, Nothing More finally took their place on stage. Seeing Nothing More live is an experience that is hard to put into words. One of the most notable aspects of Nothing More is their sheer talent and musicianship. Every member is a virtuoso on their respective instrument, and they play with a precision and passion that is truly awe-inspiring. Lead vocalist Jonny Hawkins is particularly impressive, effortlessly switching between clean singing and occasional screaming, all while keeping the audience engaged and entertained. 
But it's not just the technical proficiency of the band that makes witnessing them live so special. It's also the raw emotion and intensity that they bring to their performances. From the heartbreaking vulnerability of songs like "You Don't Know What Love Means" or "Best Times" to the explosive energy of tracks like "Tired of Winning" and "Let 'em Burn," Nothing More's live shows run the gamut of human emotion, taking the audience on a journey that is both thrilling and deeply moving.
As the icing on the cake to an already captivating show, they use a combination of elaborate and visually stunning stage setups. From massive, multi-tiered drum kits to intricate lighting rigs, Nothing More's shows are a feast for the eyes as well as the ears. Unfortunately for fans at Jannus Live, the band was experiencing technical difficulties with the infamous Scorpion Tail, and they were unable to use it during the performance. However, that did not take away from the overall experience. 
Watching Nothing More live is an experience like no other. It's a chance to witness one of the most talented and passionate rock bands of our time in their element. If you're a fan of the band or just a lover of great live music, Nothing More is an absolute must-see. Most of their shows on this tour have been selling out. If you haven't already bought tickets now is the time! The Spirits 2023 tour is one you can't miss.
You can buy tickets here: https://nothingmore.net
Set List:
SPIRITS
Do you Really Want It
Tired of Winning
Ships in the Night
YOU DON'T KNOW WHAT LOVE MEANS
Best Times
Jenny
Drum Solo
Let 'em Burn
Go to War
Don't Stop
FACE IT
Fadein/Fadeout
I'll Be Ok
Ocean Floor
Time Is the Time (Ballast)