COLLECTIVE SOUL 'Vibrating' With Excitement About New Music Set For Release August 12; "All Our Pieces" Single And Video Out Today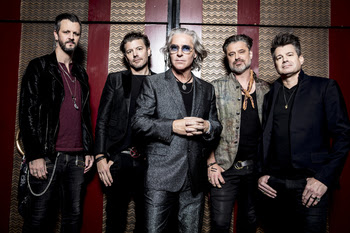 COLLECTIVE SOUL
'VIBRATING' WITH EXCITEMENT ABOUT NEW MUSIC
SET FOR RELEASE AUGUST 12;
"ALL OUR PIECES" SINGLE AND VIDEO OUT TODAY;
MASSIVE SUMMER TOUR WITH SWITCHFOOT
STARTS JULY 15
July 8, 2022 — COLLECTIVE SOUL–Ed Roland (vocals/guitar), Dean Roland (rhythm guitar), Will Turpin (bass/background vocals), Jesse Triplett (lead guitar/background vocals), Johnny Rabb (drums/background vocals)—is so excited about their 11th new studio album that they're literally VIBRATING with excitement.
It's due out August 12 on their label, Fuzze-Flex Records via AMPED Distribution, and pre-orders are available now on CD, vinyl and digital formats 
everywhere music is sold
 which include an instant download of the first single out today, "All Our Pieces."
A lyric video for "All Our Pieces" premiered on 
SPIN.com
 yesterday and can now be seen on the band's official YouTube 
page
. 
SPIN.com
 describes the new album as a "…masterful pop-rock effort…" and as Ed Roland explained to them about the song, "you got to go to that point where you say we're not clicking on all cylinders but we'll get there, you know it's there because you had it before."
VIBRATING sends the band's artistic spirit into the next stratosphere. All ten songs positively pulsate with the boundless energy that has been COLLECTIVE SOUL's aural calling card for over three decades. From the propulsively gnarly kiss-off of "Cut the Cord" to the reflective midtempo jangle of "Take" to the heart-wrenching reality check of "Rule No. 1" — replete with a soaring string section, no less! — to the choir-backed emotional crossroads of "Where Do I Go," VIBRATING contains 42 minutes of irrefutable sonic evidence of a band wholly uninterested in sitting still.
"I think we're on a roll," observes Ed Roland, the band's frontman and chief songwriter. "We're not afraid to stretch the boundaries, but we do know how to stay in our lane when we need to. Sometimes, though, we just have to go faster." As he continues, "Our fans have been waiting for VIBRATING for almost three years now, and I can't wait for them to hear it. They're excited because both SEE WHAT YOU STARTED and BLOOD set such a high standard for where we're going as a band, and it's only going to continue getting better with VIBRATING. I really do believe that."
VIBRATING is the follow-up to their critically acclaimed tenth studio album, BLOOD, which was released June 21, 2019 on Fuzze-Flex Records/ADA. It garnered impressive debuts on various Billboard's charts, including #3 on the "Alternative Albums" chart. Elsewhere, it debuted at #4 on the "Independent Albums" chart, #5 on the "Rock Albums" chart, #12 on the "Digital Albums" chart, #15 on the "Top Current Albums" chart, and #19 on the "Internet Albums" chart.
Seeing eye to eye, and ear to ear, is part of the secret sauce of why COLLECTIVE SOUL continues to both record and play together at an uncompromised level of high quality. "That's the end goal for everybody in this band," agrees Roland. "Just because I write the songs doesn't mean I'm the only one who wants it all to come out right. We all want it to be right, and that's because this is a band that acts like a band."
Meanwhile in touring news, in addition to various headlining shows, the band will join forces with Switchfoot–for the very first time—for a massive summer tour that will launch Friday, July 15 in Gary, IN at the Hard Rock Casino. Ed Roland can't wait to get the tour started. "It's always a thrill to go on tour, but this year is going to be so special because we get to be with not only our friends but a great band, Switchfoot! Southern boys meet Southern California boys, which will be a fun time for all!"
Here's the complete track listing for VIBRATING:
1. Cut The Cord
2. Reason
3. All Our Pieces
4. Take
5. Undone
6. Rule No. 1
7. A Conversation With
8. Just Looking Around
9. Back Again
10. Where Do I Go
Check out COLLECTIVE SOUL and Switchfoot at any of the following stops:
DATE               CITY                             VENUE
Fri 7/15             Gary, IN                        Hard Rock Casino
Sat 7/16            Council Bluffs, IA          Harrah's Council Bluffs – Stir Cove
Sun 7/17           Maryland Heights, MO   Saint Louis Music Park
Tue 7/19           Cleveland, OH               Jacobs Pavilion at Nautica
Wed 7/20          Columbus, OH               KEMBA Live! – Indoor Music Hall
Sat 7/23            Fond du Lac, WI            Fond du Lac Fair
Sun 7/24           Wabash, IN                   Honeywell Center
Tue 7/26           Newport, KY                 PromoWest Pavilion at OVATION
Wed 7/27          Midlothian, VA               AfterHours Southside
Sat 7/30            Grantville, PA                Penn National Racecourse – Hollywood Casino
Sun 7/31           Hampton, NH                Hampton Beach Casino Ballroom
Tue 8/2             Silver Spring, MD          The Fillmore Silver Spring
Wed 8/3            Huntington, NY              The Paramount
Thu 8/4             New York, NY               Palladium Times Square
Sat 8/6              Webster, MA                 Indian Ranch
Sun 8/7             Pittsburgh, PA               Stage AE
Mon 8/8            Jackson, MI                  Jackson County Fairgrounds
Sat 8/13            Billings, MT                   MetraPark – First Interstate Arena
Sun 8/14           Denver, CO                   The Mission Ballroom
Mon 8/15          Sandy, UT                     Sandy City Amphitheater
Wed 8/17          Jacksonville, OR           Britt Pavilion
Sat 8/20            Paso Robles, CA           Vina Robles Amphitheatre
Sun 8/21           Saratoga, CA                The Mountain Winery
Tue 8/23           Inglewood, CA               YouTube Theater
Wed 8/24          San Diego, CA              Cal Coast Credit Union Open Air Theatre
Fri 8/26             Henderson, NV             Sunset Station Outdoor Amphitheater
Sat 8/27            Flagstaff, AZ                 Fort Tuthill Park – Pepsi Amphitheater
Mon 9/5            New Haven, KY             The Amphitheater at Dant Crossing
Wed 9/7            Cary, NC                       Koka Booth Amphitheatre at Regency Park
Fri 9/9               Charleston, SC              The Riviera Theater – Sottile Ballroom
Sat 9/10            Atlanta, GA                   Cadence Park Amphitheatre at Chastain Park
Sun 9/11           Nashville, TN                 Grand Ole Opry House
Tue 9/13           Jacksonville, FL            Florida Theatre
Wed 9/14          Clearwater, FL              Ruth Eckerd Hall
Fri 9/16             Orlando, FL                   Hard Rock Live
Sat 9/17            Pompano Beach, FL      Pompano Beach Amphitheatre
Sun 9/18           Tallahassee, FL             Donald L. Tucker Civic Center
Tue 9/20           New Orleans, LA           Mahalia Jackson Theater
Wed 9/21          Sugar Land, TX             Smart Financial Centre
Fri 9/23             Austin, TX                     Austin City Limits Live
Sat 9/24            San Antonio, TX            Majestic Theatre
Sun 9/25           Dallas, TX                     The Factory in Deep Ellum