DES ROCS New EP "This Is Our Life" Out 12/11
Des Rocs' mission is "bringing rock & roll back to the people." He is a tried-and-true New York-based artist that fuses the energy of that city into his lyrics and music (written in his studio next to a cemetery). He has a genre-bending fresh vibe, easily moving from rock to R&B to industrial to acoustic to hip-hop. He's toured with The Rolling Stones, Muse, and The Struts, and appeared at a number of festivals including an upcoming slot at Aftershock Festival next October. His energetic, gutsy live performances are a reminder that rock'n'roll is still very much alive and well.
And his music hits right at the gut of the human experience—his entire This Is Our Life EP chronicles struggles that are both personal to Des and likely shared by many others (see that in the title track video here). Another great example is this incredibly poignant video of him performing "Used To The Darkness" in an empty Times Square this past April, just before COVID shut the city down. Did I also mention he has a law degree?
Somewhere in Queens, a musical madman creates compositions in an underground lair. Formerly used as a break room for 1950s MTA tunnel workers, the grit and legacy of the city radiates from the walls, anointing Des Rocs with the authentic soul of NYC. Des Rocs is Rock 'N Roll. A fourth-generation New Yorker and pizza maker, his authenticity, coupled with his obsessive drive to create, has spawned an undeniable force of nature.
His music builds upon its deep and soulful rock roots and applies a sadistic, frenetic twist. Des delivers Rock 'N Roll to the modern landscape, enriched with the deep reverence to the history of the art form. Inspired by music and culture of both past and present, Des provides an energetic and dynamic live performance, displaying the blood, sweat, and tears of the journey to reinvent Rock 'N Roll.
Des Rocs is a man possessed, the chosen prophet of his Filthy Animals™, the movement created by his fanbase. He approaches his career as an all-encompassing art piece. The music, the performance and the visual aesthetic all work in concert to provide his Filthy Animals™ with a captivating movement that's impossible to ignore.
His art is deeply personal, vulnerable, staying true to, and betting on, his unique creative vision. Des' newest offering, an EP titled This Is Our Life, will be released December 4th, 2020. This Is Our Life is an anthemic celebration of our greatest tragedies becoming our greatest strengths. The EP captures the true triumph in our flaws, and the clarity found somewhere at the end of our rope.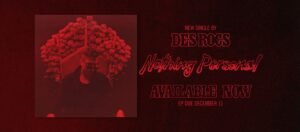 "Des Rocs is redefining rock'n'roll."    — Flaunt Magazine
"Helping to lead the rock revival charge."  — Loudwire
"Des' impressive sound is matched by his in-your-face stage presence and brooding charisma."   — Consequence of Sound
On performing with The Rolling Stones:
"…it was so inspiring that they just liked my music and wanted to give me a platform."  — Des Rocs