Insomniac Announces Lineup for 5th Edition of Dreamstate SoCal at the NOS Events Center


Insomniac Announces Lineup for 5th Edition of Dreamstate SoCal at the NOS Events Center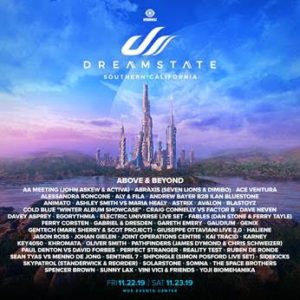 Dreamstate embarks on its biggest event yet at the NOS Events Center in San Bernardino
Nov. 22 – 23
Two-day tickets go on sale Friday, June 21 at Noon PT at SoCal.DreamstateUSA.com
LOS ANGELES – Get ready, trance fam—Insomniac has announced the complete lineup for Dreamstate SoCal, featuring more than 45 of the genre's top artists. Returning to NOS Events Center, Friday, Nov. 22 and Saturday, Nov. 23, the most anticipated trance event of the year will combine Insomniac's unparalleled production and stage design with eye-catching art installations and performers to create a uniquely enhanced atmosphere that will leave Headliners in awe.
The fifth edition of Dreamstate will dive deep into all sub-genres throughout the two-day festival, offering Headliners an eclectic roster of trance's hottest names, such as the debut of Abraxis (Seven Lions psytrance project with Dimibo), Above and Beyond, Astrix, Vini Vici and critically acclaimed producer, Gaudium. This year, fans will experience John O'Callaghan's alias Joint Operations Centre while Bryan Kearney will showcase KARNEY. In addition, German talent Cold Blue will be delivering a Winter Album Showcase. Dreamstate will also bring exclusive B2B sets including Skypatrol (Standerwick & ReOrder) and the world debut of AA meeting (John Askew and Activa), along with debuts by Pathfinders, Fables, and Ashley Smith vs. Maria Healey. Trance classics from the iconic Space Brothers and Japan native Yoji Biomehanika will be providing unmatched showcases alongside legendary names such as Johan Gielen and Kai Tracid.
The complete Dreamstate SoCal 2019 lineup includes:
AA Meeting (John Askew & Activa)
Above & Beyond
Abraxis (Seven Lions & Dimibo)
Ace Ventura
Alessandra Roncone
Aly & Fila
Animato
Andrew Bayer B2B Ilan Bluestone
Ashley Smith vs Maria Healy
Astrix
Avalon
Blastoyz
Cold Blue "Winter Album Showcase"
Craig Connelly vs Factor B
Dave Neven
Davey Asprey
Egorythmia
Electric Universe Live Set
Fables (Dan Stone & Ferry Tayle)
Ferry Corsten
Gabriel & Dresden
Gareth Emery
Gaudium
Genix
Gentech (Mark Sherry & Scot Project)
Giuseppe Ottaviani Live 2.0
Haliene
Jason Ross
Johan Gielen
Joint Operations Centre
Kai Tracid
Karney
Key4050
Khromata
Oliver Smith
Pathfinders (James Dymond & Chris Schweizer)
Paul Denton vs David Forbes
Perfect Stranger
Reality Test
Ruben de Ronde
Sean Tyas vs Menno de Jong
Sentinel 7
Shpongle (Simon Posford LIVE Set)
Sidekicks
Skypatrol (Standerwick & ReOrder)
Solarstone
Somna
The Space Brothers
Spencer Brown
Sunny Lax
Vini Vici & Friends
Yoji Biomehanika
Dreamstate has designed and developed incomparable transcending adventures for all trance sub-genres at Insomniac events including EDC Las Vegas and Beyond Wonderland SoCal, as well as internationally with events in Poland, Mexico, United Kingdom, Canada and Australia.
Last year, Headliners journeyed through the dimensions of Dreamstate and towards a higher state of consciousness, forming a community that thrived even after the music stopped. As North America's largest trance event, Dreamstate broke barriers in 2018 and featured unforgettable sets by Ace Ventura, Vini Vici, Paul Van Dyk, Artic Moon vs. Ram and more.
Tickets go on sale Friday, June 21 at Noon PST with two-day GA tickets starting at $125 plus taxes and fees at SoCal.DreamstateUSA.com.
Stay in the loop for official updates and announcement by visiting Socal.DreamstateUSA.com. You can also follow Dreamstate SoCal on Facebook, Twitter and Instagram.
###
About Insomniac
Insomniac produces some of the most innovative, immersive music festivals and events in the world. Enhanced by state-of-the-art lighting, pyrotechnics and sound design, large-scale art installations, theatrical performers and next-generation special effects, these events captivate the senses and inspire a unique level of fan interaction. The quality of the experience is the company's top priority.
Throughout its 25-year history, Insomniac has produced more than 2,000 festivals, concerts and club nights for nearly 5 million attendees across the globe. The company's premier annual event, Electric Daisy Carnival Las Vegas, is the world's largest dance music festival and attracts more than 460,000 fans over three days.
The company was founded by Pasquale Rotella and has been based in Los Angeles since it was formed in 1993. In 2013, Insomniac entered into a partnership with global entertainment company Live Nation.
Keep up with Insomniac announcements and news on Insomniac.com, Facebook and Twitter.