GLOBAL SENSATION JNR CHOI UNVEILS NEW SINGLE & MUSIC VIDEO "AMUSED" FEATURING FIVIO FOREIGN!
GLOBAL SENSATION JNR CHOI UNVEILS NEW
SINGLE & MUSIC VIDEO "AMUSED" FEATURING
FIVIO FOREIGN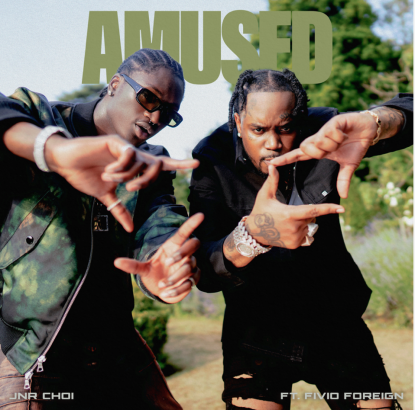 MORE MUSIC COMING SOON
(Los Angeles, CA – Aug 5th) Eclipsing boundaries yet again, gold-certified UK genre breaker JNR Choi reveals a brand new single and music video entitled "Amused" [feat. Fivio Foreign] today. Listen to "Amused" HERE and watch the music video for "Amused" HERE.
The track blasts off on a skittering beat propelled by electronic synths and glitchy percussion. The spacey soundscape offsets a wavy drill-style flow from JNR Choi. Meanwhile, Fivio rolls through with robust delivery punctuated by uncompromising East Coast attitude. The accompanying visual capitalizes on their chemistry with a fast-paced and frenetic display of otherworldly charisma and energy.
JNR Choi exploded as an international phenomenon this year. His breakthrough track "To The Moon" [with Sam Tompkins] just picked up a gold certification from the RIAA. Between the Original, the Gunna Remix, and the Drill Remix with G Herbo, Fivio Foreign, Russ Millions, and M24, it has gathered over half-a-billion streams and counting. Not to mention, it cracked the Top 35 of the Billboard Hot 100 and vaulted to #1 on the Rhythmic & Rap Airplay Charts. Along the way, he received looks from Billboard, Complex, HitsDailyDouble, and more.
"Amused" just paves the way for more music to come from JNR Choi. Buckle up!
ABOUT JNR Choi
Floating freely, JNR Choi dips in and out of vibes with swagger, style, and spirit. He wields his voice like an instrument, riffing on drill, grime, Afrobeats, alternative, reggae, and pop. Born of Gambian descent, he grew up in London. Initially, he made waves in the fashion world, gracing runways for world-renowned houses such as Givenchy, Philipp Plein, AMIRI, and Marcelo Burlon County of Milan, to name a few. After dropping his first track in 2016, he picked up the pace with the likes of "BELVEDERE" and "REALITY" as well as his 2021 independent project SS21. Along the way, he garnered acclaim from WONDERLAND and more. He reached critical mass with "TO THE MOON" and launches his biggest chapter yet with more music for Epic Records/Sony Music UK Black Butter Records.
FOLLOW JNR CHOI:
Twitter | Instagram | Facebook | YouTube
Courtesy of Epic Records