Daryl Hall Comes Full Circle At The Paramount Theater In Seattle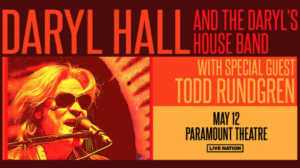 It's not very often you get to see two Rock and Roll Hall of Fame inductees in the same theater on the same night.  But it was one of those nights on May 12th in Seattle when Todd Rundgren and Daryl Hall (of Hall & Oates) brought a show  that will be hard to forget.
The excitement of the fans was palpable! People from all walks of life  making their way to their seats, this truly intergenerational crowd pouring into the historic Paramount Theater.  One might ask why they would be playing a venue like the Paramount and not playing a large arena.  And, once the show starts, you quickly understand why.  From the beginning, you're made to feel like you're at a taping of an episode of Daryl's House.  From the: "That didn't sound right, let's start that again", to the "I have the wrong guitar in the wrong key.  Where is my guitar guy?", the chatter from the stage was relaxed and conversational.
The show was split into separate acts with a 20 minute intermission between them.  Mr. Rundgren was the star of the show.  Supporting both acts was Daryl's "house" band, composed of musical director and guitarist Shane Theriot, bassist Klyde Jones, saxophonist Charlie DeChant, keyboardist Elliott Lewis, drummer Brian Dunne, and percussionist/singer Porter Carroll.
Rundgren opened a non-stop 14 song set that included some of his greatest works spanning his 30yr career.  Starting the night with "Real Man" off of his 1975 Initiations album, then moving right into "Love Of The Common Man" off of his 1976 release Faithful.  He went on to play some of his most popular hits, as well as his covers of "I'm So Proud" by The Impressions and "Ooo Baby Baby" by The Miracles.  He walked about the stage singing with just a mic for a better portion of the evening. At one point, Rundgren's tech handed him his "Pearly" guitar, and he told the audience how his favorite guitar "Foamy" was missing.  This prompted the expected, "awwwww" from the audience, he thanked the empathetic audience for the sentiment and carried on into his next song.  Rundgren ended his set with a track from his '89 album, 'Nearly Human'.
It Wouldn't Have Made Any Difference
Sometimes I Don't Know What to Feel
I'm So Proud (The Impressions)
After a short 20 minute intermission, Hall took the stage to the roar of the crowd.  Kicking off his portion of the show with "Dreamtime", he followed quickly with a 'Hall & Oates' classic "It's Uncanny".  He took a couple minute break after the first two songs to talk to the crowd about the first time he played in Seattle in 1975, and how it "felt full circle to be back in the same theater" for this show.  His set was a good mix of songs from his work with John Oates as well as a great mix of covers and tracks from his solo work.
Right after Hall's performance of "Sacred Songs", he shared details of a conversation had with Dave Stewart, after a taping of Daryl's House. They had been talking about general things "over a few martinis" and they decided at that moment that they needed to record a version of "Here Comes The Rain Again", a hit single that Stewart had written with Annie Lennox in 1983.  It was at that moment in the show that Daryl started playing the piano, with the house band following shortly thereafter, and gave a beautiful performance of "Here comes The Rain Again", which appears on Daryl's new album.
Daryl completed his set with the classic "I Can't Go For That" off the 1981 album Private Eyes.  With the audience calling his name and chanting "ENCORE", Hall appeared a few minutes later.  He went to a small keyboard set up at the center of the stage, and asked his friend and tour partner Rundgren to join him on stage.  The duo then performed the Hall and Oates classic "Wait For Me", followed by "Can We Still Be Friend's", a great Todd Rundgren track.  The duo then performed a great cover of "Expressway To Your Heart" a song originally done by 'The Soul Survivors'.
With Todd leaving the stage, Daryl ended the show with the crowd favorite "You Make My Dreams Come True" off the 1980 Voices album.
As with many amazing performances, it was over too soon, yet felt like we had spent hours with the musicians. When you're having fun listening to such great classics, it's easy to lose track of time.
It's Uncanny (Daryl Hall & John Oates song)
Everytime You Go Away (Daryl Hall & John Oates song)
Here Comes the Rain Again (Eurythmics cover)
Sara Smile (Daryl Hall & John Oates song)
I Can't Go for That (No Can Do) (Daryl Hall & John Oates song)
Encore:
Wait for Me (Daryl Hall & John Oates song) (with Todd Rundgren)
Can We Still Be Friends (Todd Rundgren cover) (with Todd Rundgren)
Expressway to Your Heart (The Soul Survivors cover) (with Todd Rundgren)
You Make My Dreams (Daryl Hall & John Oates song)
(Review and Photos by Jared Ream)