Holy F*ck Release Video For New Single "Airport Dreams"
HOLY FUCK
SHARE NEW SONG 
"AIRPORT DREAMS (FEAT. SARAH BONITO of KERO KERO BONITO)"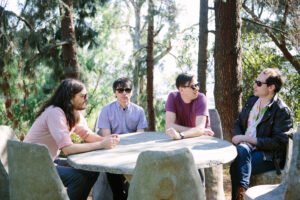 IMAGE CREDIT: NICK WALKER
DOWNLOAD HI-RES IMAGES: B&W | COLOR
"The band's latest effort marries their relentless dance rhythms with new glittery pop melodies courtesy of Sarah Bonito, frontwoman of Kero Kero Bonito, making for an instantly catchy addition to the band's catalog. Skittering chopped percussion, eclectic analog synth textures, and pulsating basslines blend effortlessly with Bonito's technicolor vocal style and freewheeling lyrics."
Under The Radar
"AIRPORT DREAMS (FEAT. SARAH BONITO)"
WATCH THE MUSIC VIDEO
(TORONTO) SEPTEMBER 27, 2021 — Toronto's unconventional electronic rock heroes Holy Fuck are sharing an excitingly fresh new song that features Sarah Bonito from British indie pop band Kero Kero Bonito. "Airport Dreams (feat. Sarah Bonito)" debuted earlier today by way of Lauren Laverne's breakfast show on BBC Radio 6Music as her 'While You Were Sleeping' track, and tastemaker outlet Under The Radar revealed news of the new tracks, calling it "an unforeseen delight that brings together branching talents for something new and unexpected." The band has also released an official video for "Airport Dreams", which can be seen here. 
Holy Fuck, known for their gritty and danceable electronica, explore new corners of pop potential with this lovely addition to their already expansive genre-bending catalogue. More polished production, snappier beats, and charming vocals lean into the fun, while preserving the fuzzy analog texture of past Holy Fuck works.
In a personal statement, Holy Fuck dive into the background behind the creative inspiration:
Contrary to our usual method of recording 'live off the studio floor' where we prefer to hash out and capture the core of our songs together in the same room, we found ourselves, like a lot of people in 2020/21, working remotely. This meant building up tracks and song ideas separately at our own various recording and rehearsal spaces and then sharing them with each other online. In spite of the physical distance, we still dug into our classic 'holy fuck spirit': embracing whatever tools we have at hand to make the music we want. Voice memos of drum ideas Matt Schulz recorded of himself playing at home were shared, then edited together, forming the rhythmic foundation for "Airport Dreams". This later gave life to Matt McQuaid's bass parts which were recorded over WiFi from Dartmouth, Nova Scotia to Toronto, Ontario. Situations are not always ideal, but can be used to an advantage – idea over execution. Branching even further into the spirit of collaboration, we sent these ideas to an incredibly talented artist, Sarah Bonito (of Kero Kero Bonito). Sarah's super catchy and inspiring vocal parts were initially intended for a different song altogether. Their frenetic energy, however, became the catalyst for what is now called "Airport Dreams". 
"Airport Dreams" enlists the candy-coated eclectic sound of Kero Kero Bonito for a totally new found audio experience. Sarah Bonito explains of the collaboration, "During lockdown, I was having recurring dreams about being at the airport catching a flight every night. I feel like my mind was trying to break free from the physical constraints by travelling the universe whilst I slept. We are all free in our dreams!"
The song is bound to be an earworm to dancefloor dwellers worldwide, while also shining a light on the convergence of two of today's most innovative recording acts, combining their talents for something bigger, even when greater forces like the pandemic are physically keeping people apart. As the lyrics go in "Airport Dreams": Trapped in a square. But the world is my oyster. I'm on top of the world.
​​
CONNECT WITH
HOLY FUCK:
Instagram: @holyfband
Facebook: @holyf
Twitter: @holyfuck