Steve Vai Announces 2022 U.S. Tour with 54 Scheduled Appearances – New Music Coming
STEVE VAI ANNOUNCES 2022 U.S. TOUR WITH 54 SCHEDULED APPEARANCES
Run Begins January 27 in Las Vegas Culminating with Final Performance April 2 in L.A.
VIP PRE-SALE GOES LIVE SEPTEMBER 15,
GENERAL ON-SALE TO FOLLOW SEPTEMBER 17
For Tickets, Visit https://www.vai.com/
Los Angeles, CA – Steve Vai has announced an extensive tour of the U.S., with 54 scheduled appearances confirmed. Vai's Inviolate World Tour will begin at House of Blues in Las Vegas on January 27, 2022, and wrap in Los Angeles on April 2, 2022 at The Theatre at Ace Hotel. The general on-sale will go live on September 17, 2021, with a VIP pre-sale available on September 15, 2021. For tickets visit https://www.vai.com.  A variety of EVO Experience VIP bundles are available here: https://www.stevevaivip.com/. EVO Experience offerings, dependent upon tier purchased, include signed JEM Jr. guitars; an invitation to a pre-show group Q&A, meet-and-greet and photo with Steve; soundcheck viewing access; a guided tour of Steve's instruments and gear; exclusive merchandise; commemorative VIP laminates and access to premium tickets.  This run is the first excursion of many planned which together are a multi-faceted World Tour that will bring the guitarist and composer to most continents across the globe touching down in dozens of countries. Vai has been working on a new studio album and those details will be shared imminently. These appearances will present an all-new show featuring a lot of new music, with plans for performances to be staged for the next several years.
Vai will be joined by his long-tenured ensemble members Dave Weiner (guitar / keys), Philip Bynoe (bass), and Jeremy Colson (drums).  Vai shares, "A performer thrives on performing.  It's been my life for the past 49 years, with the exception of the last two years, so we are chomping at the bit to get out there and play for people. A music concert has the ability to dissolve the many challenges we face, and celebrate one of the good things in life, live music."
This past April, Vai launched a Patreon page (https://www.patreon.com/stevevai) where he has regularly conducted exclusive one-hour question & answer sessions and more for a $5.00 monthly commitment. His on-going series "Alien Guitar Secrets Live" now premieres on Patreon, with a focus on the guitar, music, his career and the business aiming to offer insights that enlighten perspectives for their own worlds. He breaks down various songs from his catalog to show techniques, and discusses anything from writing, recording, publishing, promoting, and touring.  Additionally, the series "Under It All: Hard Questions," enables Vai to engage in more esoteric life principles and topics where no question is off limits.  Many of his filmed interviews include his perspective on deeper subjects, and comment boards frequently allude to a broad interest in further exploration of his personal thoughts. Whether sharing detail on his observations surrounding life, the creative process, spirituality or the human condition, "UIA" delves into opinion that's led by the free form forum.
In March, 2021, he also presented a never-before-seen performance video on his Ibanez Onyx Black PIA guitar of a new composition titled "Knappsack."  The clip capturing him playing with one hand while recuperating from shoulder and hand surgery can be viewed here:
www.youtube.com/watch?v=aMjmjXHJoPg.  When launching the page, Vai shared, "The pandemic changed much of the way many of us conduct our business, especially musicians. Although live performances have been down, there have been many other ways in which communicating with the fans has exploded. With this in mind I'm excited to give more attention to online formats such as Patreon where I can communicate with those interested and offer unique items and experiences that keep us connected."
INVIOLATE WORLD TOUR / U.S. 2022 CONFIRMED DATES:
1/27     Las Vegas, NV                                                House Of Blues
1/28     El Cajon, CA                                                  The Magnolia
1/29     Riverside, CA                                                 Fox Performing Arts Center
1/30     Phoenix, AZ                                                    Celebrity Theatre
2/01     Salt Lake City, UT                                          The Rockwell at The Complex
2/02     Boulder, CO                                                    Boulder Theater
2/04     Oklahoma City, OK                                        Tower Theatre
2/05     Austin, TX                                                      Paramount Theatre
2/06     Dallas, TX                                                       House Of Blues
2/08     Houston, TX                                                   House Of Blues
2/09     San Antonio, TX                                             The Aztec Theatre
2/11     Birmingham, AL                                             Lyric Theatre
2/12     Macon, GA                                                     Hargray Capitol Theatre
2/14     Atlanta, GA                                                     The Eastern
2/15     Clearwater, FL                                                Bilheimer Capitol Theatre
2/16     Orlando, FL                                                    The Plaza Live
2/17     Ft. Lauderdale, FL                                          The Parker
2/18     Ponte Vedra Beach, FL                                  Ponte Vedra Concert Hall
2/19     Charlotte, NC                                                  The Fillmore Charlotte
2/21     Charleston, SC                                                Charleston Music Hall
2/22     Alexandria, VA                                              The Birchmere
2/23     Glenside, PA                                                   Keswick Theatre
2/24     Red Bank, NJ                                                  Count Basie Theatre
2/25     Huntington, NY                                              The Paramount
2/26     Port Chester, NY                                            The Capitol Theatre
2/27     Providence, RI                                                The Strand
3/01     New Haven, CT                                              College Street Music Hall
3/02     Boston, MA                                                    The Wilbur
3/03     Albany, NY                                                     The Egg
3/04     Rochester, NY                                                Kodak Center
3/05     Harrisburg, PA                                                Sunoco Theatre
3/06     Greensburg, PA                                              Palace Theatre
3/08     Warren, OH                                                    Packard Music Hall
3/09     Detroit, MI                                                      Masonic Cathedral Theatre
3/10     Morgantown, WV                                           Metropolitan Theatre
3/11     Louisville, KY                                                Old Forester's Paristown Hall
3/12     Nashville, TN                                                 CMA Theater
3/13     St. Louis, MO                                                 The Pageant
3/15     Chicago, IL                                                     Copernicus Center
3/16     Milwaukee, WI                                               Pabst Theater
3/17     St. Paul, MN                                                   The Fitzgerald Theater
3/18     Kansas City, MO                                            The Uptown Theater
3/19     Lincoln, NE                                                    Bourbon Theatre
3/20     Des Moines, IA                                               Hoyt Sherman Place
3/22     Sioux Falls, SD                                               The District
3/23     Fargo, ND                                                       Fargo Theatre
3/25     Billings, MT                                                   Alberta Bair Theater
3/26     Bozeman, MT                                                 The ELM
3/27     Missoula, MT                                                 The Wilma
3/28     Seattle, WA                                                    Moore Theatre
3/29     Portland, OR                                                   Roseland Theater
3/31     Turlock, CA                                                    Turlock Community Theatre
4/01     Napa, CA                                                        Uptown Theatre Napa
4/02     Los Angeles, CA                                            The Theatre at Ace Hotel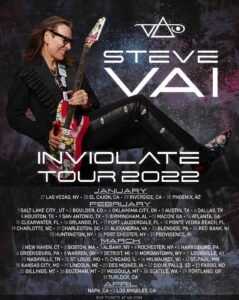 ABOUT STEVE VAI
Steve Vai is a virtuoso guitarist, composer and producer, considered by many as one of the greatest guitarists of all time. In over 40 years in the industry, Vai has sold over 15 million records, received three Grammy Awards, and recorded with music legends like Frank Zappa, David Lee Roth, Whitesnake and many more.  Vai has also toured extensively and recorded live projects with G3 (collaborating with different touring lineups including Joe Satriani, John Petrucci, Eric Johnson, Yngwie Malmsteen, and Steve Lukather) and Generation Axe, a supergroup Vai formed with Zakk Wylde, Yngwie Malmsteen, Nuno Bettencourt and Tosin Abasi. Vai is the author of Vaideology: Basic Music Theory for Guitar Players (Hal Leonard), his inaugural music theory book designed to help both beginners and veteran guitar players.  For a complete discography and more visit www.vai.com.
This electronic message transmission contains information from SKH Music, LLC which is privileged, confidential or otherwise the property of the sender, a client or intended recipient. If you are not the designated recipient, please be aware that any dissemination, distribution or copying of this communication is strictly prohibited. If you have received this electronic transmission in error, please notify us by electronic reply to sender and promptly destroy the original transmission. Thank you for your assistance.
Attachments area
Preview YouTube video Steve Vai – "Knappsack"
Steve Vai – "Knappsack"