Dropkick Murphys Expand Relationship With Death Wish Coffee Co.; Celebrate St. Patrick's Day With Free Streaming Performance; New Album 'Turn Up That Dial" Out April 30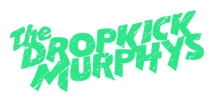 Dropkick Murphys Expand Relationship With Death Wish Coffee Co.
Band To Celebrate St. Patrick's Day With Fans Worldwide Via
Pega Presents
Dropkick Murphys St. Patrick's Day Stream 2021…Still Locked Down
Fueled By Death Wish Coffee…And Sponsored By YOU
March 17 At 7:00 PM ET / 4:00 PM PT
New Dropkick Murphys Studio Album
Turn Up That Dial
Out April 30 Via Born & Bred Records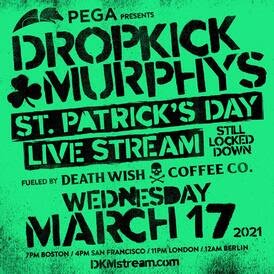 As Dropkick Murphys prepare for their global St. Patrick's Day streaming performance and the April 30 release of their 10th full-length studio album, Turn Up That Dial, the band has announced an expanded relationship with Death Wish Coffee Co., who join longtime DKM partner Pega in supporting the band.
Dropkick Murphys St. Patrick's Day Stream 2021…Still Locked Down is presented by Boston-area tech company Pega (a leading provider of digital transformation software), fueled by Death Wish Coffee….and sponsored by YOU.
Dropkick Murphys will preview some tracks from Turn Up That Dial when they virtually reunite with fans around the world for their Still Locked Down stream to celebrate St. Patrick's Day on Wednesday, March 17 at 7:00 PM ET / 4:00 PM PT. The free streaming online concert – with no in-person audience – will be simulcast worldwide via www.DKMstream.com and will feature Dropkick Murphys performing socially distanced on an arena-sized stage with a full LED screen and a brand new video show.
Instead of charging for tickets to Dropkick Murphys St. Patrick's Day Stream 2021…Still Locked Down, the band will "pass the virtual hat" to take donations to help support their efforts to keep paying their employees, and a portion of donations will go to charity as always. Those who donate in advance or during the stream (via www.DKMstream.com) will see their name scroll across the ticker at the bottom of the screen during Still Locked Down.
In addition to Still Locked Down merch that will be available at www.DropkickMurphys.com, Death Wish Coffee will offer a limited edition Dropkick Murphys / Death Wish Coffee t-shirt, crew shirt, bandana and mug at www.deathwishcoffee.com during the St. Patrick's Day stream.
Death Wish Coffee is a rag-tag team of creatives—singers, musicians, and producers—who would be superstars if brewing up the World's Strongest Coffee had not become their first priority. Take a walk around their office and you'll find a bassist ready to blow your mind, 4/5ths of a gypsy rock band, a DJ-slash-art-director and a ton of Spotify snobs—so it's safe to say music really means something to DWC. In an effort to support Dropkick Murphys and the music industry as a whole, Death Wish Coffee is a proud sponsor of Dropkick Murphys and The Claddagh Fund, the band's organization that raises funds for the most underfunded charities that support vulnerable populations in Boston and Philadelphia.
Mike Brown, Founder and CEO of Death Wish Coffee, elaborated:
"In most years I'm able to see five or six live music shows. My favorite of those is seeing Dropkick Murphys live at the House of Blues in Boston around St. Patrick's Day. They never disappoint and always go above and beyond for their fans and their community. Not seeing that show last year was a disappointment, but having the opportunity to enjoy it via live stream while drinking an Irish Death Wish Coffee and a Guinness at home wasn't bad at all. I'd say it was one of the bright spots of my year for 2020.
Live music is very important to us all—especially right now. Music is like coffee for the soul, so when my team said we had an opportunity to help support the best live music show of the year for over 10 million people, we couldn't say yes fast enough.
Death Wish Coffee's purpose is to fuel people's passions—and when you combine that with Dropkick Murphys' live music around St. Patrick's Day, you get a feeling that is hard to describe unless you tune in. One of the best ways to get through this pandemic is scheduling things to look forward to. So, take a minute, put this on your calendar, and draw a big green shamrock around it. Pick up some whiskey, Death Wish Coffee, and an Irish stout, and you'll be waiting in joyful anticipation until the day arrives."
Death Wish Coffee has collaborated with Dropkick Murphys since 2018, via the band's charity The Claddagh Fund. John Swedish, Director of Strategic Partnerships and Engagement for Death Wish Coffee explained, "Since 2018, with the support of our passionate and loyal customers, Death Wish Coffee has raised nearly $135,000 to support The Claddagh Fund serving underfunded charities in the Boston and Philadelphia communities. Death Wish Coffee is relentlessly devoted to fueling our customers' passion and our mission to promote unity and strength through our coffee."
Dropkick Murphys' new album Turn Up That Dial– to be released via band-owned Born & Bred Records –was produced by Ted Hutt and is available for pre-order. The new single "Middle Finger" is out now.
Dropkick Murphys are: Al Barr (lead vocals), Tim Brennan (guitars, tin whistle, accordion, piano, vocals), Ken Casey (lead vocals), Jeff DaRosa (guitars, banjo, mandolin, vocals), Matt Kelly (drums, percussion, vocals), James Lynch (guitars, vocals), Kevin Rheault (touring bassist) and Lee Forshner (touring bagpipe player).
For more information on Dropkick Murphys, visit: www.dropkickmurphys.com.
About Dropkick Murphys
Dropkick Murphys proudly remain Boston's rock 'n' roll underdogs turned champions. Since 1996, the boys have thrown down with the kind of rock 'n' roll that's meant to be chanted at last call, in packed arenas, and during the fourth quarter, third period, or ninth inning of a comeback rally. With a celebrated discography including 2005's gold-selling The Warrior's Code and the near double platinum classic "I'm Shipping Up To Boston," they've quietly moved 8 million-plus units worldwide. Whether you caught a legendary gig at The Rathskeller (The Rat) under Kenmore Square, found the band by taking the T to Newbury Comics to cop Do Or Die in '98, discovered them in Martin Scorsese's Academy Award-winning The Departed, or saw 'em throw down at Coachella (or one of hundreds of other festivals), you've become a part of their extended family. Among many accolades, they've earned three Top 10 albums on the Billboard Top 200, generated half-a-billion streams, and sold out gigs on multiple continents. Not to mention, The Signed and Sealed in Blood standout "Rose Tattoo" graced Loudwire's "Top 66 Best Of The Decade Rock Songs" at #21 with a bullet. Most recently, 2017's 11 Short Stories Of Pain & Glory (released through the band's own Born & Bred Records), bowed at #8 on the Billboard Top 200 and emerged as the #1 independently released album. In 2021, they return with a simple request on their tenth full-length album: Turn Up That Dial!
Website: www.DropkickMurphys.com
Facebook: www.facebook.com/DropkickMurphys
Instagram: www.instagram.com/dropkickmurphys
Twitch: www.twitch.tv/dropkickmurphys
Twitter: www.twitter.com/DropkickMurphys
YouTube: www.youtube.com/DropkickMurphys
Streaming Outta Fenway (2020 live stream): https://www.youtube.com/watch?v=VzkMA_1NbfY
About The Claddagh Fund
The Claddagh Fund is a charity established by Dropkick Murphys founder Ken Casey in 2009. It focuses on children's and veterans' organizations, as well as drug and alcohol recovery programs. The Claddagh Fund is committed to the three attributes symbolized in the Claddagh ring: friendship, love and loyalty, and relies on the passion of the Dropkick Murphys' friends, family and fans to raise funds for the most underfunded charities that support these vulnerable populations. To learn more about The Claddagh Fund and the organizations it supports, please visit: www.claddaghfund.org
About Death Wish Coffee Co.
The World's Strongest Coffee was born out of a void. In 2012, Mike Brown's caffeinated curiosities landed him at the bottom of a rabbit hole, searching for a new frontier in an industry he loved. With a passion grown in his original coffee shop in Saratoga Springs, NY—Mike doubled-down on what he knew best and created something needed, not only by his active community, but by everyone. He searched far and wide for the best beans, perfected a unique roasting technique, and Death Wish Coffee, the World's Strongest Coffee, was born. Always SQF certified, Fair Trade and USDA Certified Organic. Now, Death Wish Coffee is sold online and in more than 14,000 stores nationwide. For more information, visit deathwishcoffee.com.