Dance Gavin Dance Light Up Sacramento And The Tower Bridge In New Live Stream
It's been four years since Dance Gavin Dance recorded their Tree City Session album at the Pus Cavern Studios in Sacramento, Ca.  And now the band returns to their hometown to deliver a concert like never before with their follow up Tree City Sessions 2.  When the band reached out to the Mayor and got his blessing to shut down a main artery so they could put on this show, it really said a lot about the commitment and pride that the city of Sacramento has in this band.  Tonight the band plays from the middle of the historic Tower Bridge and is armed with a setlist completely chosen by the fans and is setting up to be a night to remember!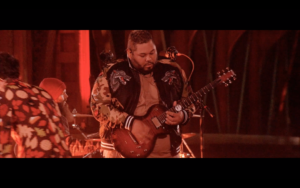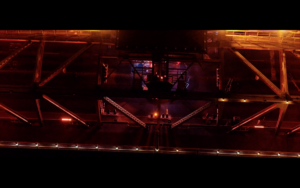 The show starts off high above the Tower Bridge as cameras circle the well lit icon.  Soon we get our first glimpse of Dance Gavin Dance as our two front men front and center sporting very fashionable dinner jackets as they dive straight into "The Backward Pumpkin Song" of off 2007's Downtown Battle Mountain.  As we get our feet wet "Uneasy Hearts Weigh Most" we are able to hear the surprisingly bright acoustics from the steel all around them as Tilian Pearson's voice amplifies across the road way.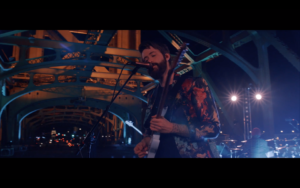 With the 360 camera work surrounding the circular stage we are to view all the structures around the bridge and skyline itself provide a stunning back drop to an already spectacular setup.  Giving the fans control over what songs make the set, Im sure proved challenging to the band as we already had two songs that haven't been played live in close to 10 years with "NASA" (2015)  and "Blue Dream" (2011).  Nothing was off limits from their entire catalog and Dance Gavin Dance was willing to put in the work to nail those older songs so they could to give these fans a truly unique experience.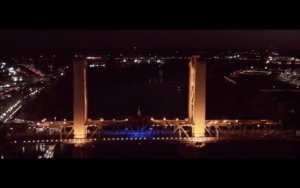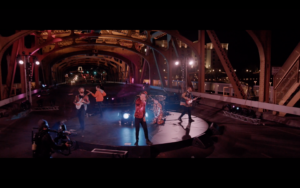 "Jesus H. Macy" is another track that has had some time off with it last being played back in 2015.  But even with the long gaps in playing these songs the band absolutely delivers on each and every one of them without giving the slightest hint of any song being absent for so long.  We get a brilliant view of the full length of the bridge as commuters travel the surrounding highways but it's the purple glow in the middle of our setting that captures our attention.  As the camera zooms in the sound of the heavy synth intro begins to build and at it's climax we get a four count from drummer Matt Mingus as Jon Mess and the band ignite into "Stroke God Millionaire" off of 2015's Instant Gratification.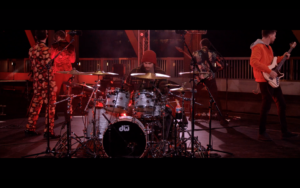 Something that really comes at no surprise is how tight and crisp the band and their sound was through out the night.  That was probably a bit of an obstacle considering the weather that night was supposed to go as low as 32 degrees, and Im sure it was just a tad nippy as they play over the Sacramento River.  "Awkward" is just another in the sea of examples showcasing Will Swan's brilliant work on guitar.  From his rapid chord changes to his melodic and fluid lead work really separates him from the rest of the pack.  As we get kind of lost in the harmonies created by Will and Tilian we're blindsided as that crushing breakdown and Jon's screams shake the very bridge they are playing on.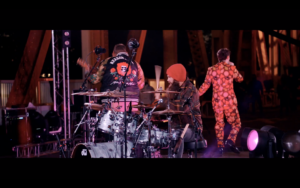 "Summertime Gladness" is just a rare track that has just about ever genre of music packed under the hood.  We start off with a kind of funk/jazz intro for a verse or two before Jon Mess growls take over and before we even know whats going on, he have a breakdown underneath of Tilian's harmonies.  And after a couple more exchanges we get another lead section but this time with a full on sax solo coming way out of left field. As the camera pans around from the city back to the band I am still trying to gather my thoughts as to what I just heard.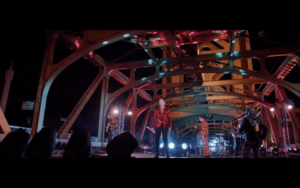 Following some pretty stellar tracks including "Inspire the Liars" and "Son of Robot" Dance Gavin Dance drop another heavy hitter on us with "Evaporate".  With the robotic sounds starting to dissipate Will Swan digs in with that heavy handed riff.  After the vocal exchange we shift to Tim Feerick's pounding bass line as it perfectly mimics Matt's double bass.  The energy we got from the band during this song had been felt from the very first note.  Jon Mess really let's loose on this one during the crescendo probably alarming local residents blocks away as he voice just catapults right out of his body.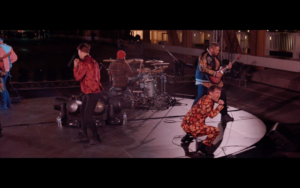 "Strawberry's Wake" had the perfect mixture of heavy triplet driven guitar riffs and euphoric vocals.  The direction this song takes is like being on a roller coaster that starts off nice and steady out of the gate but takes off like a rocket without warning circling back to nice and steady. And for our finale Dance Gavin Dance debuts "Nothing Shameful" off of their newest record Afterburner.  The song has a strong upbeat rhythm that borders the line between pop and metal in a way that only they could pull off.  It put Andrew Wells' vocal talents on full display as he could have served as a third front man.  This fit perfectly in with the rest of their set and hopefully will find a home up there in future shows.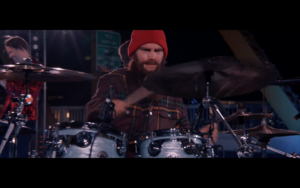 As the song comes to a close, the camera pulls back on its wide angle shot of the iconic Tower Bridge and slowly fades to black.  This was certainly one of the most unique shows I have ever seen.  Danny Wimmer Presents has had us from the L.A. Forum to the Arizona desert and now dead smack in the middle of a bridge.  If there was any doubt about what DWP brings with its production values, let this show be the shining example of what can be done.  Dance Gavin Dance just played one of the most memorable shows of their career and to do it in their hometown just adds to the excitement of what a huge accomplishment this is for them.  Don't forget to pick up the band's newest album Afterburner available on the bands website or on all streaming platforms.