Review of Evanescence's Live Session Show From Rock Falcon Studios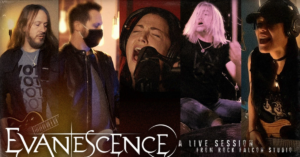 With a new album A Bitter Truth coming out in March of next year, Evanescence thought it be time to reach out to the fans and do something a little special.  What better place to air this intimate event than from the very studio where the band has completed their 5th and newest album  at Rock Falcon Studio.  It's not long before we'd meet up with drummer Will Hunt, guitarist Troy McLawhorn and of course lead singer Amy Lee. Through the luxuries in technology bassist Tim McCord is able to join us live from California as lead guitarist Jen Majura would be joining from across the pond in Germany.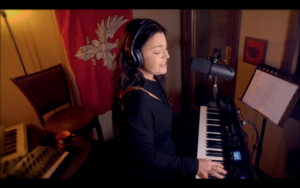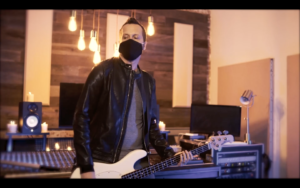 Amy Lee would light the room on fire her vocals during "Wasted on You". This was the first single off the band's new album and with just this small taste of things to come, I'd say that A Bitter Truth will be everything the fans want and more. Just as I had thought that, Evanescence laid down the first unreleased track of the album with "The Game Is Over".  With the chunkiness of Jen and Troy's seven string guitars adding an edgier flavor to the track playing contrast to Amy's elegant harmonies ultimately setting up the songs heavy grove section which will surely get fans going once we're back to a live setting.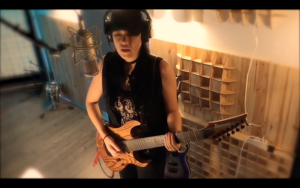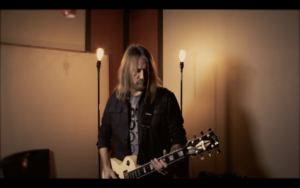 The band knocked the cobwebs off of "The Only One" but performed it like its been staple song in their sets. Before the band dives into another track, Amy Lee comments "Speaking of meaning. Let's play "Sick". I don't think these lyrics have meant as much to be as they do now".  Troy get's things going as the rest of the band shortly join after in for the songs thunderous verse.  The voiced power of both Amy and Jen really have the chorus's reaching the sky in this one. Troy McLawhorn plays a very iconic riff in the Evanescence catalog as fans will instantly recognize the hit "Going Under".  This is definitely one song that just transports you right back to when the notes first touched your ears 17 years ago. And over that time it hasn't lost any of its shine.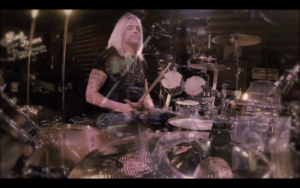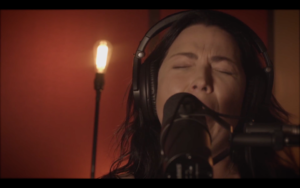 We would be fortunate once again by getting another sample from the up coming A Bitter Truth with the soulful anthem of "Use My Voice".  Amy's powerful voice shouting out the "Don't you speak for me" is an attention grabber while it once again gets paired seamlessly with Jen Majura's harmonies carrying above.  The song really is a commanding piece that would not surprise me if it fell off as the next single from the album.  And what would an Evanescence set be with out the bands colossal hit "Bring Me to Life".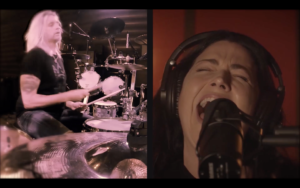 It's funny to think of first hearing this iconic song not on the radio but MTV's Total Request Live and just being blown away.  Amy touches on it being weird not having the words sang back by the fans but I'm sure they were singing back from their homes.  Even after all these years, Evanescence belts this rock ballad out with the same amount of power, feeling and energy as ever before.  After the song wraps up Amy tell her band mates how much see misses playing with them as drummer Will Hunt lets out an energetic "FUCK YA", and who can really blame him.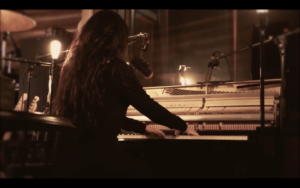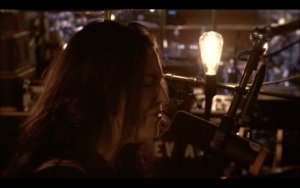 Amy is now directing us all to the freshly tuned acoustic piano on the other side of the studio.  The show immediately slips into a more personal and intimate setting.  "Lost in Paradise" was a great song in general, but in this setting it really takes off.  Without the symphonic element and even without the band entering, this song goes above and beyond with just Amy on the piano as you could feel her voice and those strong notes right in your chest.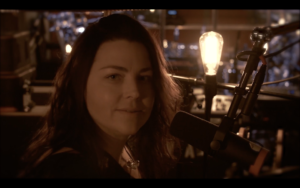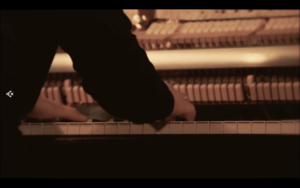 For the last song of the night Amy Lee will pull inspiration from one of her favorite groups, English alt-rock band Portishead.  The song is "Glory Box" but Amy will put her own personal touch on it which will be nothing less than stellar.  It's amazing how her voice can take a song to a whole other level and really just leave you breathless.  While the original version was more of a drum sample and vocals with a slow bass line, Amy certainly showed us her pure talents as she ends this special show on a truly high note.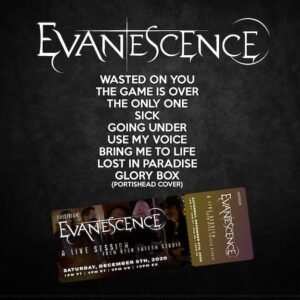 This was such a treat being able to hear and see Evanescence playing music again, even if it's through our mobile devices.  They didn't down play this show at all and really did give every song all that they had.  A big plus is that there is a whole album coming our way just 3 months. I know, it's not close enough. But hopefully with a new year, a new album we could HOPEFULLY get a tour somewhere in the mix.  In the mean time, make sure to head to the Evanescence Store to pre-order The Bitter Truth which is set to release on March 26th marking the first time in a decade the band will release a record of all original material!