Full Review Of Sevendust's Newest Album "Blood & Stone"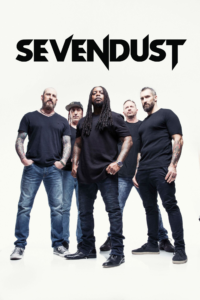 Sevendust has been a staple in the hard rock and metal community for the last 23 years as they hit the road with some of the biggest names in the industry and have played some of the biggest gigs around the world. But most importantly, the band has continuously put out the highest quality of music over that time. Sevendust's 1997 self-titled debut took the world by storm and found its way to Gold status two years later. Over the next decade, the band has had numerous accolades including three consecutive RIAA gold-certified albums, a Grammy nomination, and millions of records sold worldwide. On October 23rd the Atlanta based crew will release their newest record Blood & Stone out on Rise Records making it the 13th entry of an already impressive catalog.
Starting the album off with that heavier edge Sevendust is known for, "Dying To Love" really kicks it into gear right away. A hard driving riff that is met with Lajon's signature vocal style which then transforms into an anthem like chorus line. But it's the songs final closing breakdown that really gets the blood going. "Love" has a soft opening but immediately turns into an upbeat rhythmically charged track. Singer Lajon Witherspoon's powerful lyrics and range rides like a rollercoaster through all 4 minutes of the track.
"Blood From a Stone" is the first original single off of Blood & Stone and what a solid choice. John Connelly's leads off the emotionally charged track that lyrically stems from as guitarist Clint Lowery puts it "Was inspired by the endurance and threshold of our band, the wins and the losses, the good and bad years. That we have more to give, more to say and we pull that out of each other". The band puts on a clinic in songwriting with this track as its solid riffs, flowing rhythm section and lyrical arrangement come together seamlessly.
"Feel Like Goin On" has that emotional punch that is built up throughout the track. Clint Lowery and John Connelly create the perfect mix of clean and crunch driven elements especially as the songs climatic peak hits at the 2:44 mark. For that need to tap your foot and rock your head, look no further than "What You've Become". A solid track driven by Morgan Rose's percussive freight train rhythm as Lajon's vocals echo across each verse. The hard backup vocals add contrast to the harmonies of the pre-chorus. "Kill Me" starts off with a subtle acoustic intro paired to some hypnotic harmonics. But soon it's the jackhammer of a main riff that takes on a life of its own. The addictive chorus line has you chiming along as Lajon's harmonies emulate Clint's leads.
For the seventh track of the album it's "Nothing Left To See Anymore". Starting off with an upbeat guitar progression, the song turns into a soulful vocal display by Lajon Witherspoon. His voice captains this track up and over every verse and chorus and is capped off with the sound of piano keys echoing away as the song fades out. "Desperation" chugs along like a locomotive of double bass and the dual guitar attack of Lowery and Connolly. The songs mixture of heavy riffs and powerful choruses delivers everything you'd want in a classic Sevendust track. Next up we have "Criminal" which is one of the most memorable and captivating tracks on the album. With its uplifting guitar riff and compelling lyrics, it is an absolute high point of the record.
"Against the World" catches your attention with its hard hitting riff work once again, leading into the euphoric chorus that just takes your breath away. But just when the song makes you think it's winding down, it slams a crushing breakdown on your eardrums. From hard and in your face, to angelic and moving, "Alone" takes the fans on a different musical journey. This track puts front man Lajon Witherspoon's vocal talents on display yet again as his harmonies take control and the band provides the emotional backing behind every word.  "Wish You Well" starts off with some heavenly sounding choir voices but takes off into the perfect mixture of solid heavy rock parts and flowing melodies.
For the last track of Blood & Stone it is the albums first single "The Day I Tried To Live". On June 26th Sevendust released their first new music in 2 years with an incredible rendition of Soundgarden's iconic track. The song is originally off the bands 1994 famous record Superunknown and had been written by the late Chris Cornell about trying to step out of being patterned and closed off and reclusive. With such a classic grunge song being covered by a heavy band, Sevendust stayed very true to the original and you can hear that very clear through out the track. It is not easy to cover another artist's work let alone one that has such a distinctive sound, but Lajon Witherspoon did an amazing job on vocals while nailing those Cornell vibrato's and the band really had the tones dialed in.
Sevendust really delivered with Blood & Stone and can chalk this album up as yet another win in their career. This is just one of those records where you hit play and enjoy the ride without ever having to reach for the fast forward button. The band coincided their live stream event on October 23rd with their new album release to give the fans something special to look forward to. Look for Blood & Stone on all major streaming platforms and for all physical copies, even signed, head to Sevendust.com and make sure to pick up your tickets for the bands Live Stream event and only show of 2020 at 7D Live Stream.