Corey Taylor Stuns The World With CMFT Album Release At The "Forum Or Against 'Em" Stream Event
---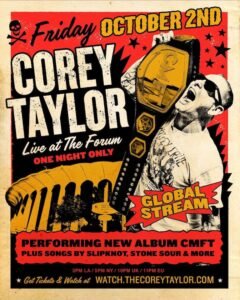 (Cover Photo Credit: Steve Thrasher)
Since his start in music 28 years ago, Corey Taylor has fought his way forward to become one of the most successful musicians in the world, not just within one genre of music but across multiple plains. The world was set ablaze with Slipknot's 1999 groundbreaking self-title album and from the very start of it all Corey had shown how impressive and powerful his vocal attack can be. 3 years later, Taylor would reunite his first band Stone Sour and this venture would start to peel back different layers and reveal another element to Corey Taylor's skill set.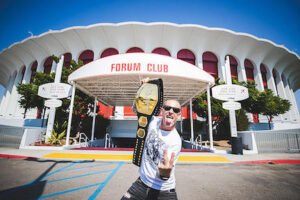 (Photo Credit: Steve Thrasher)
Over the last 21 years we've seen him receive different awards and accolades in his career, but something that Corey Taylor has always had his sights set on was releasing his own music as a solo artist. On October 2nd that dream became a reality and the whole world was there to bare witness as it came to them live from the legendary Forum in Los Angeles. CMFT reveals itself as yet another incarnation of Corey Taylor's raw musical abilities and also showcases an assortment of music that draws inspiration from different genres. So without further ado, Danny Wimmer Presents Corey Taylor's Forum or Against'em live stream event!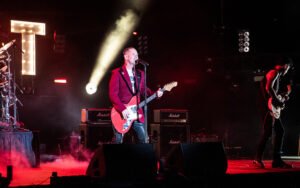 (Photo Credit: Steve Thrasher)
The stream was loaded with extra video content before the show even started, including plenty of interviews and interactions courtesy of the talented personality Beez from Knotfest.com with members of the band, 5B Entertainment CEO Cory Brennan and the man himself Danny Wimmer. Plus footage of the bands rehearsals, soundcheck, backstage antics, and the bands journey to The Forum from their bus trip in. And even a clip of someone trying to book the band for a gig in the parking lot before they left.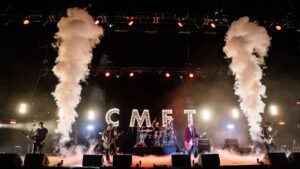 (Photo Credit: Steve Thrasher)
After an adrenaline fueled intro by non other than Jack Black, we see the band make their way off the bus and down the halls of The Forum. Slade's "Get Down and Get With It" play like an entrance theme for a fighter about to step foot in the ring and it didn't take long for the band to cross the rope and take the first swing with CMFT's initial track "Highway 666". The songs tone and direction is very reminiscent of a heavy rock play on "The Devil Went Down to Georgia" with its southern riff and flare. As the band plays on we catch a wide angle shot of the venue. It's definitely something to take in as there is only 10-15 crew members on the floor with the stage, band and equipment in a space that would normally be a sea of over 17,000 screaming fans for a show like this.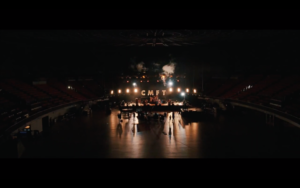 When the fast paced punk infused "Miene Lux" concludes, the applause from the crew is barely audible in the large empty arena which sounded more like a reaction if the band had been playing at a bar for just a few of the regulars. In the middle of "Halfway Down" Corey lays his guitar on the drum riser just as a crew member hits the stage with the now notorious CMFT heavy weight belt. He holds it in place as Corey adjusts his hair in the reflection and then removes his jacket and places it over the mans arm as he turns and walks off stage. When he gets back into position, lead guitarist Christian Martucci and Zach Throne trade blistering licks back and forth and finish out the song on that solid opening riff.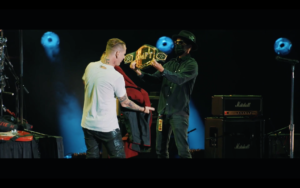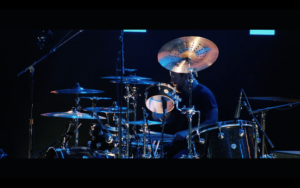 Corey paid tribute to fallen rock icon Eddie Money with playing a very faithful version of Eddie's classic track "Shakin'". Much credit is deserved to bassist Jason Christopher, Christian Martucci and Zach Throne for their impressive background vocals and harmonies on this and throughout the entire show. Blink and you'll miss it as the band rolled right into the Stone Sour staple with "Song #3" off 2017's Hydrograd.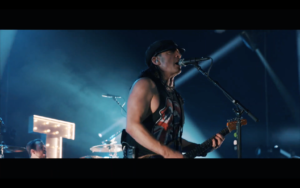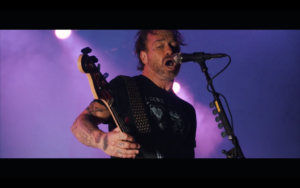 One of the highlights of this show was the emotional driven song "Snuff". Originally off Slipknot's All Hope Is Gone, this song has since been a tribute to the passing of bassist Paul Grey which has usually been played in the form of Corey performing it acoustically by himself on stage away from a Slipknot show. But tonight, Corey tells us "I am going to play one of my favorite songs that I've ever wrote. It's not very often I get to do this as a full band, so Im pretty stoked". The ballad takes on a life all its own as the other 4 musicians on stage come together at its climax providing a powerful punch to those watching.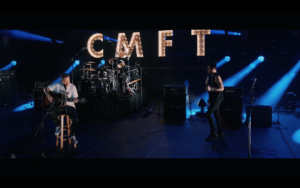 The band kept the intimate feel going as they played another Stone Sour hit "Taciturn" where it gave Taylor the chance to push his vocal range to the sky and back. But the mood changes as the boys play the heavy hitting track "Culture Head". This was the last single off of CMFT and it had your head rocking with its addictive main riff, pyro and crushing breakdown making it the most hands down brutal part of the show. The upbeat swing of  "The Maria Fire" changed the tempo of the room and created a wall of vocal harmonies as all four frontmen belted out the choruses.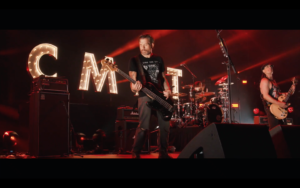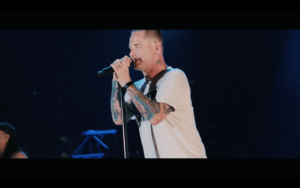 As a musician it's not always easy to pick up a new instrument, regardless of your musical abilities. But Corey Taylor shows us first hand that if there is something you want bad enough, you work your ass off to acheive it. The camera pans towards the stage as Corey sits behind a piano. He looks up and says "It's kind of a rad moment actually. It's my first time playing the piano live and I've spent the last two years teaching myself how to play, just so I could record this". After he dedicates the song "Home" to his wife, Corey's voice echos in the empty building with as much soul, passion and as lifting as I've ever heard him sing. You can see the emotion on his face with every note he plays and literally takes the breath out of you as you watch and listen. After the song is over, he takes a well deserved sigh, smiles at the crew and yells "WE DID IT!" as they all applaud and cheer.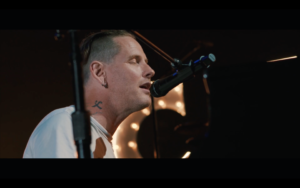 Now the band throws a couple of solid covers at the fans starting off with the Dead Boys "All This and More". The 70's american punk band anthem got itself a bit of an update from Corey & Co. packing more of a punch with the triple guitar threat on stage and on vocals. Next is the classic "Already Gone" by the legendary Eagles. As the band just rips through this song, you can't help but see yourself driving a pickup truck cruising down the road with this blaring through the speakers. Having the fire power of 4 vocalist and 3 guitar players on stage really gives the song justice considering the lineup of the band that originally wrote it.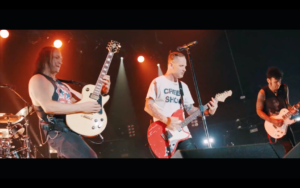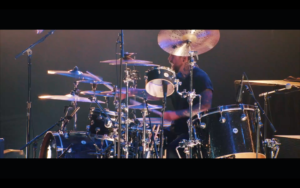 "Black Eyes Blue" was the first single released off of CMFT back in July and what a great track. The feel and energy of the song translated in the performance on the stage from beginning to end as just about everyone had a smile on their face at one time or another. In addition to the list of live debuts from Corey Taylor's new album is "Samantha's Gone". It has that true southern rock vibe with hints of Skynyrd or no surprise the Eagles throughout. Closing out our regularly scheduled portion of the set is of one Stone Sour's biggest songs with "Through Glass". The song has a constant buildup from Corey strumming his guitar and singing until it finally erupts as drummer Dustin Robert unleashes his powerful snare roll into the main chorus. There's not a better song to finish out this part of the show and lucky for us, it is not a long wait before the band regroups.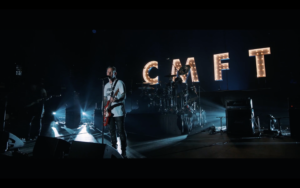 When the band returns to the stage, Corey Taylor does the band introduction which he jokes that it should have been done 20 songs ago. But before long they roll out "On the Dark Side" originally by John Cafferty & the Beaver Brown Band which was made famous by the 80's classic movie Eddie And The Crusaders. I can promise that this version has a little more energy and punch than its earlier counterpart with keeping to the original. The next song is one that truly put Stone Sour on the map as well as gave Corey Taylor fans the chance to see him as more than a single dimensional singer. "Bother" was a song that I can remember being absolutely blown away by the first time I heard it and was even more epic seeing him perform it live on Stone Sour's first tour cycle in 2002.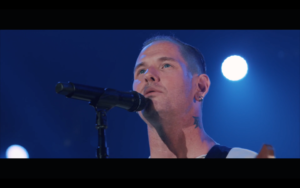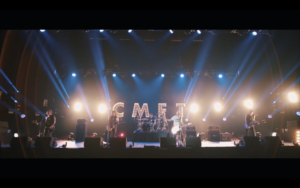 Hearing him play that opening riff gives me chills and takes me right back to my 19 year old self. But as he put it "It's a been a long time since I did a version like this for people but it's been in the back of my mind forever, wanting to bring it back. So check this out". Having the element of an entire band behind a song like this definitely adds more dynamics to it. From Dustin Robert's pulse like drum beat, Jason Christopher's echoing vocals or having Martucci and Throne's rhythms during Corey's solo. It collectively brought it to a higher level than I've ever heard before. This band knows how to shake up a room as they move from the soothing sounds of "Bother" to the in your face two step of "European Tour Bus Bathroom Song". Sitting in the closing spot of CMFT the track hits hard and fast then disappears like a tornado leaving a path of destruction.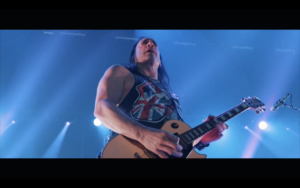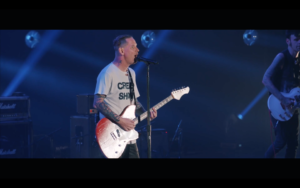 Standing at his mic Corey asks for a little bit of light and when his request is filled, he begins to tell the fans "We chose this last bit to do something very very special for you. Kind of an extravaganza. We are going to go big and then go home. Ladies and gentlemen, can I have your attention?". And on that last word, the band kicks in like a jack hammer with some pyro firing off for good measure as "CMFT Must Be Stopped" lifts off. Corey's lyrical tirade comes at you with rapid fire precision and just as the Iron Maiden sounding verse plays out, the stage is overran by the infamous Cherry Bombs.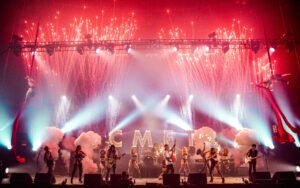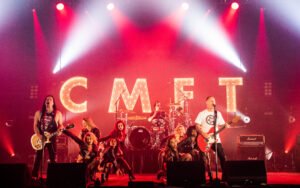 (Photo Credit: Steve Thrasher)
These rock and roll influenced performers first hit the stage with a dance routine while some daring young ladies climbed and repelled down the long red tapestries on either side of the stage. But for the shows climatic end you had everyone on stage, some with mid-evil fire holders and some with grinders as they send sparks flying across the stage. The back drop is nothing but strobe lights and fireworks shooting off as "CMFT CAN'T BE STOPPED!' is being shouted like a war cry. The ovation could be heard coming from the stage as well as those working in front of it as this triumphant show closes out in dramatic fashion in front of a world wide audience.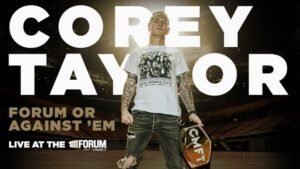 The level of production for this event was second to none from start to finish. This is in large part to the visionary promoter Danny Wimmer of DWP. There are many more things involved than simply "promoting" a concert and there is no-one better. Even though this is on a smaller scale then what he is known for, it marked the first large production stream event in the companies history and was an absolute success. The camera team created a cinema type of experience for the viewers with multiple high resolution angles capturing all the different elements of the show rather than a more stationary setup. The venue alone made this experience feel much larger which allowed for a more intense stage show but also improved the overall acoustics. That is probably one of the very few positive things that can come from not having crowds, and that is being able to really hear everything coming from the stage.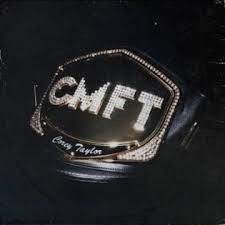 As a fan of Corey's work for 21 years, I can honestly say that CMFT is some of his best work to date and I think a lot of it has to do with the freedom's that come with putting out a solo album. Corey Taylor has constantly evolved as an artist and never wanted to be confined to a specific style as you can see with his progression from Slipknot to Stone Sour to now.  He has always created a new outlet to express himself through his music and outside of moving into the Opera game, I can't see where else he can go from here. But if there is any musician out there that can pull something out of his hat, it would definitely be Corey Mutha Fucking Taylor!
Fans make sure to get over to Corey's website for all your CMFT merch bundles and music as well as heading to all major streaming platforms to pickup Corey's new record. And don't forget to stay up to date with all of next years festival updates and future events coming to you from Danny Wimmer Presents