Corey Taylor Extends Ticket Availability For Concert Extravaganza Forum Or Against 'Em Due To Fan Demand; Live Footage Of Track "Halfway Down" Released Today
Corey Taylor Extends Ticket Availability For Concert Extravaganza
FORUM OR AGAINST 'EM
Due To Fan Demand
Tickets Now Available Until 11:59 EDT, Wednesday, October 7th
Purchase Here
Live Footage Of Track
"HALFWAY DOWN"
Released Today | Watch Here
Debut Solo Album
CMFT
Available Everywhere Now
"When it was all said and done, Corey Taylor and company gave fans a much-needed jolt of rock 'n' roll."
"Witnessing one of rock's most charismatic vocalists embodying rock'n'roll excess in an explosion of Technicolor and technology to make it look and feel so big."
– Kerrang
"The delivery of this masterpiece simply illustrates the diversity of this household-named musician, and justifies his desire to keep experimenting, doing different things, and exercising his vocal instrument."
"One of those online shows that gives you that much needed boost"
– GRIMM
"Corey Taylor and his crew definitely brought their best for this live stream performance"
Monday, October 5, 2020  – GRAMMY® Award-winning singer / songwriter, Corey Taylor, celebrated the release of his debut solo album in spectacular style on Friday, October 2nd, when he and his band took to the stage of iconic Los Angeles venue, The Forum to put on an epic, globally streamed rock n roll show for the ages. Now, due to enormous fan demand, tickets to access the PPV and unlimited re-watch access for ticket holders has been extended for a further 3 days, until 11:59 EDT on Wednesday, October 7th, available from watch.thecoreytaylor.com
The 23 song setlist saw Taylor and crew blaze through every song on his debut solo album CMFT (out now on Roadrunner Records), songs from the Slipknot and Stone Sour catalogues, several covers and a jaw-dropping finale featuring a high octane, high flying performance from girl gang dance squad The Cherry Bombs all accompanied by a full pyro, full light show, arena production. To give fans a taster of the show, Corey has also released the full performance of new track "Halfway Down" today. Watch the video here or by clicking the image below and find a selection of images from the show here (images are available for media use with photographer credit).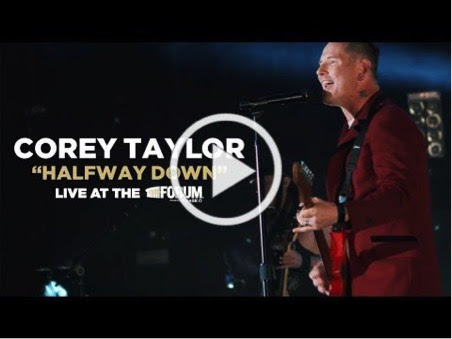 A full evening of spectacle, Corey was introduced to stage by none other than Jack Black, and the jam-packed pre-show, hosted by Knotfest.com's Beez, featured exclusive interviews and behind the scenes footage. The pre-show can be watched, for free, by clicking here or on the image below:
In the rapidly evolving sphere of streamed events, Forum Or Against 'Em was an industry first. In partnering with Danny Wimmer Presents, the largest independent festival producer in the United States, Corey Taylor and his management team at 5B Artists + Media put on an unprecedented, one-of-a-kind, pay-per-view concert experience and provided work to approximately 80 event staff.  
Taylor's debut solo album, CMFT, was released on Friday, October 2nd, via Roadrunner Records, Garnering widespread critical applause already, FORBES declare, "Corey Taylor's singing is undeniably the best it's ever been. From Slipknot's last album to his new solo material, Taylor is easily among the best sounding rock singers alive," and KERRANG! describing the new material as "A celebration of life, and one that shows him in a whole new light."
Taylor recently released a music video for "Black Eyes Blue," which has entered the Top 10 at Active Rock Radio, surpassing previous first week chart numbers from both Slipknot and Stone Sour. Additionally, Taylor hit #1 on Billboard's "Hard Rock Songwriters" chart following the unprecedented debut of lead singles, "Black Eyes Blue" and "CMFT Must Be Stopped" [feat. Tech N9ne & Kid Bookie], the latter of which has racked up in excess of 3 million YouTube views for its star-studded music video. He recently unveiled his "HWY 666" with an official lyric video and, most recently, shared an animated video for track "Culture Head" All songs are available on all streaming platforms.
CMFT is available now with limited edition vinyl and merch bundles available at www.thecoreytaylor.com.
On the fiery and fearless rock 'n' roll opus, Taylor touches on lifelong influences ranging from hard rock to classic rock, punk rock to hip-hop. CMFT has been a long time coming, with newly penned songs appearing alongside a few dating back to his teens. Recorded at Hideout Studio in Las Vegas, with producer Jay Ruston and his band – Christian Martucci [guitar], Zach Throne [guitar], Jason Christopher [bass], and Dustin Robert [drums] – the album traces a wild and exhilarating roadmap through Taylor's musical psyche. Now, with Forum Or Against 'Em, Corey Taylor is bringing his wildly diverse musical collection to life. Do not miss out on catching Taylor's vision for this incredible streaming event, purchase tickets now from watch.thecoreytaylor.com.
————-
About Corey Taylor: Uncompromising, unfiltered, and undeniable in any arena, Corey Taylor continues to impact culture as the frontman for both GRAMMY® Award-winning multi-platinum juggernaut Slipknot and platinum rock force Stone Sour. Taylor is a New York Times Best-Selling author as well as an actor with a myriad film and television credits. Impacting generations of fans and peers alike, his voice roars across six Slipknot albums which have rallied millions of fans across the globe. With two gold-certified albums and a platinum single, Stone Sour have notched five Top 10 debuts on the "Billboard 200" and garnered Loudwire's "Rock Album of the Decade" for House of Gold & Bones — Part 1, which also spawned its own Dark Horse Comics graphic novel of the same name by Taylor. Taylor first crashed the New York Times Best Seller List with Seven Deadly Sins in 2011, occupying the chart for four weeks. He followed it up with three popular tomes: A Funny Thing Happened On The Way To Heaven [2013], You're Making Me Hate You [2015], and America 51 [2017]. Meanwhile, his filmography encompasses Fear Clinic, Doctor Who, Officer Downe, and Sharknado 4. The rare renaissance man who can give a symposium at Oxford University and headline heavy music festivals around the globe, Taylor forever challenges culture to think, dream, and scream along with him. For more information visit www.thecoreytaylor.com.
About 5B Artists + Media: 5B Artists and Metais a global, full service artist management company and entertainment organization founded by Cory Brennan, with offices in Los Angeles, Brooklyn, and Birmingham (UK). The operation also comprises a record label, a film and music festival production arm, a talent agency and a digital marketing agency. As well as being the management home of internationally renowned recording artists including Slipknot, Megadeth, Lamb Of God, Stone Sour, Behemoth, Amon Amarth, Trivium and Flogging Molly, 5B Artist Management are also responsible for the largest global rock festival brand, Knotfest, boasting an impressive portfolio of events in USA, Japan, UK, Mexico, France, Colombia and Knotfest At Sea cruise. In May 2020, Knotfest evolved further into the premier heavy culture media hub with the reimagined knotfest.com. A global content destination celebrating all things loud music, art + culture.
About Danny Wimmer Presents: Since 1993, music industry veteran Danny Wimmer has been producing concerts and festivals, both large and small. In 2011, he formed Danny Wimmer Presents, which now produces several of the largest rock and alternative festivals in the U.S. By combining A-list talent with local cuisine and culture, DWP has become recognized within the industry for delivering the highest-quality entertainment experiences to fans, artists, sponsors, partners and host cities. DWP creates memorable and all-encompassing festival experiences, leaving both consumers and partners with lasting and meaningful impressions. DWP will continue to add new music festivals to its already stellar portfolio, which currently includes Aftershock, Bourbon & Beyond, Epicenter, Hometown Rising, Louder Than Life, Sonic Temple Art + Music Festival, and Welcome To Rockville. Previous DWP festivals include Rock On The Range, Carolina Rebellion, Northern Invasion and more. In 2020, DWP launched the popular digital series Offstage with DWP and ventured into the digital content curation space, promoting pay-per-view live streams. www.DannyWimmerPresents.com