Lamb of God Decimate Their Final Live Stream With Ashes Of The Wake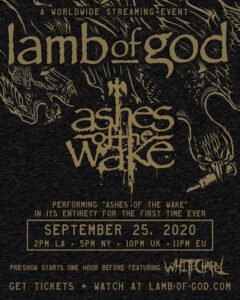 Last week fans were able to watch Lamb of God play their self-entitled album in its entirety and for the first time in the bands history to do such a set and to rave revues. The groups newest album Lamb of God played out like a full on musical assault which also included some classic tracks from other albums as well as their new single from the Bill & Ted Face the Music soundtrack. As energy packed and brutal as that show was, it's the iconic Ashes of the Wake stream that the fans are eagerly awaiting to see live from The Broadberry in Richmond, Virginia.
Released just over 16 years ago, this album took the metal community by storm selling 35,000 copies in the first week and raked up countless accolades. It has been revered as one of the greatest metal albums of the last 20 years and is still Lamb of God's best selling record to date. For the bands second and final stream event, we will see this iconic album played from start to finish including a track that has never been played live before. So let's sit back and strap in for Lamb of God's live serving of their classic album Ashes of the Wake.
As the intro tape of church bells ringing, rain falling and gun fire, Lamb of God stand patiently waiting backstage to make their entrance. Randy realizes he's on camera and gives the finger with a smile before picking up a conversation with drummer Art Cruz. Within seconds the band hear their que and make their way to the stage. Art Cruz once again counts off the show but instead of going into one of the bands newest tracks, guitarist Willie Adler and Mark Morton play one of the most recognizable metal riffs of all time with the legendary "Laid to Rest".
Even after playing this song in just about every setlist for the last 16 years, Lamb of God's energy and ferocity make it appear like it is making its live debut and before long, we get to hear Randy scream those 5 words "See who gives a fuck!" and then unleash that juggernaut of a break down. It's almost impossible not to feel that in your chest as the guitars fuse together with the double bass. The fast and furious "Hourglass" picked up the pace with its steady attacking riffs and melodic leads as Blythe's endless howls travel around the room.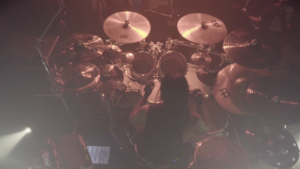 After the ensuing chaos, the ringing six strings lead into the off timing barrage with "Now You've Got Something to Die For". This song is just loaded with crushing riff after riff fueling Randys intense head banging and sending his dreads into orbit. The machine gun paced "The Faded Line" brings a triple picking onslaught with what seems like just one breakdown after another.
After the song there is silence for the first time since the show started, but it was only to give Randy Blythe to give his memorable explanation of the rule of honor. "Omerta" is a slow and steady driven track gave the band a chance to catch their breath without loosing any steam. So far this show has played out like a greatest hits which is no surprise given the incredible track list of this album.
We now approach the deep cut portion of the set. As Lamb of God's career progressed over the years and released new material, these next couple of songs had worked their way out of the bands live setlist's at one point or another. "Blood of the Scribe" is a song that hasn't been played live since 2009 which is when their album Wrath was released. As well all know, that album is jammed packed with some pretty brutal tracks that ultimately forced it into retirement.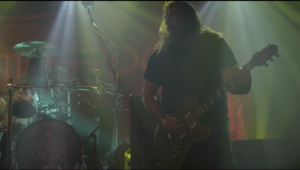 Another gone but not forgotten track is "Break You" which hasn't graced a stage since 2005. Both tracks can still hold their own and blend right in with the anarchy of any current set. The pair are fierce and explosive which are delivered in the exact same way with the bands live performance of each. It's also a pretty cool moment when you are given the news by front man Randy Blythe that "This is a song that Mr. Morton assures me that we have never played live…. EVER!". All the fans watching got to witness "One Gun" making its crushing debut and let me tell you, it did not disappoint. The intro is like it's being shot out of a canon leading up to that penetrating power riff. But it's that ominous panning outro that really stands out from this track.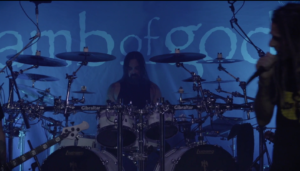 As the setlist starts to wind itself down "What I've Become" unloads like a Slayer track with furious riffing and Art Cruz's blistering double bass. Following that up is the albums instrumental entry that gives guitarist Mark Morton time to show off his chops as a soloist while Adler, Cruz and Campbell lay down the heavy backbeat. When Randy returns, he jokingly suggests playing the song at every show but also informs us that "This next song was written about a house around the corner from here called Dirtbag Manor. This is for all the residents who wallowed in freakish misery with me there".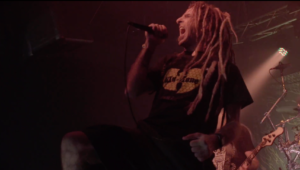 "Remorse Is for the Dead" leads off with Mortons clean but desolated intro as the band fills in slowly behind him. The song then erupts and Randy jumps in and leads the vocal charge through the memories of a broken time. After the song concludes we get thanks from the legendary front man as he says "Thank you for sticking around. In your living room, your great room or florida room or where ever you watch this". It appeared as though Mark Morton added "hospital room" through the shadows causing Randy to repeat it and laugh out loud. But he then reminds fans that the very next day would mark the 20th Anniversary of their album A New American Gospel and that they are now going to play some songs off of that!
Art Cruz speaks up and make the guys feel their age by telling them he was only 12 when that album came out to Randys disbelief. We then get word that the next song was the last song off the record which Mark Morton refers to as "Randys unfortunate run in with the police". With all the info, it could only mean that "O.D.H.G.A.B.F.E." or "Officer Dick Head Gets a Black Fucking Eye" would be first of our encore. Hearing this takes me right back to hearing this album for the first time and being completely blown away and even after 20 years, this song is played with the same ferocity and fury as it is on the album.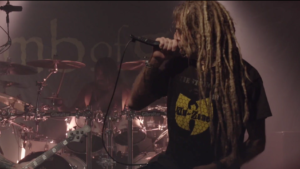 One of the most recognizable leads in the entire Lamb of God catalog is without a doubt "The Subtle Arts of Murder and Persuasion". With Willie and John Campbell in sequence with Art's drumming it was like a little timed detonations until the big bang comes in with that punishing main riff. Art Cruz looked like a man possessed when it came time for the whirlwind ending breakdown. After an hour of hearing some of the best music in Lamb of God's catalog, it is time to end it all out with the bands original closing song "Black Label". This is just a song that is raw from start to finish. From the opening riff to the monstrous breakdown right to that closing verse. And with a final "Thank you and goodnight" from Mr. Randy Blythe, this incredible two part event has come to a close.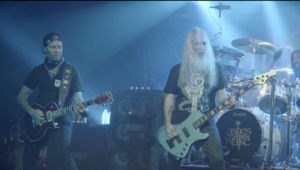 Over this last week Lamb of God has put on two incredible shows that were solely for the fans to enjoy something that we've all been without, and that is live music. I am one of the very fortunate fans that can say that not only did I see them on the original tour cycle for Ashes of the Wake, but also was able to attended the Killadelphia shows for the bands first ever live DVD at the Trocadero Theater in Philadelphia. This band has had a huge impact on me as well as millions of fans around the world over the last 20 years and they just get better and better with every album. Lamb of God truly are metal gods among men as they conquer everywhere they step foot and show no signs of slowing down. So here's to many more years of killer shows and amazing albums. Cheers!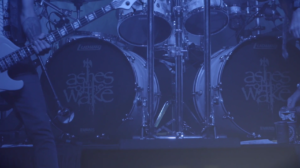 Make sure to head over to the bands website to pick up your copy Lamb of God's newest self-titled album as well as all your additional music and merch needs. And don't forget to stream that and all of Lamb of God's music on all streaming platforms.
http://www.facebook.com/lambofgod
http://instagram.com/lambofgod